Nuke the N discourse
Kangana, you too replaced Sonu Sood with Mohammed Zeeshan in Manikarnika. Where did nepotism figure in any of these changes?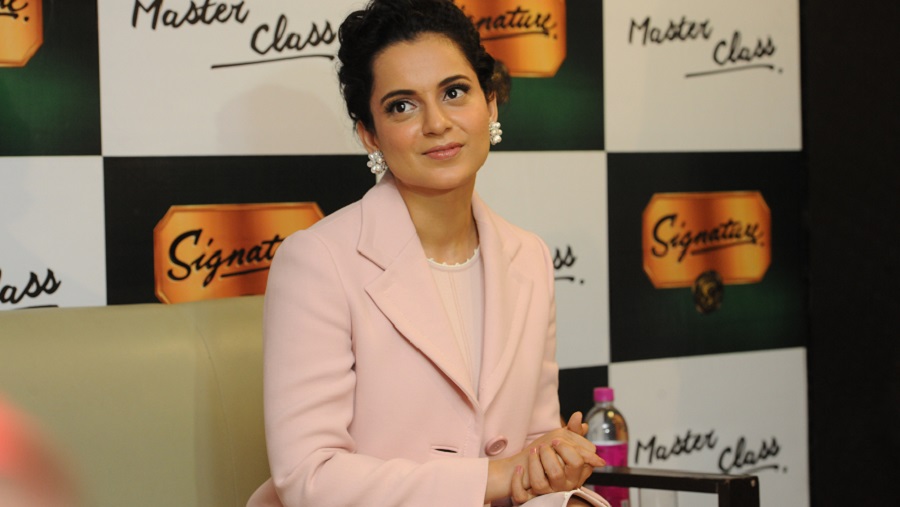 Kangana Ranaut
Sourced by Correspondent
---
Published 26.07.20, 12:54 AM
|
---
Dear Kangana,
When you nuked the film world with a new "N" word you'd been introduced to, I'm sure you didn't dream it would one day turn into the most mangled word in circulation. It's astonishing how it has taken the discourse to a low that only social media can live with.
Take, for instance, last month's Disney+Hotstar presser in which Akshay Kumar, Ajay Devgn, Abhishek Bachchan and Alia Bhatt announced all their starrers slated to be released on that OTT platform. Probably because of their drawing power, action champ Vidyut Jammwal and Kunal Khemu, whose films were also due on the same platform, were kept out of the presser. When this unfairness was tweeted, the replies swiftly used the "N" word — "They were kept out because of... nepotism."
What did nepotism have to do it when self-made Akshay Kumar was there large as life? Unbelievably, the replies were, "Because he's married to Rajesh Khanna's daughter." Logic was lost because by that definition, Kunal Khemu is even better connected than Akshay because he's married to Sharmila Tagore's daughter, Saif Ali Khan's sister and Kareena Kapoor's sister-in-law.  
Common sense has taken leave of those flogging the word because Akshay was the bigger star when he married Twinkle, who herself failed to make the grade as an actress despite who her parents were. And at the time of their marriage, Rajesh Khanna, God bless his soul, had faded years ago.
The "N" word as an answer to all ills is ridiculously misused. One could be annoyed with, say, Sonam Kapoor (of "my good karma" fame) or Sonakshi Sinha for some of their supercilious tweets. But if Sonam with her pretty face and fashionista tag and Sonakshi with her winning Indian look and Shotgun's confidence made it as celebrities solely because of papa dear, was it bad karma that their brothers, Harshvardhan Kapoor and Luv Sinha, who share the same genes, are still floundering? Do you really think Shraddha Kapoor has made it because she's Shakti Kapoor's daughter? Then why not her brother, Siddhant?
Does anybody even care to know that while the same Sonam's heart beat for a break with Aditya Chopra, he overlooked Anil Kapoor's daughter and launched an unknown girl called Anushka Sharma?
Rajeev Kapoor would agree that karma is a bitch. Dad Raj Kapoor launched Rishi with Bobby, the blockbuster, and Rajeev in Ram Teri Ganga Maili. But despite the latter being one of the biggest box-office hits ever, his DNA didn't give Rajeev the stardom his brother got.
Rajendra Kumar's only son Kumar Gaurav also got an easy break but dad's millions couldn't buy him stardom.
There's such a tragic misinterpretation of the word that after the unfortunate tragedy of June 14, 2020, somebody unearthed an old tweet by Chetan Bhagat, in which he had welcomed Sushant Singh Rajput as the hero of Half Girlfriend, the film based on his book. The "N" word was once again angrily dropped all over Twitter because the film was finally made with Arjun Kapoor as the hero. Nobody cared to check that Sushant had a problem with his dates and Arjun was brought into the film as a substitute player. Similarly, Sushant had chosen Sonchiriya over RAW even after he'd shot for the latter, because of dates. If John Abraham then stepped into RAW, would it be because of nepotism? Sushant himself had replaced Shahid Kapoor in Yash Raj Films' Shuddh Desi Romance. And Kangana, you too replaced Sonu Sood with Mohammed Zeeshan in Manikarnika. Where did nepotism figure in any of these changes?
Nepotism can only get you an entry, not purchase stardom. And to say that children should not follow in their parents' footsteps is like saying Justice Dhananjaya Chandrachud should not step into the Supreme Court because his father Y.V. Chandrachud was once the Chief Justice of India. Or that Harish Salve is a venerated name in legal circles because his father was N.K.P. Salve.
Let's give that overused "N" word a break, shall we?
PS: This discourse shall continue.
Bharathi S. Pradhan is a senior journalist and author