Yaad hai ek din
Like most who were born on the other side of the border before Independence, Gulzar grew up fluent in Urdu and is a great advocate of purity in language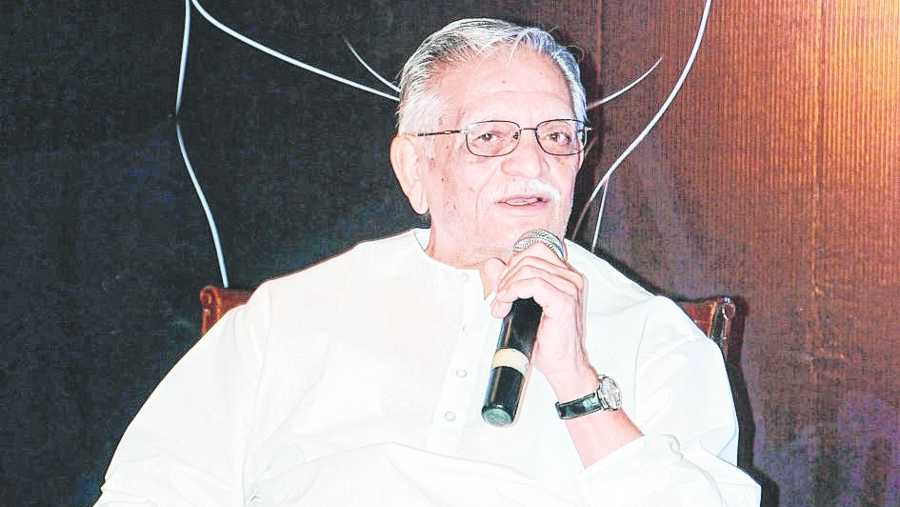 ---
Published 22.08.21, 12:06 AM
|
---
Sampooran Singh Kalra turned 87 on the 18th. Most know him by his pen name, Gulzar.
Way back in the 70s, Gulzar would often tell me that he'd give me a much-coveted photograph — as a Sardar before he shed the turban. He is quite contrary to what one would expect him to be. Although his writing is poignant and thought-provoking, he's a man who loves a good chuckle and it was always a delight to see him horse around with one of his closest friends, Pancham alias R.D. Burman.
Like most who were born on the other side of the border before Independence, Gulzar grew up fluent in Urdu and is a great advocate of purity in language. He'd challenge many of us to speak in Hindi without using a single word in English. After years of working with the Bengali brigade of Bombay, which included Bimal Roy, S.D. Burman and Hrishikesh Mukherjee, when he married Raakhee he was also at home with her mother tongue.
1973 was a landmark year for star marriages. It began with the surprise wedding of Rajesh Khanna and Dimple Kapadia, who had to give up her career even before it had started since RK's Bobby was released after her marriage.
Anybody who knows the spiritedly independent Raakhee would find it incongruous that she too had pliantly agreed to wrap up her career after marriage. When they wed, with a live performance by the legendary Begum Akhtar, it was in keeping with Gulzar's flair for music and Urdu. 
Raakhee told us confidentially that when she first met Gulzar, she was curious about his association with Meena Kumari — a loud whisper those days. Apart from their shared love for Urdu, they had a passion for poetry too. It was believed that the actress had gifted her poems to him before she died. It's quite possible that it was this friendship which also found Gulzar observing roza during Ramzan. 
Raakhee couldn't wait to be a mother and by the time Jaya Bhaduri and Amitabh Bachchan had a quiet wedding in June the same year, she was pregnant with Meghna, their daughter.
During her pregnancy, Raakhee would laugh that one of her cravings was for baasi (stale) roti and she'd drive Gulzar crazy asking for it. When Meghna was born, the ecstatic Raakhee explained that she's as soft as bosky silk and that's how she was nicknamed Bosky.
Raakhee signing Yash Chopra's Kabhi Kabhie signalled the end of a marriage between two Leos. Co-parenting is a fashionable term for couples who separate today. But Gulzar, who named his bungalow Boskiyana, and Raakhee, who soon moved into a bungalow of her own called Muktangan, raised Bosky together. In fact, it's a strong bond they share, with Raakhee sometimes going over to Boskiyana but always returning to her own house by day end. Perhaps it helped that neither remarried or formally divorced each other. Perhaps they didn't for Bosky's sake.
Mutual respect has also prevailed. Raakhee once said to me in an interview that if you took away Gulzar's dialogues from Chupke Chupke, there was little left in the film. It was a remark that director Hrishikesh Mukherjee too had read and repeated to me with an eyeroll and much amusement. 
Most people know Gulzar for his lyrics and his films, for his famous white shorts, T-shirt and tennis racquet, and his band of friends with whom he'd go for a daily walk.
Gulzar, however, earned my respect when he invited one of my colleagues from Star & Style, a popular magazine in the 70s, to the shooting of his film Namkeen. Rekha, who objected to the presence of a journalist on the sets, threw a huge tantrum but Gulzar refused to turf his guest out. Instead, at great cost to the commercial value of the film, he replaced Rekha with Waheeda Rehman. 
That's the Gulzar I know. And yes, as the proud father of Meghna, he's no longer the man who believes that a woman should give up her work for her wedding vows.
Bharathi S. Pradhan is a senior journalist and author