Bhutan all set for the Mountain echoes literary festival
Is there a better way to bid adieu to summer than a three-day festival of music, theatre, history, food and literature, against the backdrop of the Himalayan ranges? We doubt it! And so, we are gearing up for the ninth edition of Mountain Echoes Literary Festival in the Bhutanese capital of Thimpu, to be held from August 23-25.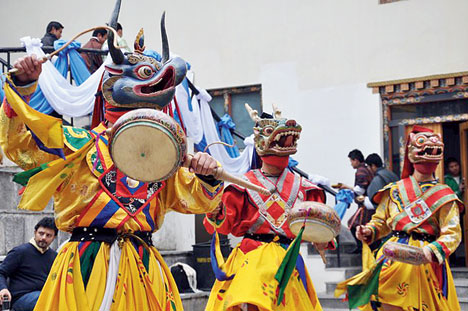 ---
Published 05.08.18, 12:00 AM
|
---
Is there a better way to bid adieu to summer than a three-day festival of music, theatre, history, food and literature, against the backdrop of the Himalayan ranges? We doubt it! And so, we are gearing up for the ninth edition of Mountain Echoes Literary Festival in the Bhutanese capital of Thimpu, to be held from August 23-25.

A joint initiative by the India Bhutan Foundation and literary agency, Siyahi, the festival this year celebrates "untouched beauty, unexplored ideas and unstoppable voices from the heart of the Himalayas". Presented by the Jaypee Group and powered by the department of tourism, government of Rajasthan, Mountain Echoes enjoys the patronage of the royal queen mother Ashi Dorji Wangmo Wangchuck.

Marking 50 years of diplomatic relations between India and Bhutan, this year's celebrations will present Bhutan's ambassador to India, Major General V. Namgyel, in conversation with India's ambassador to Bhutan, Jaideep Sarkar.

Spread over three days, five venues and more than 35 sessions, the list of speakers will make you want to curl up with a book and a bowl of steaming Ema Datshi — the spicy soup made of potatoes and cheese that is a must when in Bhutan.
The lineup features renowned spoken word poet Sarah Kay, who has used her art form to inspire millions and will take the stage to present some of her poignant pieces of work, including B and No Matter the Wreckage; Nilanjana Roy, the author of The Wildings; Kunzang Choden, Bhutan's first woman writer of an English novel; and Chador Wangmo, author of various illustrated children's books.
The bustling music scene of Bhutan will come under the spotlight, with hip-hop performances by rappers Kezang Dorji and Maynia Dhubee OG.
From Kakababu to Tintin, questions regarding the elusive Yeti have haunted us for decades. Perhaps now, some answers will come through Daniel C. Taylor, the author of Yeti: The Ecology of a Mystery, as he converses with festival co-director and author Tshering Tashi, and Karma Singye Dorji, the writer of Dreaming of Prayer Flags: Stories and Images from Bhutan.
Cinema, theatre and literature will make a merry marriage through veteran actors Naseeruddin Shah and Ratna Pathak Shah who will perform a series of poems from Vikram Seth's Beastly Stories and short stories by James Thurber. They will be joined by Sanjna Kapoor, leading thespian of Indian theatre, as they talk about the evolution of theatre and its 21st century avatar.

The Bhutanese film industry will be represented by Kunga Tenzin Dorji, Tandin Bidha, Chencho Dorji and Druksel Dorji who will participate in a discussion with their Indian counterparts.

Among other speakers are Dechen Roder, the director of Bhutanese, mystery film Honeygiver Among the Dogs, tiger conservationist Valmik Thapar, Odissi dancer Sonal Mansingh, and celebrity chef and author of culinary books Ritu Dalmia.
TWO WOMEN DEBUT NOVELISTS AND SOME SELF-HELP WISDOM
A dynamic debut novel, Girls Burn Brighter by Shobha Rao is like the last lilting notes of a song you absolutely loved and listened to, countless times.

Following the lives of two impoverished girls who forge a friendship amidst the cotton boll and garbage-riddled village of Indravalli in Andhra Pradesh, the book will have you taking a journey across the ocean along with them. Savitha and Poornima's shared history is based on kindness that is difficult to appreciate with the naked eye and can only be felt through metaphors that attempt to hold a candle to the rawness of the emotion.

What shines brighter than the protagonists in the book is the hope that they keep alive within them, in the face of unimaginable atrocities. Separated by wrath of fate, the story is of Poornima leaving behind everything to find her friend and, some of the moments will take your breath away as Rao addresses relevant issues like human trafficking, domestic and drug abuse, and a subconscious revelation of the true meaning of feminism.

Savitha and Poornima are both weavers and there is an all-prevalent imagery of the spinning wheel that almost hints at the world that stops for no one. The love between the two friends overcomes time, space and language barrier, only to take us to the bittersweet ending that crashes like a crescendo, as you find yourself agreeing with the author when she pens, "What is love if not hunger?"
Little footnotes — almost like careless, yet explanatory afterthoughts — in every chapter of Vedashree Khambete-Sharma's Swear You Won't Tell add a wry sense of humour to this 'part-thriller, part whodunit' debut novel. She compares matrimonial sites to non-alcoholic beer, as "they both seem to take something fun and interesting and remove all possibility of it leading to sex".

The very idealistic protagonist Avantika Pandit, a journalist with Mumbai Daily, gets embroiled in the investigation of the death of her once-BFF Laxmi, and the readers are taken on a breezy ride across the length and breadth of Mumbai. Her need to create meaningful content in today's world of "listicles", coupled with her sarcastic comments, makes her the ideal features-writer-turned-investigative-reporter that you will find yourself rooting for.

Throw in a generous dollop of romance and the inevitable confusion that comes with it, and you immediately have a complete package. If you are a '90s kid, you will relate to at least 200 of the 234 pages, which have the right mix of Backstreet Boys, school rivalries that unceremoniously spill onto adulthood, and a social commentary on the supposed rise and fall of journalism. The novel is worth taking a shot at on a lazy Sunday.
Did you know that stress can actually be good for you, or that sitting is as harmful as smoking? Forty may be the new 30 and age may just be a number in the mind, but there are unavoidable physical implications that come with the years.

Sheela Nambiar, a certified Lifestyle Medicine practitioner in India, handholds the reader through the years as this practice slowly gains popularity worldwide. According to the American College of Lifestyle Medicine, this particular form of medicine 'involves the use of evidence-based lifestyle therapeutic approaches, such as a predominantly whole food, plant-based diet, regular physical activity, adequate sleep, stress management, avoidance of risky substance use, and other non-drug modalities'.

Nambiar helps you judge your fitness quotient and bust myths that will help you age healthily. Addressing issues related to physical and emotional health, this book might come in handy for those entering their fourth decade.
Shrestha Saha