Ali Fazal and Richa Chadha foray into audio fiction space
They have lent their voices to a dystopian-yet-contemporary podcast called Virus 2062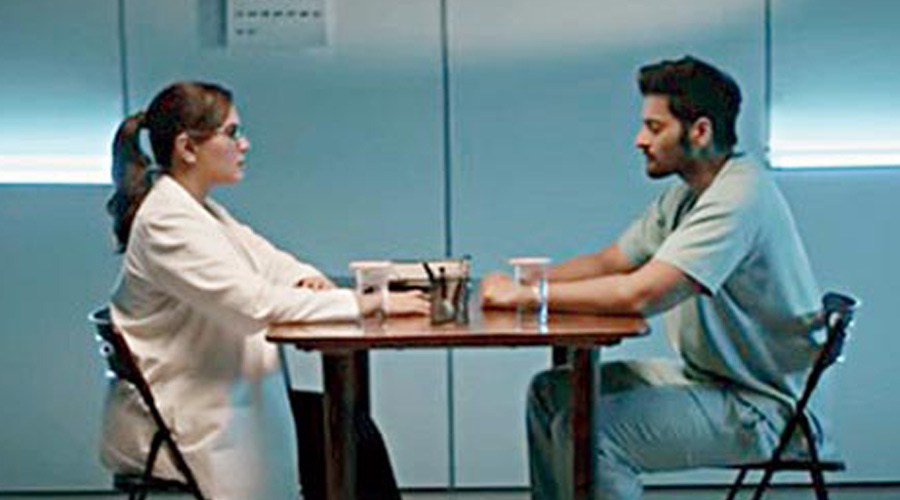 Richa and Ali in Virus 2062, now available to stream on Spotify
Sourced by the correspondent
---
Published 09.09.21, 01:16 AM
|
---
They have acted in the Fukrey films together. They would have been married last year if the pandemic hadn't come calling. And now Ali Fazal and Richa Chadha have lent their voices to Virus 2062. The podcast, available to stream on Spotify, is about a man, voiced by Ali, who time-travels from the future — specifically from Year 2062 — to save the world from the spread of a deadly virus. He comes in as a patient to a psychiatric ward, with the doctor there, named Gayatri Rajput, being voiced by Richa.
A big hit in Latin America, the podcast has been adapted and reimagined all over the world. In India, it has been produced locally by MnM Talkies, curated by actor-RJ Mantra and is available as a 10-episode one-time release. We caught up with Richa and Ali to know more about their foray into the audio fiction space.
What was the experience like of lending your voices to a thriller podcast?
Richa Chadha: Whenever we get into theatre training, we are told we have two instruments — one is our voice and the other is the body. In the case of a radio play or a podcast, specificially one which is a thriller, we only have access to one. We could play with the texture of our voices and I can only imagine how it will sound when heard on headphones... it will sound so intimate. I had a blast doing this, and working with Ali was also a dream.
Podcasts, I believe, go even beyond dramatic readings of books and plays because one has an actor delivering the lines of a character and your mind can create the picture of everything else around that.
Ali Fazal: As Richa said, it was very intimate, and though very few senses were in play while doing this, it will give birth to all the other senses right there and then for everyone who is going to be listening to this. The beauty of podcasts is that it really fuels one's imagination. The universe of voices is another way in which a performer can fingerprint his existence.
For me, at least, it was a very mathematical process. The distance between me and the mic had to be precise, the voice had to land at the right note, the pitch had to keep wavering and the intonations kept changing. We kept a very neutral accent so that we could be understood by everyone.
And, of course, the relevance of a world on the brink of a virus outbreak can't be disputed...
Ali: As actors, when we walked in, we knew it was fiction and we were doing a dramatised version of it, but it hit close to home. Virus 2062 is both contemporary and futuristic... it's scary at the same time. We are now in a world which is different from what it was in 2019. The original (Caso 63) was written so engagingly by Julio Rojas and Mantra has beautifully adapted it to fit it into the Indian ecosystem.
What was the most enjoyable part of the process?
Richa: For me, the best bit was that I didn't have to put on make-up! (Laughs) I loved being completely dissociated from the visual aspect of things. It was so liberating to ignore the outer paraphernalia of hair, make-up, costumes.... I really think actors should do this kind of work often. It helps in modulation, and enables one to express oneself purely through one's voice.
Ali: A lot of actors get scared of the dubbing studio. But as actors, we have to be prepared for all mediums. Whatever the medium, all kinds of obstacles come in and we have to overcome that. This entire medium is a whole new universe. Mujhe chaska lag gaya hain (laughs).
But I must also talk about what was tough. Richa and I had to sit on these bar stools and record for two days. And that was just days after I was thrown off a horse. There were so many kinds of pain that I experienced in that studio! (Laughs)
What's the difference between dubbing for a film and voicing a podcast?
Ali: Mere liye toh zameen aasmaan ka farak hain. When we dub for a project, we have a visual aid in front of us, a reference point and also a memory to go by. In this, we were creating a world from scratch, from point zero. Whether I am inside or outside, whether I am standing or sitting... all of this I had to convey just through my voice without the help of memory or a visual aid. That was tough, but also a lot of fun.
Richa: I also think dubbing is very different. When we dub, if we feel that our faces haven't conveyed an emotion very effectively, we can correct or at least improve that while dubbing. But in a podcast, it's very different. I had to convey the tiredness and mundaneness of a doctor who goes through the same routine every day, but only through my voice. That's a challenge, but also very rewarding.
As actors, I feel we should explore every aspect of our senses and personality. Even actors in the West, when they lend their voices to these beautiful Pixar animation films, they really get into it. And that's what I felt when I did this.
What do you think accounts for the popularity of the dystopian genre in almost every medium, especially over the last few years?
Richa: Have you seen that photograph which says that dystopian future has now been moved to contemporary non-fiction? We are living in very dystopian times and that's why peoples' imaginations tend to move towards consuming more content which speaks of cataclysmic events. I wish there was more dystopian concern about climate change than anything else, but we will get there, hopefully.
Ali: We have watched movies on what is happening to us, and right now it's unravelling in front of us. We have grown up on stories about the world ending... and in some ways, the pandemic did make it end, at least the world as we knew it. We are at the beginning of a new one and Virus 2062 is from the end of another one. The world over, people have thought about it, they have made stories on it and this is the podcast version where we finally get inside your heads and you get to make that story and reimagine the future like you would want to.
Do you think screen fatigue, especially in the last year, has contributed to the growing demand for audio entertainment, especially podcasts?
Ali: It works because it's something that entertains on the go. You don't have to hold up a screen for it. I did that a lot last year while doing all my household chores, whether it was cooking or cleaning. I would have something going on in my ears. Sometimes it was music, but mostly it was a podcast.
Richa: Thanks Ali, now I know how to get you to do more work in the house! (Laughs)
Your favourite recent podcasts?
Ali: I have been listening to a controversial person, Jordan Peterson (a professor of psychology with right-wing views). I find him very fascinating, though I don't know if I should even be saying that. I am hooked to the other side of the narrative because this whole cancel culture has taken over the world and people are not willing to listen. People have forgotten to use their heads, and that's also why podcasts have become so important because they allow you to listen and imagine your world. I have also been listening to Joe Rogan. Elon Musk with him was one interesting episode. So was the one with Guy Ritchie. Richa, what have you been listening to, besides me? (Smiles)
Richa: You are not a podcast, Ali... because I can't mute you! (Laughs) But ya, I like this Spotify podcast called Poems To Calm Down To by Megha Rao. And I listen to Ryan Holiday on Stoicism.
Which actors' voice would you want to hear in a podcast? Tell t2@abp.in