Akshay Kumar's Ram Setu fails to build on its promising premise
The Abhishek Kumar-directed film which released in theatres on October 25 also stars Jacqueline Fernandez and Nushrratt Bharuchcha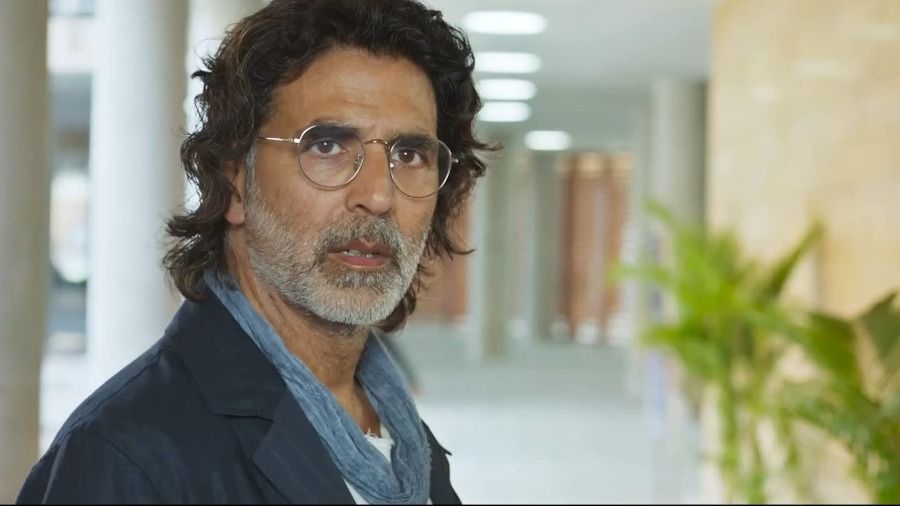 Akshay Kumar dons a new look in Ram Setu as a nerdy archaeologist.
IMDB
---
Calcutta
|
Published 26.10.22, 12:15 PM
|
---
Diwali release Ram Setu — starring Akshay Kumar, Jacqueline Fernandez, Satyadev Kancharana and Nushrratt Bharuchcha — weaves together mythology, archaeology, science and socio-political beliefs in an adventure saga that fails to do justice to a promising premise. The Abhishek Kumar-directed film, which released in theatres on October 25, does offer some striking underwater scenes and a rousing background score, but they barely manage to keep Ram Setu afloat. 
A promising plot
In 2007, the government in cahoots with a business conglomerate wants to demolish the Ram Setu in order to build a shipping yard. An atheist archaeologist, Dr Aryan Kulshrestha (Akshay Kumar), is tasked to prove that Ram Setu is not a man-made structure. In the course of his research, Aryan realises he is on the wrong side of history. This begins a race against time to save the bridge between India and Sri Lanka.
Underwater scenes are stunning
The film blends fact and fiction to make the viewers believe that the Ramayana is not merely a piece of literature but actual history. Ram Setu explores the various locations in southern India and Sri Lanka, where the events of the Ramayana are believed to have taken place. The sequences on Sri Lanka were mostly shot in India, owing to the coronavirus pandemic, but look authentic. The underwater effects are visually stunning.
A preachy second half after a slow start 
The first half of the film is slow as the foundation is being led for an adventure. A lot of screen time is devoted to establishing Aryan as a meticulous archaeologist who would never compromise with his work. Once we are in the heart of the main plot, a lot of information is pushed down the throats of the audience in a short time. 
Logic goes for a toss in the second half as Aryan crisscrosses Sri Lanka, in the middle of a civil war, to unearth historical secrets. While we have been set up to expect Aryan to explore the historical links to the Ramayana, what we get in return are lectures on the sanctity of the epic. The excitement levels keep dropping as the film becomes preachy. 
Performances cannot save the day
Akshay Kumar dons a completely new look in Ram Setu. The Samrat Prithviraj actor looks dapper with long, curly hair and round-framed glasses. However, the geekiness in his appearance doesn't translate into performance. Akshay once again delivers his staple act of a one-man army battling all odds as the screenplay demands little else from him. 
Jacqueline Fernandez, as an environmental scientist, does a decent job. However, the film's story would not have changed much if she had not been in it. The same goes for Nushrratt Bharuchcha. She is just another prop in a film about an archaeologist-turned-saviour. The only actor apart from Akshay to keep us engaged is south star Satyadev Kancharana. His antics are entertaining and provide the much-needed laughter in an otherwise boring narrative.