Abir Chatterjee shines in his Hindi OTT debut 'Avrodh: The Siege Within 2'
Abir plays Indian Army captain Pradeep Bhattacharya in the SonyLIV thriller which follows a tried-and-tested path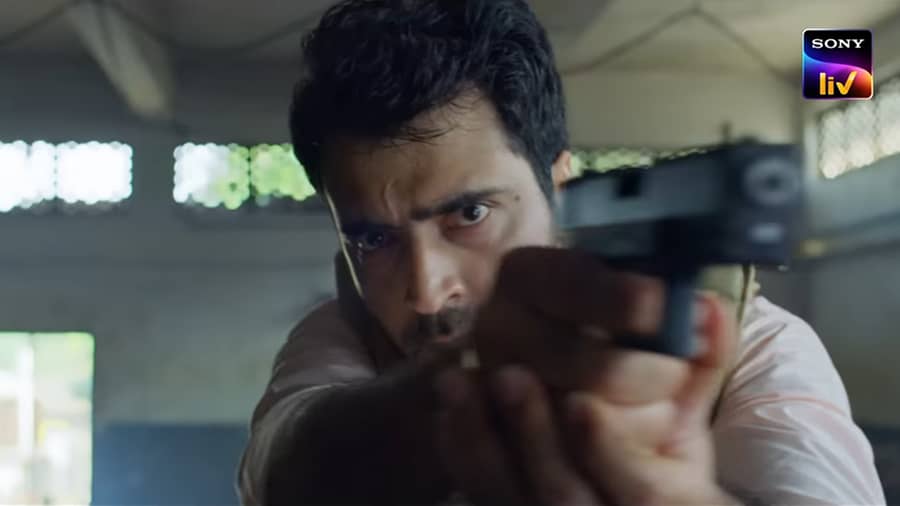 Abir Chatterjee as Indian Army captain Pradeep Bhattacharya in 'Avrodh: The Siege Within 2'.
YouTube screengrab
---
Calcutta
|
Published 27.06.22, 09:04 PM
|
---
A gritty Indian Army captain, an additional income tax commissioner, a sleuth who has his sources in the interiors of terror-struck Jammu & Kashmir.  Pradeep Bhattacharya is all rolled into one, and as the central character of Avrodh: The Siege Within 2, streaming on SonyLIV, he is too versatile to be true. But Bengali filmstar Abir Chatterjee pulls it off and makes Pradeep believable with an effortless act in his debut Hindi web series. 
Directed by Raj Acharya, Avrodh: The Siege Within 2 is a military thriller that walks the tried and tested route, revolving around terrorism, counterfeit currency, Indo-Pak bilateral ties, Pakistan's attempts at destabilising India, and Indian heroes saving the day. 
While the first season of the series narrated the story of Indian Army commandos' surgical strike after the Uri attacks, Season 2 revolves around the Indian Army and the Income Tax department's battle to foil an ISI conspiracy involving terror attacks and counterfeit currency.
Abir Chatterjee steals the show
Playing a private investigator who is as sharp on his feet as he is in his mind is nothing new for Abir. He has honed the craft on the Bengali screen playing two iconic and much-loved sleuths from Bengali literature – Satyajit Ray's Feluda and Sharadindu Bandopadhyay's Byomkesh Bakshi. 
Abir's ability to maintain a composed demeanour in nail-biting situations and yet managing to underline what's going on inside him does the trick even in Avrodh 2. His Pradeep is not an overly expressive, patriotism-fuelled leader who doesn't think twice before taking on the enemies head-on. He is a calm personality who gets the job done without much fanfare and gravity-defying action sequences. And Abir perfectly fits the bill as Pradeep. His dialogue delivery, with a subtle Bengali accent, sounds natural and aligns with the protagonist's character.
Lack of human element
Avrodh 2 ticks most of the boxes in terms of storytelling and attention to detail, though the last also stretches it out a little. What the series scrimps on is fleshing out the characters, which would have made them more relatable. 
Be it Pradeep (Abir), antagonist Ehsaan Waziri (Sanjay Suri) or Waziri's trusted aide Parveen (Ahana Kumra), there is too little on their personal lives, which makes it hard to empathise with them and to figure out why they do what they do. Pradeep has a wife and a daughter but is never really seen engaging with them. 
Low on the thrill quotient 
Avrodh 2 is a fictionalised retelling of the 'Just Tell Me When to Begin' chapter from the book India's Most Fearless 2 by Shiv Aroor and Rahul Singh. But while it is gripping in some episodes, it meanders aimlessly in some others. It progresses at its own pace, and does not leave on tenterhooks with relentless twists and turns. The thrill quotient is quite low and sequences that you would remember and discuss after the show are few and far between. 
The demonetisation gimmick
The story almost seems like a justification for demonetisation, projected as a desperate move to avert "greater threats" to the nation. It, in a way, holds our not-so-friendly neighbours responsible for the banning of currency notes that led to several months of chaos across the country. In Season 2, the idea of Digital India is often discussed in high-level meetings with the prime minister, played by Mohan Agashe.