A Tagore song with a Guptodhon connect
Music director Arindom has designed the soundscape of the October 2 release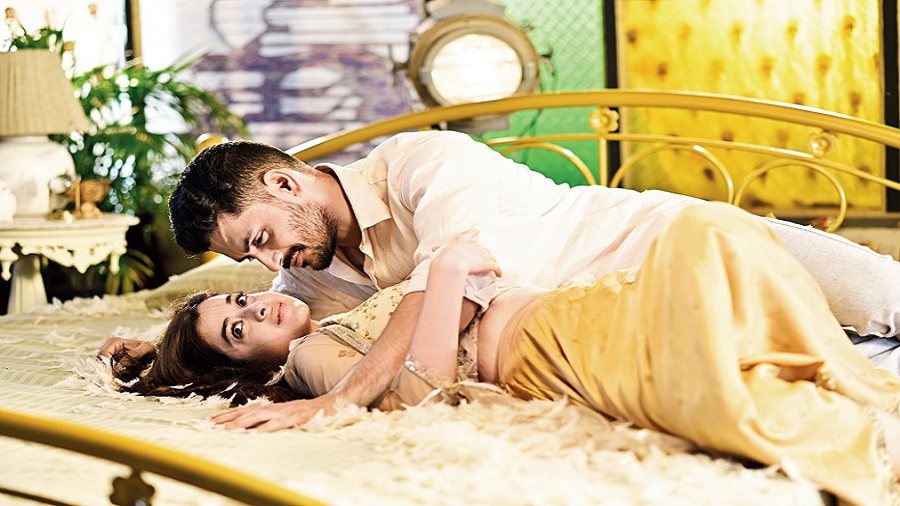 ---
---
Here's something new and musical to spark the imagination of millions of fans of the Guptodhon franchise! Actor Arjun Chakrabarty and director Dhrubo Banerjee got together recently to shoot a music video for the Tagore song Majhe majhe tobo. Directed by Dhrubo Banerjee, the video also features Darshana Banik. Music director Arindom has designed the soundscape of the October 2 release. The Telegraph gets the lowdown from Arjun...

What was your first reaction when you got to know that you'll be shooting a music video for a Tagore song?
I'm no stranger to shooting for Tagore songs, considering my debut! However, the presentation and execution is very different this time, which is why it was all the more exciting. It's definitely one of the best songs there is. That is Tagore's genius — it isn't only the melody or the tune, but the emotion/s it encapsulates.

How was it like getting back with Dhrubo for a project?
Amazing as always. He's a perfectionist, which is probably why it gets hectic. As an actor I too have the pressure of giving my best to make my director happy. Luckily, he's never too serious, makes everyone really comfortable and that creates a wonderful atmosphere.

How was the experience of shooting for the video?
Pleasant. Despite the fact that it was a day-and-night marathon. Great team, wonderful production, amazing song and you know this platform will attract tons of views.

How was it like shooting in the new normal? What safety precautions did you take?
Unfortunately artistes are the only ones who have to take the mask off for the shot. As long as the rest of the crew takes precautions, we're all safe. It was the same this time... generous quantities of all kinds of sanitisers and being generally aware. It helps when the production quality is this superior.

Do you have a fave moment from the video?
I'm fonder of action sequences compared to romance or other kinds. Uniquely, this video has it all. Saying any more will reveal too much. Let's wait for everyone to watch. Haha!

What was the main challenge of shooting the video?
The time. Or rather the lack of it. We had a limited time frame in which to complete the entire thing. That made it terribly hectic.

How was it like shooting with Darshana?
Wonderful. We did a short film some years ago. This was grander and more elaborate. I hope our chemistry works for the audience.