A part of team Modern Love: Mumbai chats with The Telegraph
Meiyang Chang, Wamiqa Gabbi and Ritwik Bhowmik, Dhruv Sehgal talk about their experience with the series and their tales of first love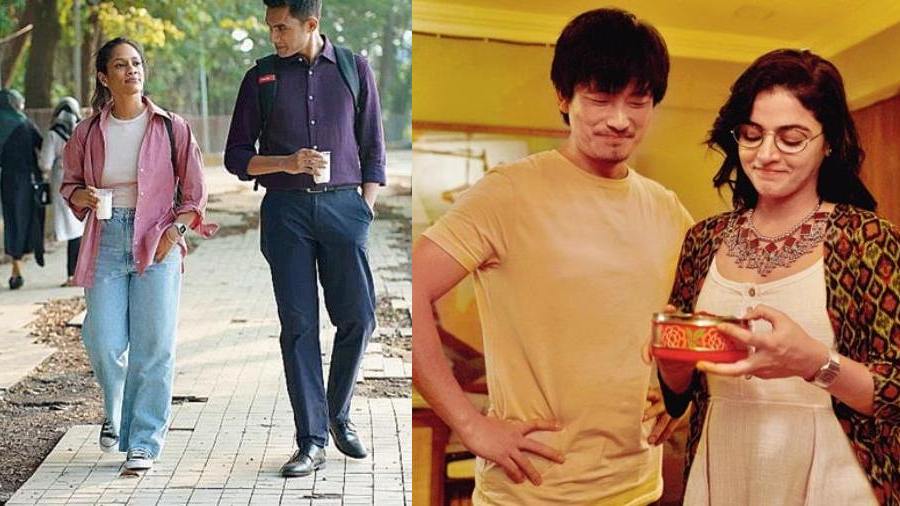 Masaba Gupta and Ritwik Bhowmik in I Love Thane, directed by Dhruv Sehgal; Meiyang Chang and Wamiqa Gabbi in Vishal Bhardwaj's Mumbai Dragon
---
Published 01.06.22, 03:38 AM
|
---
All six episodes of Modern Love Mumbai — that chronicles tales of love set in the Maximum City — have received their share of praise. The Telegraph chatted with Meiyang Chang and Wamiqa Gabbi (who star in Mumbai Dragon, directed by Vishal Bhardwaj) and Ritwik Bhowmik and Dhruv Sehgal (who has directed Ritwik and Masaba Gupta in I Love Thane) on their experience with the series and their tales of first love.
What was the biggest high of being a part of Modern Love Mumbai?
Meiyang Chang: For me, it's been the opportunity to work with (film-maker) Vishal Bhardwaj. I had been wanting to work with him for many years, but things happen only when they have to.
Also, Mumbai Dragon is a story that's very close to my heart, it's centred on my (Chinese) community. It's a story that sir (Vishal) wanted to take a chance with. When we had our first conversation, he had said that he could place the crux of the story in any community that is present in Mumbai. 'But I want to try something new,' is what he told me. And he asked, 'Will you be interested in doing this?' And I was like, 'Sir, kaisa sawaal poonchh rahein ho aap?!' (Laughs)
Wamiqa Gabbi: Same here... that we got to work under Vishal sir's direction.
Ritwik Bhowmik: I had loved the first two editions of Modern Love, which was in English. This was a huge opportunity for me. This is a genre that I have always loved watching, and if I get to be a part of anything in this genre, I always feel like I need to go with all my forces in and do a good job. When I got to know it's for Dhruv's (Sehgal) film, I knew I had to.
Dhruv Sehgal: When I got the call to direct I Love Thane, I was like, 'Of course!' When I asked who were the other directors working on this, I thought mere type ke young boys and girls would be on it. And then I was told there is Vishal Bhardwaj, Hansal Mehta... I was like, 'Yeh kya ho raha hain?!' (Laughs) 
It was such an honour and privilege to work on I Love Thane and with such good actors like Ritwik and Masaba (Gupta) and a music director like Neel (Adhikari).
Dhruv, after so many seasons of acting in and creating Little Things, one would think you would be a shoo-in for a series like this that celebrates love....
Ritwik: I fully agree! Dhruv is an emotional-intellectual lover and that's very important when you fall in love... your EQ and your IQ, and both are very strong with Dhruv. I really hope yeh pyaar ki kahaniyaan banate rahein aur aashiqo ko usmein cast kare! (Everyone laughs)
How has the definition of 'romantic love' evolved or changed over the years for you?
Chang: I have realised that beyond both good times and bad times, there is this phase in love where there is nothing. And it is how you handle this 'nothing' — jahaan pe kuch mazaa bhi nahin aa raha hain lekin bura bhi nahin lag raha hain. I think how to handle that without getting bored, running away or trying to overcompensate, is what I am beginning to understand. Maybe that is what modern love should be.
Do the people you play in this anthology resonate with you in any way?
Ritwik: I just share my face and body with the characters that I play. Other than that, we are two different people.
Wamiqa: For me, every character that I play is another side of me. I always think, 'What if this happened to me? What if this situation was in my life?' I try and justify everything that has happened in the lives of the characters that I play. We all are different because of our experiences and our journeys. If I wasn't born into my family, I would have been a completely different person. That's how I relate to my characters.
I also feel that empathy is very important. That's why in my life now, I don't feel hatred towards anyone. I remember being in love earlier and feeling hate towards the person after our break-up. But now, I have so much empathy for everyone. I can now understand that uski bhi galti nahin hain. I think this level of empathy that I have evolved to has really started helping me in understanding my characters as well.
Not everyone can become so zen, especially with regard to something so life-changing. How have you evolved to this version of 'modern love'?
Wamiqa: It wasn't easy. But I also wanted to become this person. I have lived half of my life with feelings of hate and pain, but now even if my ex has blocked me without a fight, I understand that maybe he's going through something (smiles). It hurts, but one gets introduced to other emotions also. If you don't let go of old emotions, you can never let in the new ones.
Chang: If we talk about Mumbai Dragon specifically, there is definitely a lot of similarity between me and my character Ming. A common thread may or may not be present in the script or the character, but as an actor, it's my job to find it... not only to make it interesting for the viewer, but also for myself.
It's inevitable that my personal experiences and memories will slip into the characters that I play, especially when you have to act out something that's coming from a similar situation in your life. But the goal has to be, especially if you are working on a lot of things simultaneously, to differentiate between all your characters. That's the basic greed of an actor... you don't want to keep repeating yourself.
When was the first time you felt that you were in love?
Dhruv: I am not talking about the puppy crushes, but for me, it was probably post-college that I realised the meaning of true love. When you selflessly do something for someone without giving a thought to the pros and cons of it. There are no calculations or math involved. And I told myself, 'Bhai, tu toh pyaar mein phas raha hain' (smiles) because I was doing stuff that made no sense to me and yet I was doing them.
Ritwik: In dance school, in my late teens, I was highly inspired and motivated by a certain person, who was much senior and also a teacher there. We did end up dating later, but I think love at that point, for me, was about that inspiration and motivation I was getting from that person. And that's when I knew that perhaps I was in love.
Wamiqa: The first time I thought I was in love was not really love (smiles). But when I did fall in love after that, I felt like a completely different person. I felt like I had no control over me. I felt like some magic dust had been sprinkled all over me. I did anything and everything then... like waiting four-five hours under the sun, the person not taking my call.... These are things I would not do now. At that time, it was like a spell.
To be honest, I miss that sometimes because I feel it was so pure and everything I did came from such an intense space of love. That was such an overwhelming phase of my life. It took a lot of time for me to get out of it. The love ended in a year-and-a-half, but I would keep breaking up and going back to that person all the time.
Chang: Agree with what Wamiqa said. I don't know if I was in love, but I did feel that I was. I felt she was so kind, and that's all that mattered to me. Looks didn't matter, our backgrounds didn't matter. Maybe it did to our parents — like her mom told her, 'Arre, tum toh seedha international chali gayi' (laughs) — but not to us. For us, that love felt like freedom.