A new sisterhood on Bengali TV
Meet the Sengupta sisters — Manosi and Raima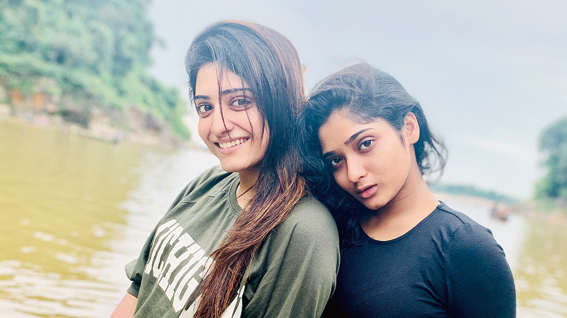 ---
---
In the last few months, the character Payel Sen (played by Manosi Sengupta in the popular Zee Bangla serial Ki Kore Bolbo Tomay) has gained notoriety for her savage articulation of contempt against the union of lead pair Radhika Mitra and Karna Sen (played by Swastika Dutta and Krushal Ahuja). Fans get angry at Manosi over her actions and troll her on social media but Manosi is cool with it since she knows that she has made an impact and "played her role well". Now, Manosi's younger sister Raima Sengupta has also joined the television world, making her debut in another popular Zee Bangla serial Rani Rashmoni. We chat with the sisters...
How does it feel with both the sisters now acting?
Manosi: Lovely! My family and friends have supported me in every possible way. It feels great when people appreciate my acting.
Raima: I just started my career in this profession with my sister's guidance... it feels great when people say that they saw me on television.
Manosi: I began my television career with Membou four years ago, and then went on to do films like Chalbaaz, Bibaho Obhijaan, and Hoichoi web shows like Shei Je Holud Pakhi.
Do you exchange acting notes?
Manosi: I always try to guide her.
Raima: She has helped me a lot.
Manosi: Till now she doesn't have any personal life... I'm everywhere!
How do the two sisters bond at home?
Manosi: I love to travel... when I get time I pack my bag and go for holidays with my sisters (they are three sisters with Manosi being the eldest and Raima the youngest).
Raima: As she loves to travel, she wants me to join her always... and she doesn't wait for my opinion (laughs). We also fight a lot! And watch movies.
After Raima Sen, there is another Raima! What kind of reactions do you get from actors?!
Raima: I'm a big fan of her... she inspires me a lot!
Manosi, how do you see Payel Sen who has been described as a negative character?
Manosi: She is domineering, controlling, cunning, bossy, pampered, vengeful, loud… and I have gradually explored her various shades and brought them out.

What kind of reference did you have to play Payel Sen?
Manosi: There is no reference... at that moment, before the camera I try to believe that I am as bad as Payel Sen. I feel every character is inspired from real life, so I am trying to follow them but please don't ask me to take their names (laughs)!
Payel Sen is so close to my heart... and when I perform as Payel Sen I become like her. Before a scene I try to find out the reason why Payel is doing or saying something... that helps me a lot to play the role. My co-actors are so good that it also helps me to do better. I am short-tempered in real life but I cool down quickly. If I ever raise my voice at home, my family members tell me not to act like Payel!

Have you ever faced uncomfortable situations because of this image you have?
Yes, once at a wedding an elderly person came up to me and told me a lot of things about why she hated Payel!