'A lot of people have said I look Bengali' — Tripti Dimri is on a high after Bulbbul
What went into playing such a complex yet endearing character in the Netflix film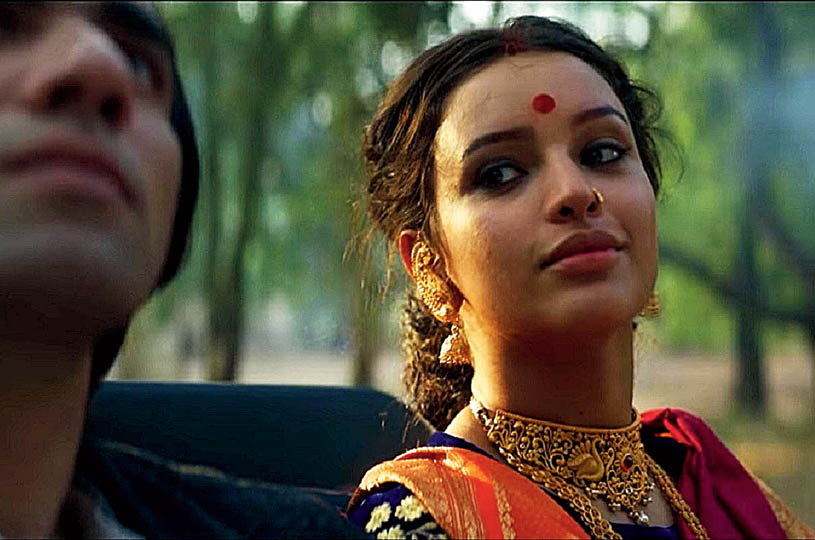 ---
---
Tripti Dimri is on cloud nine. Huge praise has come in for her film Bulbbul, in which she plays the title character with a remarkable blend of raw strength and innocent vulnerability. The Telegraph caught up with the 26-year-old actor — who we most memorably saw as Laila in the criminally underwatched 2018 film Laila Majnu — over a Zoom call, on what went into playing such a complex yet endearing character in the Netflix film, produced by Anushka Sharma, and the road ahead.

Congratulations for Bulbbul. What's the predominant feedback been like?

The amazing thing is that people are not just talking about the performances... there's been praise for the camera department, the direction team, the costumes, the sets, and the entire film in general. All the actors, whether it's Rahul Bose, Paoli Dam, Avinash Tiwary, Parambrata (Chattopadhyay), are being appreciated. A lot of people have said I look Bengali! (Laughs) That's the biggest compliment for me.

Even in the workshops, I was made to wear a sari (laughs). I had to watch YouTube videos and learn how to drape a sari, Bengali style. That was one of my first tasks as the character. I would carry a sari and jewellery with me all the time while doing those workshops. I was really uncomfortable on the first day, but by the end of it, I got the hang of it. I think half the saris I wear in the film are either Anvita's (Dutt, director) or Veera's (Kapur, costume designer). We didn't really spend much on Bulbbul's clothes!

What was your reading of the character, who has such a tightrope to walk emotionally?

I got super excited the moment I heard the narration from Anvita. Post Laila Majnu, I was just sitting at home because I wanted to be part of a story that is as special as Bulbbul. I had said 'no' to a lot of projects, and that's when I got Bulbbul. The script talks about a lot of things... domestic violence, child marriage, it has romance, innocence.... But despite that, the basic storyline, the narrative is very simple. It's one of those stories jo bachpan mein humein dada-dadi se sunne ko milti thi. It took me back to my childhood.
Bulbbul has many layers to her. She's a completely different person at the start of the film and then she's totally changed by the end. I was lucky that I got a lot of time to prep for it, to get into her headspace... two months, to be precise. I sat extensively with Anvita, we spent a lot of time trying to understand Bulbbul and what her relationship is like with the others in the film. She's a person who behaves differently with different characters. I had to really work on that.

Anvita never gave us scenes to rehearse... she would always give us situations and ask us to react to those situations as the character. And when you do that for two months in a role, then a part of the character comes into you naturally.

Has playing Bulbbul changed you in any way?

Yes. While playing the 20-year-old Bulbbul, I would feel very suffocated because she has given a lot of power to other people in her life, without having any herself. She's confused, she's always seeking validation, looking to other people for direction.... Playing that aspect of her made me realise that we waste our time doing such stupid things, we should focus on ourselves, love and respect ourselves.... I think self-love is the most important love and if you love yourself, you don't need anybody else in life to validate you. It's something I learnt from Bulbbul, I am still working on it... I am really not there, still (smiles), but I am trying to be there.

What kind of a headspace did you have to get into to film the two brutally violent scenes that Bulbbul is a victim of?

They were very difficult, very traumatic. From the beginning, I knew how important those two scenes were in the film because that is the turning point in Bulbbul's life. I was really very nervous before those scenes. But Rahul Bose — who is there with me in both those scenes — called me before the shoot and said this amazing thing to me. He said, 'Tripti, as an actor, it's my responsibility to go all out, I am going to do my job and I will do everything that the scene requires me to do. But I want you to know that if you ever need me as a
co-actor, if you need to talk to me as Rahul Bose, I will be there'. He made me feel very comfortable, and so did everyone on set. I got a lot of sympathy! (Laughs)
I am sure it was also difficult for Rahul Sir himself because he's completely different from what his characters Indranil or Mahendra are in the film. It was traumatic for both of us to go into every take, delve into that dark space... he would keep talking to me just to provide comfort to me. That really helped, just knowing that I had people around me who loved me, both as an actor and a person. Anvita is extremely sensitive, and after every shot, she would come to me and apologise and say, 'Tripti, I am sorry I am putting you through this, but it's important for the film'.

What was it like shooting in Calcutta, though the film is almost wholly shot in Bawali Rajbari on the outskirts of the city?

It was amazing. I think we were there for a good 30-35 days with the entire crew. Half of the people on set were Bengali, we got to eat a lot of Bengali food (laughs). I fell in love with the people there. So much so that six-seven months after the shoot ended, I went back to Calcutta just to spend some time there. I did theatre workshops there and interacted with a lot of people. I was there for a good 10-15 days just to interact with the people because when you are shooting, you really can't do much else. I was working 24x7 and I just couldn't go out... but this trip later really helped me to get to know the city and its people.

You and Avinash have been co-stars in Laila Majnu and you just spoke about how it was like interacting with Rahul Bose on and off camera. What was the rapport like with the other actors?

I got to work with actors who have been doing this for so long, who are much more experienced than me and have delivered amazing performances in the past, whether it's Param, Rahul, Paoli or Avinash.
I am still new and all these people have a different way of looking at their craft, sabki apni apni techniques hain, and I had a lot to observe and learn from each one of them. Avinash, of course, is a friend and it was amazing to work with him again. I was a little intimidated by Rahul Sir in the beginning because I always thought that he's a very serious actor who only talks about acting and other serious stuff (laughs). But he's a lot of fun... he was not Rahul-Rahul (laughs)... he would crack a lot of jokes on set.
Param and I didn't get to talk much during shoot, but the entire crew went out post-shoot and that's where he and I got talking and got to know each other... he's also a lot of fun. Paoli was the last one to be cast, but the amazing thing is that on the very first day, she just got the character. There's this scene between Paoli and Avinash having a conversation and I enter later... that was Paoli's first scene and her first scene of knowing Binodini and she was just pitch-perfect. There was a lot for me to learn from her.

What's the way forward for you?
I want to do everything! (Laughs) Action, romance, comedy, typical Bollywood films.... As a new actor, it's important for me to challenge myself. I am hoping I get to do a variety of roles. I am here for the love of the craft and I want to stick to it. I hope I just don't get lost (smiles).