6 football-themed Bengali films to watch while the FIFA World Cup is on
These films are directed by Arabinda Mukhopadhyay, Bijoy Bose Parambrata Chattopadhyay, Riingo, Dhrubo Banerjee and Arun Roy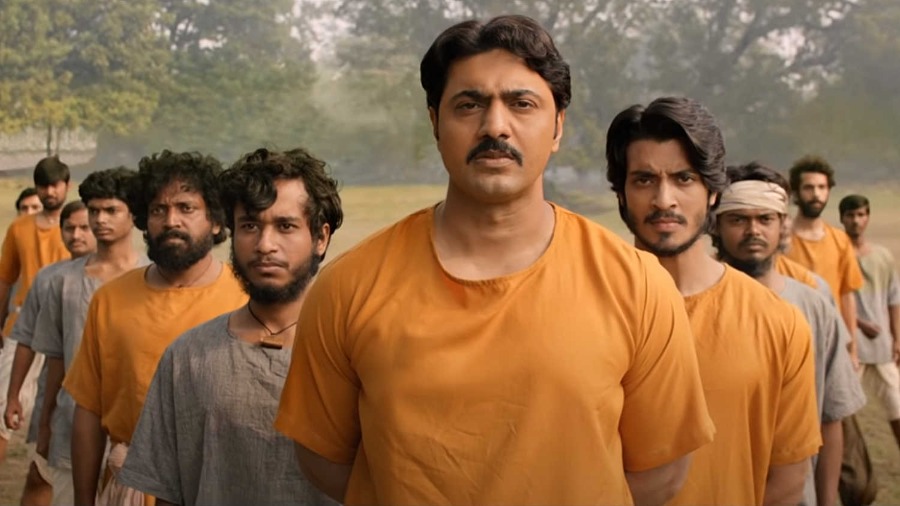 Dev as Nagendra Prasad Sarbadhikari in Golondaaj
SVF
---
Calcutta
|
Published 22.11.22, 10:50 AM
|
---
Football and Bengal share a bond that was forged over blood and sweat during British rule. While you root for your favourite teams and players at the 2022 FIFA World Cup, here are six football-centric films in Bengali that showcase an enduring love of the game.
Dhanni Meye (1971)
Arabinda Mukhopadhyay's Dhanni Meye is a rib-tickling romantic comedy that celebrates Bengalis' love of football. Kali Dutta (Uttam Kumar) is an avid football fan and the president of the local Sarbamangala Club. His younger brother Bogola (Partha Mukherjee) is the captain of the football team. Bogola and his team visit Harbhanga village to compete for the Nangteshwar Shield. 
After a crushing defeat at the hands of Sarbamangala Club, Gobordhan Chowdhury (Jahar Ray), the president of the local football club, forces Bogola to marry his orphaned niece Monosha (Jaya Bhaduri) to keep the shield in the family. The song Sob Khelar Sera Bangalir Tumi Football from the film is a rage among football fanatics even today.
Watch it on: Hoichoi
Saheb (1981)
This heartwarming drama directed by Bijoy Bose follows the story of Saheb (Tapas Pal), a talented footballer who is poor in studies and is considered the black sheep of the family. Only his sister-in-law (Madhabi Mukherjee) and his sister (Mahua Roychowdhury) shower their love on him. Saheb wants to pursue football but his father (Utpal Dutt) is against it. When his family is in dire need of money to hold his sister's wedding, Saheb lets go of the opportunity to play for the national team and decides to sell a kidney to arrange some funds. Unaware of Saheb's sacrifice, the family gets busy with the wedding celebrations while Saheb fights for his life on the operating table.
Watch it on: KLIKK
Egaro (2011)
Egaro is a period drama chronicling the historic victory of Mohun Bagan Club against the East Yorkshire Regiment in the IFA Shield competition in 1911. Directed by Arun Roy, Egaro commemorated the historic event in its centenary year. The film begins with an undercurrent of nationalism running across Bengal following the British government's 1905 decision to partition the province. This, coupled with anger arising out of Khudiram Bose's hanging in 1908, finds an outlet in football. Breaking the barriers of caste, creed and religion, players come together to defeat the Englishmen in their own game. Shankar Chakraborty as Nagendra and Ronodeep Bose as Abhilash stand out in the ensemble cast.
Watch it on: YouTube
Lorai: Play to Live (2015)
Parambrata Chattopadhyay donned the director's hat for this sports drama set against the rough terrains of Purulia. Sebastian Ryan (Prosenjit Chatterjee), a former footballer who is dependent on alcohol, is appointed by the sports minister to form a football team in the violence-hit district of Purulia as an outreach programme. As things don't go according to plan, the minister wants to shelve the project. Sebastian and his motley group of rural players then rise to the occasion to prove themselves on the field and keep the team together. With a blend of Chak De! India and Lagaan in its theme, Lorai manages to win hearts with its rustic appeal and exploration of contemporary political issues.
Watch it on: Voot Select
Messi (2017)
Chhotu (Aryann Bhowmik) is a bright upcoming player who competes in street football matches. He is a fan of Messi and wears a number 10 jersey like the Argentinian legend. His unemployed elder brother Prosun (Ronodeep Bose) is his manager of sorts who arranges matches for Chhotu. In a twist of fate, Chhotu meets with an accident and is rendered physically disabled for life. Engulfed by guilt, Prosun decides to slip into his younger brother's shoes and give his best shot on the field. Directed by Riingo, Messi captures the passion that runs deep among football fans. Both Aryann and Ronodeep deliver knock-out performances as brothers who discover their self-worth.
Watch it on: MX Player
Golondaaj (2021)
Directed by Dhrubo Banerjee, Golondaaj is a biopic of Nagendra Prasad Sarbadhikari, who is considered to have set up the first professional football club for Indians. Nagendra — played by Dev — vows to beat the British in football after he is punished for touching a ball. He forms a team, Sovabazar Club, with players from different strata of society. The game becomes a symbol of hope and rebellion as nationalistic passions sweep the country. After a series of trials and attempts at finding a foothold in the Maidan where all the clubs are located, Sarbadhikari's team lifted the Trades Cup in 1882, long before Mohun Bagan's historic IFA Shield win.
Watch it on: Hoichoi