Is the Delhi government under-reporting virus deaths?
Cremation and burial ground data reveal 409 Covid-19 fatalities till May 13, but health department puts toll at 106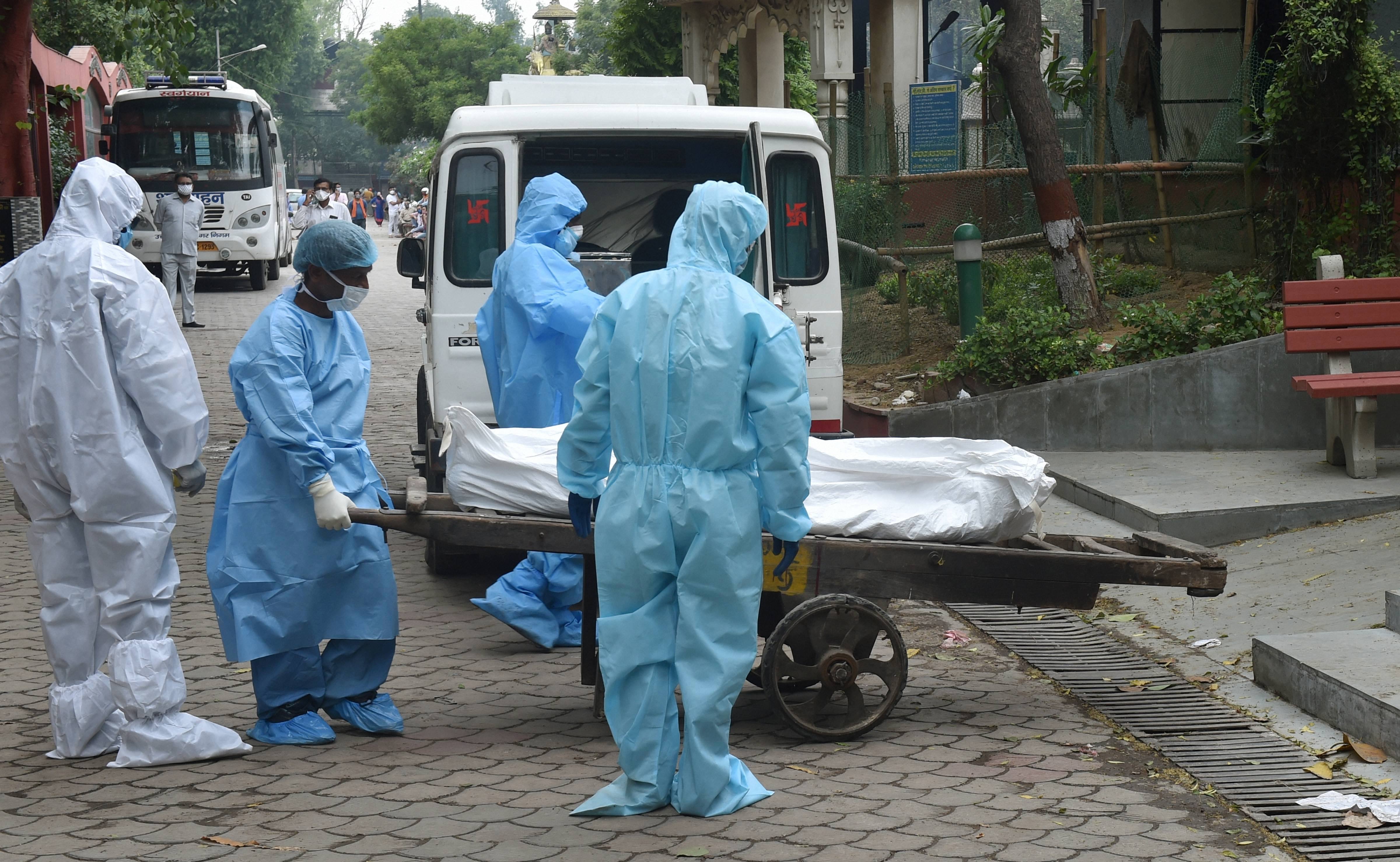 ---
New Delhi
|
Published 14.05.20, 10:55 AM
|
---
Municipal corporations of Delhi are recording more Covid-19 deaths than what is being declared by the state government, the difference running into hundreds, with the Opposition BJP that controls these civic bodies claiming Arvind Kejriwal's administration is window-dressing numbers.
As on Wednesday, May 13, corporation-administered cremation and burial grounds designated for Covid linked deaths had recorded 409 cases. But the state health bulletin put the death toll at 106.
Municipal records include suspected Covid-19 deaths which are not counted by the government's death audit committee (DAC) as a demise caused by the virus. However, since all such patients exhibited Covid-19 symptoms, their last rites are, as mandated, conducted at the designated cremation and burial grounds.
"For us, they are all positive (cases). Suspected cases are also cremated or buried as per the standard Covid-19 burial procedures," said Jai Prakash, standing committee chairperson of the BJP-majority North Delhi Municipal Corporation.
Prakash claimed the number of suspected cases weren't more than 20 and, therefore, a discrepancy of over 300 was still significant. "Even if there were 50 or 100 suspected cases, that would mean the government was hiding 200 to 250 deaths in its reports," he said, citing total death figures.
The Delhi government has admitted to a "mismatch" in the data, attributing it to reporting delays by hospitals. The death figures issued in its daily bulletins now come with a disclaimer: "All figures are tentative, subject to change on receipt of additional information."
Telegraph Online has reached out to the AAP government spokesperson and health officials a number of times. This report will be updated once the Delhi government responds.
Sources claimed that as of May 13, the two Covid-dedicated cremation grounds, Nigambodh Ghat and Punjabi Bagh Shamshan Ghat, had recorded 184 and 111 cremations respectively. The two dedicated burial grounds, Dilli Gate Kabristan and Buland Masjid Kabristan, reported 105 and 9 burials respectively.
On Tuesday, May 12, the state government bulletin mentioned 86 deaths, 13 more from Monday. On Wednesday, May 13, the government's toll increased by 20 to 106. State government data doesn't clarify whether the numbers pertained to deaths that occurred on the day or included earlier fatalities that weren't recorded.
"Now they are increasing the death figures every day to cover up while blaming hospitals. If they don't trust our data, which comes from hospitals itself, they can check death records that we'll provide," said Bhupendra Gupta, Delhi South corporation's standing committee chairman.
As of May 13, there is a discrepancy of 303 deaths in official records which Delhi health minister Satyendar Jain has attributed to delayed reporting by hospitals.
"Jain has issued a statement that from May 11 every hospital will submit data. Were hospitals not sharing data earlier? What has changed that necessitated such an order?" Gupta said.
The South corporation standing committee chairman was referring to the Delhi government order of May 10 directing hospitals, both private and government, to submit death records of Covid-19 positive cases following a standard operation procedure (SOP). The order was in response to a report in National Herald about the mismatch in death figures.
Later, similar reports confirming such a mismatch were published by The Print and The Indian Express, pointing to significantly low numbers being reported by the government.
In the order, chief secretary Vijay Dev said, "It has come to our notice that both public and private hospitals (both Covid-19 dedicated and non-Covid hospitals) are not reporting the deaths of positive cases of Covid-19 occurring in their hospitals in a timely and regular manner."
He also pointed out that hospitals had failed to submit daily death summaries 'despite repeated reminders' to the death audit committee.
But hospitals disagree. For instance, Ram Manohar Lohia Hospital PR iterated that it sent daily Covid-19 reports to the health ministry and the state government. These reports included figures of new cases and deaths recorded.
According to PR official Smriti Tiwari, RML, which is under the Union government, recorded 68 Covid-19 deaths till May 12. Of these, 17 were either brought dead or died within 24 hours of admission.
But the state health department daily bulletin of the day showed 26 cumulative deaths against RML hospital.