Delhi Assembly Elections 2020 Counting: AAP wins 62 seats
BJP bags 8, Congress fails to secure any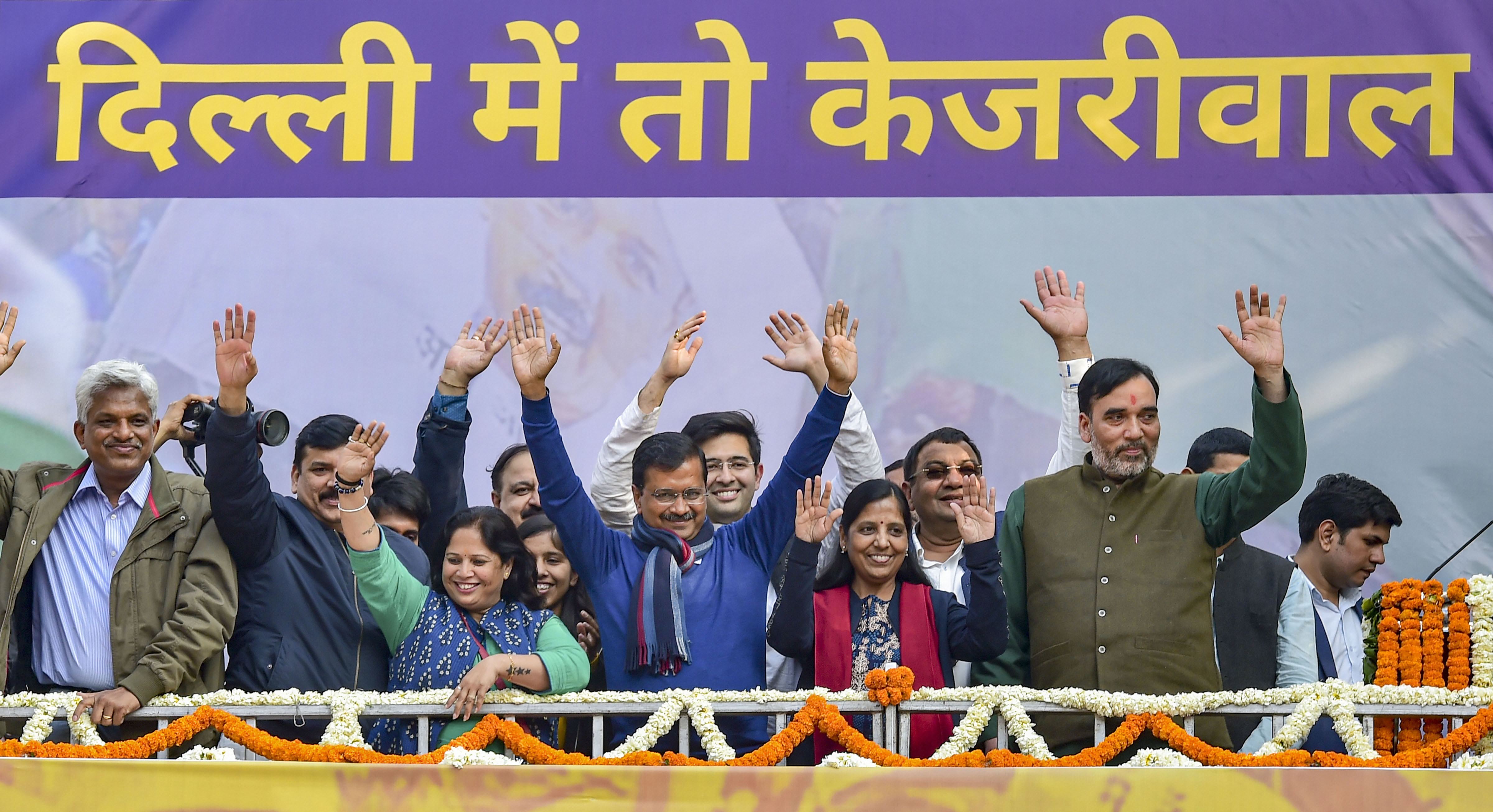 ---
Published 11.02.20, 02:37 AM
|
---
10:59 PM – AAP's Akhilesh Tripathi leading from Model Town
'I thank everyone who has expressed their confidence in Arvind Kejriwal. People want a government that takes care of its citizens. People of Delhi have voted for development; I thank them,' said Tripathi, who is leading over BJP's Kapil Mishra after the second round of counting

Voting for the Delhi assembly election closed at 6 pm on Saturday. More than 24 hours later, the Election Commission said around 62.59 per cent of 1.47 crore eligible residents voted in the polls, compared to 67.5 per cent in 2015.
Voting was held for all 70 of Delhi's Assembly seats on Saturday, with nearly 2,700 polling stations and 13,000 booths set up across Delhi opening at 8 am. Exit polls predicted that Aam Aadmi Party (AAP), led by Arvind Kejriwal, will win a clear majority and be back in power, defeating the BJP which rules at the centre.

Delhi is the fourth state to go to polls after the 2019 Lok Sabha election. Maharashtra, Haryana and Jharkhand were the other three states, where Vidhan Sabha elections took place post-2019 general election. All of them were previously ruled by the BJP, but the BJP is presently in power only in Haryana, that too with the help of the Jannayak Janata Party.

8: 20 AM – Early trends put AAP in lead
Early trends show AAP in lead, though the BJP seems to be gaining more seats than 2015.
8:05 AM – Sisodia and Tiwari claim win for AAP and BJP respectively
Delhi Deputy Chief Minister Manish Sisodia said, "We are confident of a win today because we have worked for people in the last 5 years." Delhi BJP Chief Manoj Tiwari told ANI, ' I am not nervous. I am confident that it will be a good day for BJP. We are coming to power in Delhi today. Don't be surprised if we win 55 seats."

8:45 AM – Kejriwal, Sisodia, Atishi take lead
Arvind Kejriwal, Manish Sisodia, Amanatullah Khan, Atishi and Gopal Rai are leading in their respective constituencies.
8: 55 AM – BJP spokesperson Tajinder Pal Singh Bagga leads
He is contesting from Harinagar constituency.
Empty chairs at BJP Delhi office
Delhi BJP office was found almost empty.
2: 19 PM – After the results, BJP will not remember any Bagh, says Akhilesh Yadav
'I congratulate Arvind Kejriwal ji. I also thank the people of Delhi who rejected the politics of hate, betrayal, and destruction. After the result of this election, BJP will not remember any Bagh,' the Samajwadi Party chief said.
Kejriwal to address volunteers, media at 3:30 PM
He will be addressing party volunteers and the media at AAP's ITO office at 3:30 PM.
2: 24 PM – BJP's Kapil Mishra congratulates AAP, Kejriwal
'I congratulate Aam Aadmi Party and Arvind Kejriwal for the excellent victory. BJP has lost the fifth state election in a row. It means we have somewhere failed to connect with the people of Delhi,' he said.
2: 12 PM – Sisodia regains lead
He is now leading by 3,129 votes after the 13th round of counting
What happened to BJP, asks Kamal Nath
Responding to Congress' dismal performance in the polls, Madhya Pradesh chief minister Kamal Nath said, 'We were already aware of it. The question is – what happened to BJP which was making big claims?'
2: 10 PM – AAP tweets Kejriwal poll claims video
With the election trend putting the party on top, AAP says 'the rest is history'
2: 42 PM – Yogendra Yadav congratulates AAP for 'well deserved victory'
'Congratulations @AamAadmiParty for a well deserved victory in the face of dirty tricks of the regime and a docile EC. Congratulations to people of Delhi for defeating the most vitriolic campaign of communal hatred in recent times and stopping it from becoming a national template,' Yadav said.
3: 03 PM – Raghav Chadha wins Rajinder Nagar constituency
He won by a margin of 20,058 votes.

Kejriwal to address media, volunteers at 3:30 PM
He will be addressing party workers and the media at 3:30 PM at AAP's ITO office.
3: 05 PM – Manish Sisodia wrests Patparganj constituency
After trailing earlier, Sisodia took the lead in the 13th round.
Empty chairs at BJP office
The BJP office looked almost empty as trends showed AAP was headed for a win
3: 21 PM – Results show country will be run by 'Jan ki bat' not 'Mann ki baat': Uddhav Thackeray
'I congratulate Arvind Kejriwal and the people of Delhi for AAP's victory in #DelhiPolls2020. People have shown that the country will be run by 'Jan Ki Baat', not 'Mann Ki Baat'. BJP called Kejriwal a terrorist but couldn't defeat him,' the Maharashtra chief minister said.
3: 30 PM – AAP wins from Patel Nagar, Sultanpur Majra
AAP's Raaj Kumar Anand has won from Patel Nagar seat, by a margin of over 30,000 votes against BJP's Pravesh Ratn. On the other hand, AAP's Mukesh Kumar Ahlawat has won from Sultanpur Majra over the BJP candidate.
Atishi thanks people after winning
'In the last 5 years we have endeavoured to make Delhi's Govt. Schools the best in the country and now we'll make Kalkaji the best constituency in Delhi,' she said.
3: 40 PM – Kejriwal addresses media
"This is a win for every family whose children are going to school, whose family is getting good treatment in hospitals. People of Delhi have given birth to a new kind of politics. They have conveyed that vote will only go to the one who constructs schools, mohalla clinics, 24x7 electricity, water, roads. It's the beginning of a new kind of politics," the CM-designate said.
3: 53 PM – AAP wins Seelampur
AAP candidate Adbul Rehman defeats BJP's Kaushal Kumar Mishra from Seelampur Assembly constituency by 27887 votes.
3: 58 PM – AAP's Imran Hussain wins from Ballimaran
AAP wins the fifth seat from Ballimaran. MLA Imran Hussain defeated BJP's Lata by a margin of over 35,000 votes.
4: 05 PM – AAP wins from two more constituencies
AAP's Ram Niwas Goel has won from Shahdara by over 5000 votes, defeating BJP's Sajya Goyal, while Ajay Dutt, also from AAP, has won from Ambedkar Nagar.
4: 10 PM – BJP wins first seat
BJP's Om Prakash Sharma has won from Vishwas Nagar, defeating AAP's Deepak Singla by over 16000 votes.
Kejriwal to take out roadshow
It will start from AAP's ITO office and end at Raisina Bangali school on Kali Bari Marg, The AAP chief said he will stop at Hanuman temple to pay his obeisances.
4: 37 PM – AAP bags 17 seats
The party has won in 17 Assembly constituencies, according to Election Commission data. In Mangol Puri, AAP's Rakhi Birla defeated BJP's Karam Singh Karma, while BJP's Kapil Sharma lost to AAP's Akhilesh Tripathi on Model Town. AAP's Shiv Charan Goel and Rituraj Govind won in Moti Nagar and Kirari, respectively.
6: 15 PM – BJP wins 2 more seats; AAP's tally reaches 38
Vijender Kumar defeated Rajesh Bansiwala by a margin of 5,367 votes to secure a win in Rohini constituency. In Karawal Nagar, BJP emerged as the winner with Mohan Singh Bisht beat Durgesh Pathak by 44,431 votes. Meanwhile, the AAP extended their lead by winning Adarsh Nagar, Bijwasan, Janakpuri, Gokalpur seats, among others.

5: 05 PM – AAP bags 4 more seats
AAP's Saurabh Bhardwaj beat BJP's Shikha Roy by over 16,000 votes to win the Greater Kailash seat. In Hari Nagar, .AAP's Raj Kumari Dhillon defeated BJP's Tajinder Pal Singh Bagga. AAP also won Ballimaran and Mustafabad and Narela seats.

4: 43 PM – Manoj Tiwari congratulates Kejriwal, accepts mandate
'We couldn't perform well,we'll evaluate this.Sometimes we get discouraged when results are not as per our expectations but I would like to tell our workers to not be disheartened...Compared to 2015 our winning percentage has increased,' he added.
5:50 PM – BJP gains third seat, AAP gets more wins
Jitender Mahajan from the BJP defeated AAP's Sarita Singh by more than 13,000 votes to win Rohtas Nagar seat. Meanwhile, AAP won multiple seats, including Badli.

5:32 PM – Kejriwal offers prayers at Hanuman Temple

Arvind Kejriwal reached Hanuman Temple after celebrating AAP's victory at party's office to offer his obeisances.
5: 25 PM – AAP gets more seats, BJP bags another
The AAP continued its win streak with securing Matia Mahal, Kasturba Nagar, Madipur, Krishna Nagar, and Nangloi Jat seats, among few others. On the other hand, the BJP won its second seat. BJP's Ajay Mahawar defeated AAP's Shirdutt Sharma in Ghonda.
4: 14 PM – Congratulate Delhi for giving a decisive mandate fearlessly, says Aaditya Thackeray
'Leaving aside electoral issues, one must work&fulfill promises. We must steer clear of the level of politics which was there (in #DelhiElection). I congratulate Delhi for giving a decisive mandate fearlessly. I congratulate Arvind Kejriwal,' the Maharashtra state minister said.

6: 31 PM – Modi congratulates AAP, Kejriwal
'Congratulations to AAP and Shri @ArvindKejriwal Ji for the victory in the Delhi Assembly Elections. Wishing them the very best in fulfilling the aspirations of the people of Delhi,' the Prime Minister tweeted.
5:58 PM – Rahul Gandhi congratulates AAP
'My best wishes & congratulations to Mr Kejriwal and the AAP on winning the Delhi Assembly elections,' the former Congress chief tweeted.
7: 40 PM – AAP gets more wins
The AAP won Delhi Cantonment, Karol Bagh, Chandni Chowk, Tilak Nagar, Tri Nagar, Trilokpuri, Tughlakabad, Uttam Nagar, Vikaspuri and Wazirpur seats to cross the 50-seat mark.
7: 10 PM – AAP reaches 48, BJP at 6
The AAP won in Chhatarpur, Kondli, Mehrauli, Mundka, R.K. Puram and Rajouri Garden seats. On the other hand, BJP bagged another seat with Anil Kumar Bajpai beating AAP's Naveen Chaudhary to win the Gandhi Nagar seat.
AAP wins 62 seats, BJP gets 8
The Aam Aadmi Party returned to power for the third time in Delhi, winning 62 of the 70 seats in Assembly elections. The BJP chalked up eight seats, five more than their 2015 tally. It, however, boosted its vote percentage, getting 38.5 per cent of the votes. The Congress could not secure even a single seat in the polls.
9:20 AM – AAP bigwigs maintain lead
AAP's Raghav Chadha, Somnath Bharti, and BJP's Vijender Gupta, OP Sharma lead in their respective constituencies.
8: 25 AM – Congress leads in sole constituency
Congress' Haroon Yusuf is leading in Ballimaran.

9:05 AM – Counting stopped at three centres
Counting stopped at Shakur Basti, Adarsh Nagar and Model Town for technical reasons

10: 08 AM – Congress' Haroon Yusuf trails
The Congress party now loses its only lead in Ballimaran with Haroon Yusuf trailing at the third spot.
9: 55 AM – Tajinder Pal Singh Bagga trailing
AAP's Raj Kumari Dhillon leading from Hari Nagar after first round of counting.
9: 28 AM AAP's Saurabh Bhardwaj leads with narrow margin
He is leading with a margin of 1,505 votes from Greater Kailash constituency.
9:32 AM – Alka Lamba trails in Chandni Chowk
Trends show Congress' Alka Lamba trailing in Chandni Chowk constituency.
9: 40 AM – Atishi, Amanatullah Khan trailing
AAP's Atishi and Amanatullah Khan are trailing in Kalkaji and Okhla constituencies, respectively.
10:53 PM – AAP leading in old Delhi seats
AAP's Imran Hussain, Shoaib Iqbal, Prahlad Singh Sawhney and Som Dutt are leading from their respective Old Delhi seats after the third round.
10:43 AM – AAP's victory against BJP is important, says Congress' A.R. Chowdhury
'Everyone knew that Aam Aadmi Party will return to power for the third time. Congress's defeat will not send a good message. The victory of AAP against the Bharatiya Janata Party & its communal agenda is significant,' Congress MP A.R. Chowdhury said.

12:25 PM – Atishi, Sisodia trail in their respective constituencies
Atishi was trailing behind BJP's Dharambir Singh in Kalkaji constituency, while Manish Sisodia was behind Ravinder Singh Negi in Patparganj seat.
10:20 PM – Manoj Tiwari says BJP is hopeful
BJP's Delhi unit chief Manoj Tiwari said, 'Trends indicate that there is a gap between AAP-BJP, there is still time. We are hopeful. Whatever the outcome, being the state chief I am responsible.'
Our seats, vote percentage will increase, says Shyam Jaju, BJP's national vice-president
'Last elections we had three seats which will increase and so will our percentage. It'll be clear in a few hours,' said Shyam Jaju, BJP's national vice president, adding that Delhi's public has rejected Congress and even AAP's seat numbers have decreased. He also said that Shaheen Bagh was not just an election issue.

11:12 PM – Manish Sisodia trailing in Patparganj
AAP's Manish Sisodia is trailing behind BJP's Ravinder Singh Negi in Patparganj Assembly constituency
11:43 PM – AAP's Rajesh Rishi leading at Janakpuri after Round 7 counting
Aam Aadmi Party's Rajesh Rishi is leading against BJP's Ashish Sood from Janakpuri, after 7 rounds of counting
8: AM – Counting begins
Counting of votes for the Delhi elections begins at 21 counting centres. Each centre has a dedicated hall for every constituency. Around 2600 counting staff overall involved. The counting centres are located at CWG Sports Complex in East Delhi, NSIT Dwarka in West Delhi, Meerabai Institute of Technology and GB Pant Institute of Technology in Southeast Delhi, Sir CV Raman ITI, Dheerpur in Central Delhi, and Rajiv Gandhi Stadium in Bawana in North Delhi, among other places.

Increased vote percentage a win for party, says BJP spokesperson Naveen Kumar
He said Arvind Kejriwal and the Congress misled the people on Citizenship (Amendment) Act resulting in violence in the city Kumar also said that they have improved their vote percentage significantly, which means it is a win for the party.

12:07 PM – AAP ahead in 58 seats, BJP in 12
Aam Aadmi Party is leading in 58 seats, while the BJP is ahead in 12 seats, according to official Election Commission data
10:25 PM – AAP's Jarnail Singh leads in Tilak Nagar
AAP's Jarnail Singh leading from Tilak Nagar after first round of counting ends.
Silence at BJP office
Silence prevailed at the Delhi BJP office
10:54 PM – AAP leading in 52 seats, BJP in 18
According to the official Election Commission data, AAP is ahead in 52 seats, while the BJP is leading in 18 seats

10:32 PM – AAP leading in 45 seats, BJP in 19
According to the official Election Commission data, AAP is ahead in 45 seats, while the BJP is leading in 19 seats
Prashant Kishor expresses gratitude to citizens of Delhi
In a tweet, political strategist Prashant Kishor, who devised AAP's campaign, said, 'Thank you Delhi for standing up to protect the soul of India!' AAP is leading in more than 50 seats.
12:43 PM – AAP's Amantullah Khan leading by 70,514 votes
AAP's Amantullah Khan is leading by a massive 70,514 votes in Okhla constituency
AAP members plan celebration
With blue and white balloons, buntings and giant cutouts of their leader Arvind Kejriwal, AAP workers went into early celebration mode at their party headquarters on Tuesday as trends showed the party leading in 57 of 70 seats.
12:15 PM – Satyendra Jain, Gopal Rai, Imran Hussain leading
Health minister Satyendra Jain is leading by 309 votes in Shakarpur constituency. Labour minister Gopal Rai and food and civil supplies minister Imran Hussain are leading from Babarpur and Ballimaran constituencies, respectively.
Mamata Banerjee congratulates Arvind Kejriwal
West Bengal chief minister Mamata Banerjee congratulated her counterpart Arvind Kejriwal, saying people have 'rejected' the BJP.
12:20 PM – Kejriwal, Gahlot lead in thier respective constituencies
Delhi chief minister Arvind Kejriwal is leading in his New Delhi constituency by over 6,000 votes and transport minister Kailash Gahlot is leading by 1,115 votes from Najafgarh constituency.
'A win for development over hate': Amanatullah Khan
'The people of Delhi have today 'shocked' BJP and Amit Shah. This is a win for development over hate. It is not me, the public have helped me break the record,' said the leading candidate from Okhla.
1:40 PM – Atishi leads again
She is now leading from the Kalkaji constituency by a margin of 2,047 votes.
Kerala CM Pinarayi Vijayan congratulates Kejriwal
'Let this victory be a harbinger for pro-people and inclusive politics in our country,' he said.
Gautam Gambhir accepts defeat
We put in our best effort. Maybe we could not convince Delhi's public. In internal discussions, we will be able to understand where we lacked,' he said.

1: 48 PM – Raghav Chadha leads
AAP candidate Raghav Chadha leads with more than 18,000 votes in Rajinder Nagar constituency.
'We have improved': Shahnawaz Hussain, BJP National Spokesperson
'We have increased our tally from single to double digit. We've improved, it is Congress which lost. AAP's seat share has also decreased. Congress transferred it's votes to AAP which helped them,' Shahnawaz Hussain, BJP National Spokesperson.
1:13 PM – Delhi Assembly Dissolved
Lt Governor Anil Baijal dissolves Delhi Legislative Assembly.
1: 43 PM Parvesh Verma accepts defeat
'We will work hard and give a better performance in the next elections,' he said.
2: 26 PM – AAP leading in 60 seats
The party's win and leading figures have touched 60.
#DelhiResults

According to initial trends, BJP's Tajinder Pal Singh Bagga is leading from the Harinagar constituency.

FOLLOW LIVE: https://t.co/1lKbk8Qn5W pic.twitter.com/LWBJSMxXAI

— The Telegraph (@ttindia) February 11, 2020
Manoj Tiwari,Delhi BJP chief: We couldn't perform well,we'll evaluate this.Sometimes we get discouraged when results are not as per our expectations but I would like to tell our workers to not be disheartened...Compared to 2015 our winning percentage has increased. #DelhiResults https://t.co/BvIChrcDAK

— ANI (@ANI) February 11, 2020
#DelhiResults@INCIndia's Haroon Yusuf is leading in the Ballimaran constituency, thus opening the account for the Grand Old Party.
FOLLOW LIVE: https://t.co/1lKbk8Qn5W pic.twitter.com/rf1epD3Xc2

— The Telegraph (@ttindia) February 11, 2020
#DelhiResults Manish Sisodia issues statement after his victory from the Patparganj seat.
FOLLOW LIVE: https://t.co/QdmtlRp52L pic.twitter.com/7g0m5PLyzN

— The Telegraph (@ttindia) February 11, 2020
#DelhiResults @AamAadmiParty leaders, including CM Arvind Kejriwal, dy CM Manish Sisodia, Atishi and Gopal Rai are leading in their respective constituencies.
FOLLOW LIVE: https://t.co/1lKbk8Qn5W pic.twitter.com/lBD1B8Gxq9

— The Telegraph (@ttindia) February 11, 2020
Mamata Banerjee congratulated Arvind Kejriwal #DelhiResults
FOLLOW LIVE: https://t.co/QdmtlRp52L pic.twitter.com/F4xlsrAanC

— The Telegraph (@ttindia) February 11, 2020
Kapil Mishra, BJP candidate from Model Town constituency: I congratulate Aam Aadmi Party and Arvind Kejriwal for the excellent victory. BJP has lost the fifth state election in a row. It means we have somewhere failed to connect with the people of Delhi. #DelhiElectionResults pic.twitter.com/ptnA9S7Z2I

— ANI (@ANI) February 11, 2020
Maharashtra Minister Aaditya Thackeray: Leaving aside electoral issues, one must work&fulfill promises. We must steer clear of the level of politics which was there (in #DelhiElection). I congratulate Delhi for giving a decisive mandate fearlessly. I congratulate Arvind Kejriwal. pic.twitter.com/Kjn6thXMPd

— ANI (@ANI) February 11, 2020
#DelhiResults
Tajinder Pal Singh Bagga is now trailing. https://t.co/KWLez1S1BP

— The Telegraph (@ttindia) February 11, 2020
#DelhiResults After trailing for most of the day, deputy CM Manish Sisodia is now leading prom the Patpargunj constituency.
FOLLOW LIVE: https://t.co/QdmtlRp52L pic.twitter.com/kC4xBnCfKc

— The Telegraph (@ttindia) February 11, 2020
#DelhiResults
AAP Okhla candidate Amanatullah Khan on Amit Shah's 'current' comment on #ShaheenBagh and his record lead.
FOLLOW LIVE: https://t.co/QdmtlRp52L pic.twitter.com/wpCe1g44IS

— The Telegraph (@ttindia) February 11, 2020
#DelhiResults
Meanwhile, at the BJP Delhi office
FOLLOW LIVE: https://t.co/QdmtlRp52L pic.twitter.com/tY9tk96UKS

— The Telegraph (@ttindia) February 11, 2020
#DelhiResults AAP 's @AtishiAAP is now leading from the Kalkaji constituency by the margin of 2,047 votes.
FOLLOW LIVE: https://t.co/QdmtlR7ubd pic.twitter.com/CO3ZkAvLcD

— The Telegraph (@ttindia) February 11, 2020
Congratulations to @ArvindKejriwal and @AamAadmiParty on a resounding victory in Delhi elections. Let this victory be a harbinger for pro-people and inclusive politics in our country. pic.twitter.com/oJYbH7YsA3

— Pinarayi Vijayan (@vijayanpinarayi) February 11, 2020
Maharashtra Chief Minister Uddhav Thackeray: I congratulate Arvind Kejriwal and the people of Delhi for AAP's victory in #DelhiPolls2020. People have shown that the country will be run by 'Jan Ki Baat', not 'Mann Ki Baat'. BJP called Kejriwal a terrorist but couldn't defeat him. pic.twitter.com/ocfqSGInlM

— ANI (@ANI) February 11, 2020
My best wishes & congratulations to Mr Kejriwal and the AAP on winning the Delhi Assembly elections.

— Rahul Gandhi (@RahulGandhi) February 11, 2020
Delhi BJP president Manoj Tiwari on #DelhiResults
FOLLOW LIVE: https://t.co/1lKbk8Qn5W pic.twitter.com/3Uu4BJBJIy

— The Telegraph (@ttindia) February 11, 2020
BJP MP from East Delhi, Gautam Gambhir: We accept #DelhiElectionResults and congratulate Arvind Kejriwal & the people of Delhi. We tried our best but, probably, we could not convince the people of the state. I hope Delhi develops under the chief ministership of Arvind Kejriwal. pic.twitter.com/GO4HG7s5fI

— ANI (@ANI) February 11, 2020
Delhi: AAP candidate from Rajinder Nagar constituency Raghav Chadha celebrates with party workers as trends show he is leading by more than 18,000 votes. #DelhiElectionResults pic.twitter.com/g13CFoQcdv

— ANI (@ANI) February 11, 2020
"अगर हमने काम किया हैं तो हमें वोट देना, अगर हमने काम नहीं किया हैं तो वोट मत देना"

Before elections @ArvindKejriwal made this bold call and the rest is history!

pic.twitter.com/MJwBclgokw

— AAP (@AamAadmiParty) February 11, 2020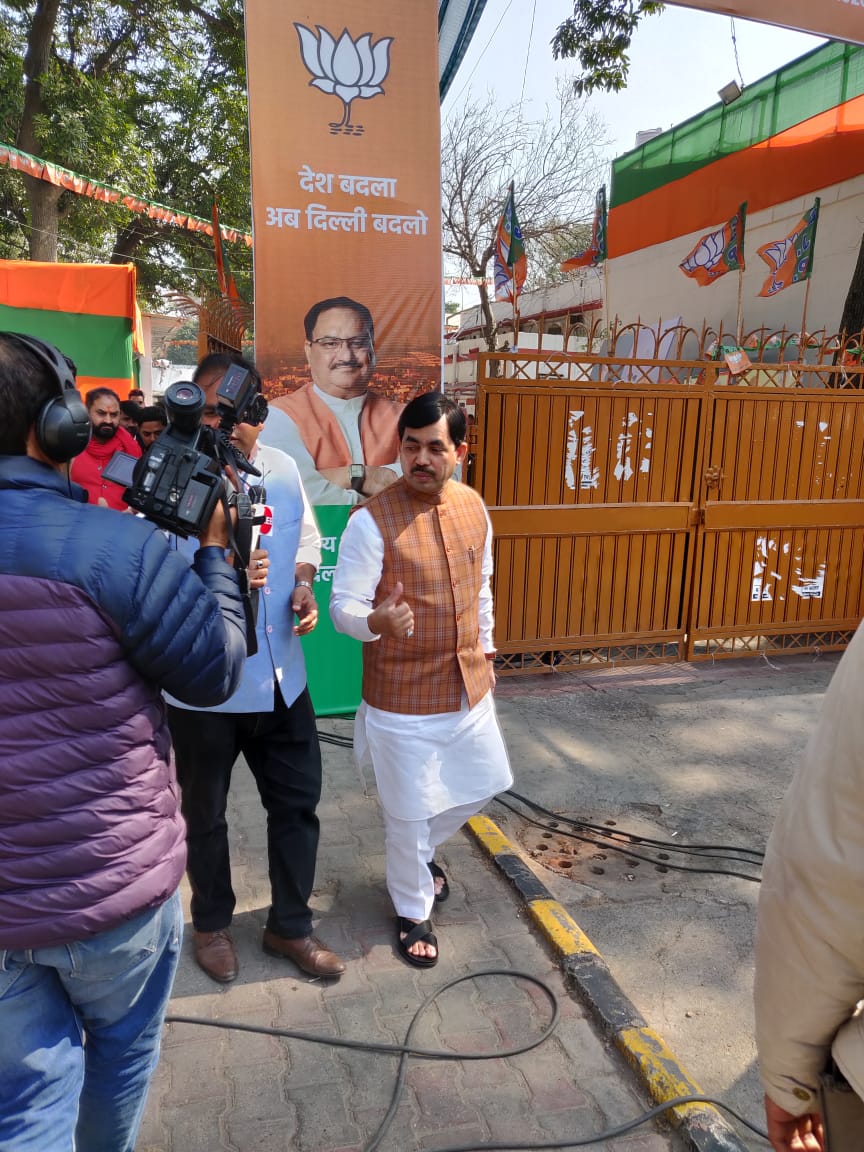 Congratulations @AamAadmiParty for a well deserved victory in the face of dirty tricks of the regime and a docile EC.
Congratulations to people of Delhi for defeating the most vitriolic campaign of communal hatred in recent times and stopping it from becoming a national template. https://t.co/IPgajWYXAc

— Yogendra Yadav (@_YogendraYadav) February 11, 2020
#DelhiResults "Who raised the issue of Shaheen Bagh and who encouraged the women and children sit there... It wasn't us. It was Kejriwal's negative politics," Naveen Kumar, Delhi BJP spokesperson.
FOLLOW LIVE: https://t.co/1lKbk8Qn5W pic.twitter.com/tc3heFJoSd

— The Telegraph (@ttindia) February 11, 2020
Aam Aadmi Party chief Arvind Kejriwal reaches Hanuman Temple at Cannaught Place to offer prayers. #DelhiElectionResults pic.twitter.com/srlNUN34UJ

— ANI (@ANI) February 11, 2020
Parvesh Verma, BJP MP on #DelhiResults: I accept the result. We will work hard and give a better performance in the next elections. If this election would have been on Education and Development, then Education Minister (Manish Sisodia) would not have been trailing. pic.twitter.com/OL6a9G6dVs

— ANI (@ANI) February 11, 2020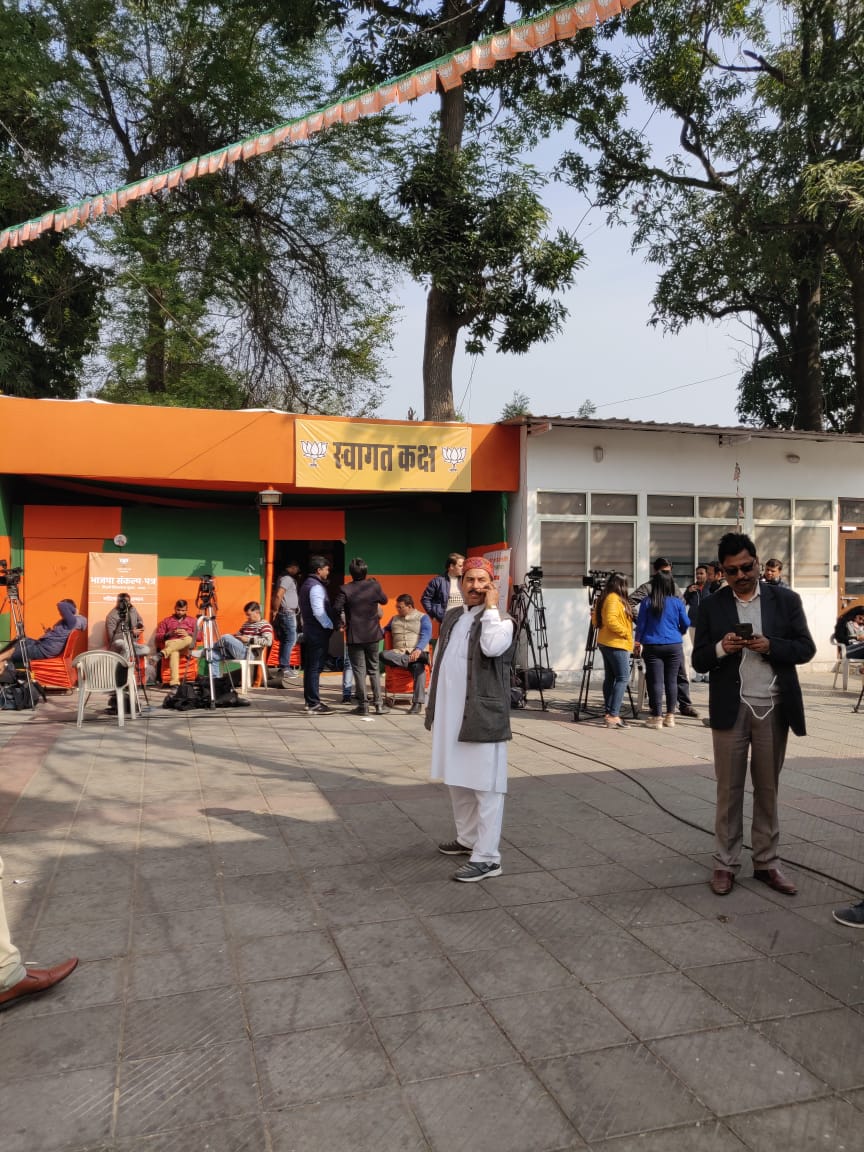 Aam Aadmi Party's Raghav Chadha has won from Rajinder Nagar constituency by a margin of 20,058 votes. #DelhiElectionResults https://t.co/jk7CFgphI7

— ANI (@ANI) February 11, 2020
#DelhiResults AAP extends lead over BJP, as of 11:00 am.
FOLLOW LIVE: https://t.co/1lKbk8Qn5W pic.twitter.com/1BFzyUP5Jr

— The Telegraph (@ttindia) February 11, 2020
#DelhiResults AAP Leads + Wins have touched 60.
FOLLOW LIVE: https://t.co/QdmtlRp52L pic.twitter.com/x4rdb0AZuD

— The Telegraph (@ttindia) February 11, 2020
Congratulations to AAP and Shri @ArvindKejriwal Ji for the victory in the Delhi Assembly Elections. Wishing them the very best in fulfilling the aspirations of the people of Delhi.

— Narendra Modi (@narendramodi) February 11, 2020
Thank you to all the people of Delhi for putting their faith in @AamAadmiParty and voting for politics of development.
In the last 5 years we have endeavoured to make Delhi's Govt. Schools the best in the country and now we'll make Kalkaji the best constituency in Delhi!

— Atishi (@AtishiAAP) February 11, 2020
Prashant Kishor tweets on #DelhiResults
FOLLOW LIVE: https://t.co/1lKbk8Qn5W pic.twitter.com/6ZmdQwFogw

— The Telegraph (@ttindia) February 11, 2020
#DelhiResults
Meanwhile, at the BJP Delhi office
FOLLOW LIVE: https://t.co/QdmtlRp52L pic.twitter.com/tY9tk96UKS

— The Telegraph (@ttindia) February 11, 2020
#DelhiResults Scenes at the @AamAadmiParty
Delhi headquarters
FOLLOW LIVE: https://t.co/1lKbk8Qn5W pic.twitter.com/61WNyPSeWo

— The Telegraph (@ttindia) February 11, 2020