Janata curfew, lumiere shows can't stop assaults on doctors
Kisi ko maara ja raha hai toh kahin kisi ko ghar se nikala ja raha duty karne ke liye, says an AIIMS-Bhopal medical practitioner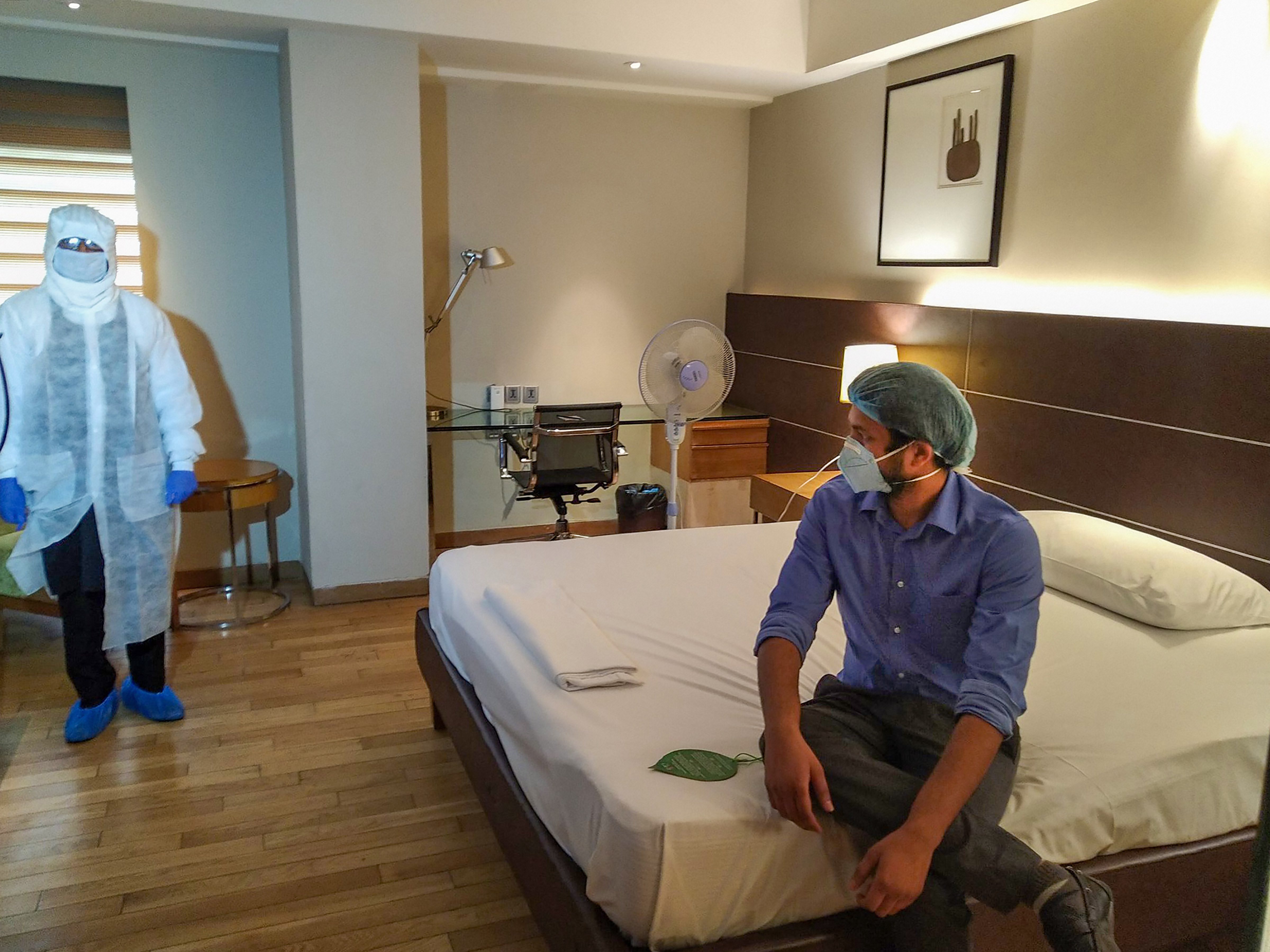 A view of accommodation facilities for doctors who are at the forefront of Covid-19 battle, in Delhi.
PTI
---
New Delhi
|
Published 10.04.20, 03:25 PM
|
---
Several doctors and health workers, at the forefront of the battle against the coronavirus, are reporting an alarming trend: a large number of them are being abused and assaulted by mobs.
Ironically the assaults are being reported for across the country in the backdrop of the Prime Minister's March 19 appeal for a Janata Curfew on March 22 to express solidarity with the medical fraternity, followed by candle light vigil on April 5 to boost the morale of Covid-19 warriors including doctors, nurses, hospital staff and all those manning essential services.
On April 8, three days after the people's lumiere show, two incidents in Bhopal and Delhi pointed to an increasingly hostile environment that medical practitioners were confronting. Two women doctors of Safdarjung Hospital were assaulted after being accused of spreading the coronavirus.
"The two who were assaulted are in a state of trauma and since the accused is from the local area, she's still under threat," said Ashu Meena, vice president of the Safdarjung Resident Doctors' Association.
Meena said it was only after association intervened that police stirred and arrested a 42-year-old man.
The two doctors were posted in the emergency and weren't treating Covid-19 patients. They had gone out to buy fruits and vegetables in the Gautam Nagar area when the incident happened.
The same night two doctors of AIIMS-Bhopal were assaulted by policemen while they were returning from emergency duty. Yuvraj Singh and Rituparna Jana were on their way home on a two-wheeler when they were stopped by a few policemen.
They showed their ID cards and tried to explain that they were returning from hospital duty. But the policemen snatched their belongings and started hitting them.
Singh told The Telegraph Online that even as the policemen hit them with lathis they abused them for "spreading coronavirus to common men".
"We weren't loitering around. We are out there helping people. We are assigned night duty, emergency duty… Many like us are working throughout the country without protection," he said.
There have been many more such incidents, in Surat in Gujarat, Shopian in Kashmir, and Indore in Madhya Pradesh, for instance.
The Union health ministry finally referred to these attacks on Friday.
"In this fight, our biggest support is our frontline health workers. And when they are braving every kind of tension and infection to save us, any kind of ill-behaviour against them is harmful. It is necessary for us that our workforce is motivated to support us," said Lav Agarwal, a joint secretary.
AAIMS-Bhopal doctor Singh referred to an attack in Surat on Sunday. "Kisi ko maara ja raha hai toh kahin kisi ko ghar se nikala ja raha duty karne ke liye (While some are being beaten up, others are being kicked out of homes for doing their duty)," he said about a woman doctor of Surat Civil Hospital who was abused and threatened by her neighbours for "spreading the virus".
The Surat doctor, Sanjivani, recorded the incident in which a man, a neighbour no less, threatened to kick her out of the house. She wasn't even working in the Covid-19 ward of the hospital.
In Kashmir's Shopian, a soldier hit Samiullah Dar, a medic, with the butt of a gun while he was returning home from duty on March 26. Two days earlier, when the Prime Minister announced a 21-say lockdown, a resident PG doctor was assaulted by cops in Telangana's Khammam district.
In Indore, a video showing a mob chasing and throwing stones at two women doctors wearing personal protective equipment had gone viral. The doctors had gone to check on a patient suspected of carrying an infection.
"We had gone to screen a person with contact history. It was perhaps our good deeds and the tehsildar's presence that our lives were saved. He swiftly got out his car, even as stones were being pelted, and took us out of there," one of the doctors, Zakiya Sayed, told DD News on April 3.
Curiously, Agarwal, in his briefing on Friday, seemed to suggest that media reports of assaults on doctors would prove counter-productive and end up deflating the morale of health workers.
"Main aap sab se phir se request karna chahunga ki jo dhnayavad jo humne light jala kar kiya tha us dhanyavad ko hum apne action me convert karein (I request you to ensure that the 'thank you' we expressed by lighting up lamps is converted to action)," he said.
He also requested the media to "not do anything" that could have an adverse impact on their morale. "Main aap sab se request karna chahunga ki koi bhi aise kaarye, koi bhi na kare jisse unka morale aur unki jo ek shakti hai jiske through woh humein support de rahe hain usme koi kami aaye."