AAP supporters, workers celebrate Kejriwal's swearing in
Although the crowd was dominated by people of Delhi, supporters also came from afar to participate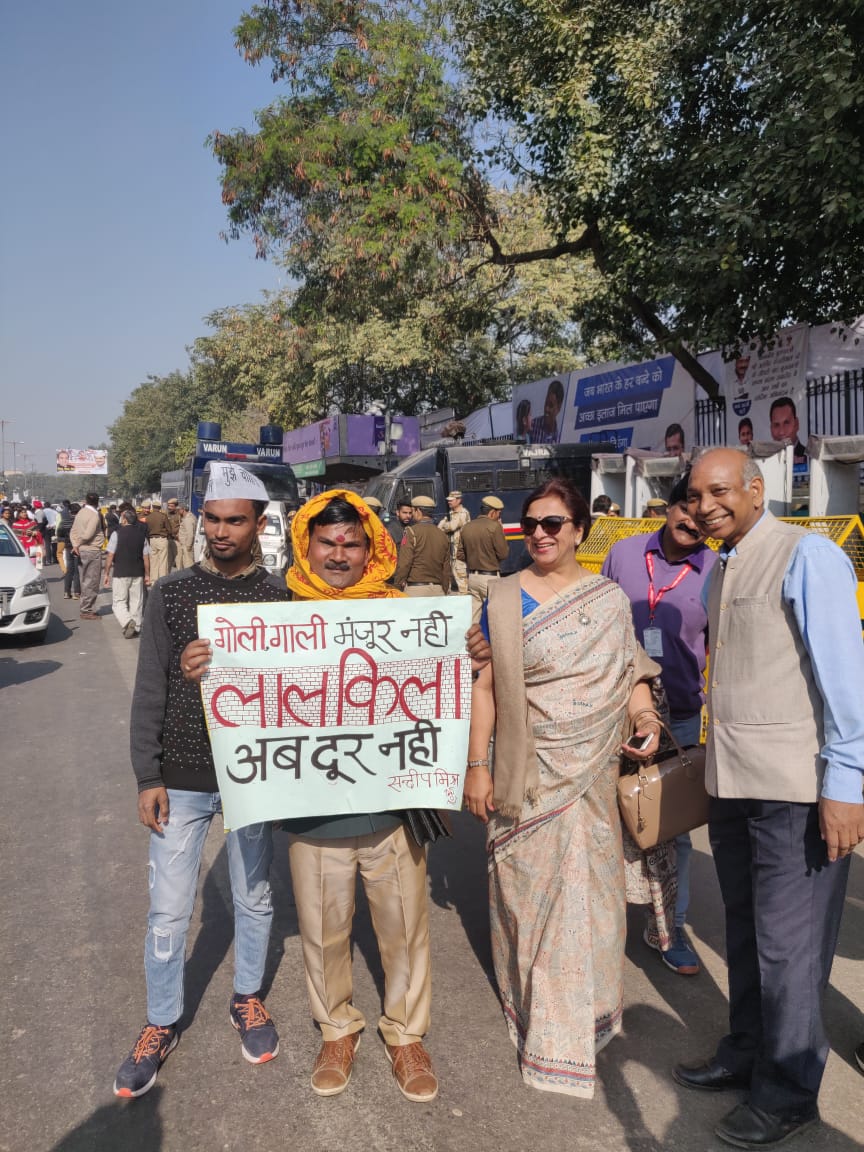 ---
---
Arvind Kejriwal took his oath as Delhi's chief minister for the third time on Sunday. At Ramlila Maidan full of people holding tricolours -- peppered with few flags with broom and Kejriwal's face on it -- he told people that he was everyone's chief minister despite whoever they might have voted for the top post.
'Elections are over. Now we are all together... You all are my family,' said Kejriwal.
Made largely of party karyakartas (workers) and members, the crowd was dominated by people of Delhi who came from almost every constituency of the city.
Khalid Baba, a resident of Seelampur who had come with his grandson Zain Khan dressed like Kejriwal, said the work AAP has done is incomparable.
'He worked for our sisters and daughters with free bus rides and because of him we have water supply and better healthcare,' said Baba, who is also associated with the party. Baba said he'd like to see Kejriwal becoming the Prime Minister next.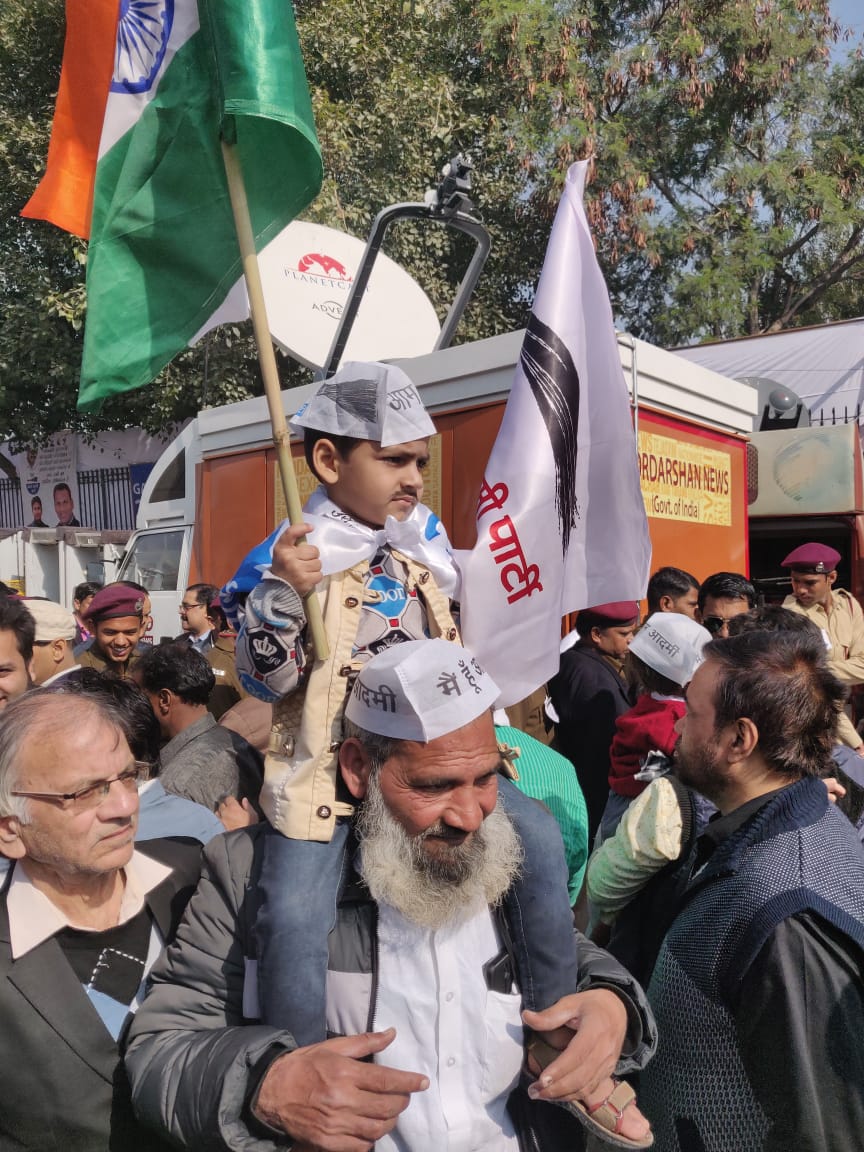 People had come from far to see Kejriwal take oath as the chief minister. Queued outside the entrance to the maidan, men and women from Rajasthan, Haryana and Uttar Pradesh waited for their turn to enter.
A.K. Gupta held a poster showing a muscled up Kejriwal holding a broom, a photoshopped image of a film poster of Singham Returns.
'Ab Hindu-Musalman nahi, kaam se chalega desh (No Hindu-Muslim now, the country will run on work)', the poster said.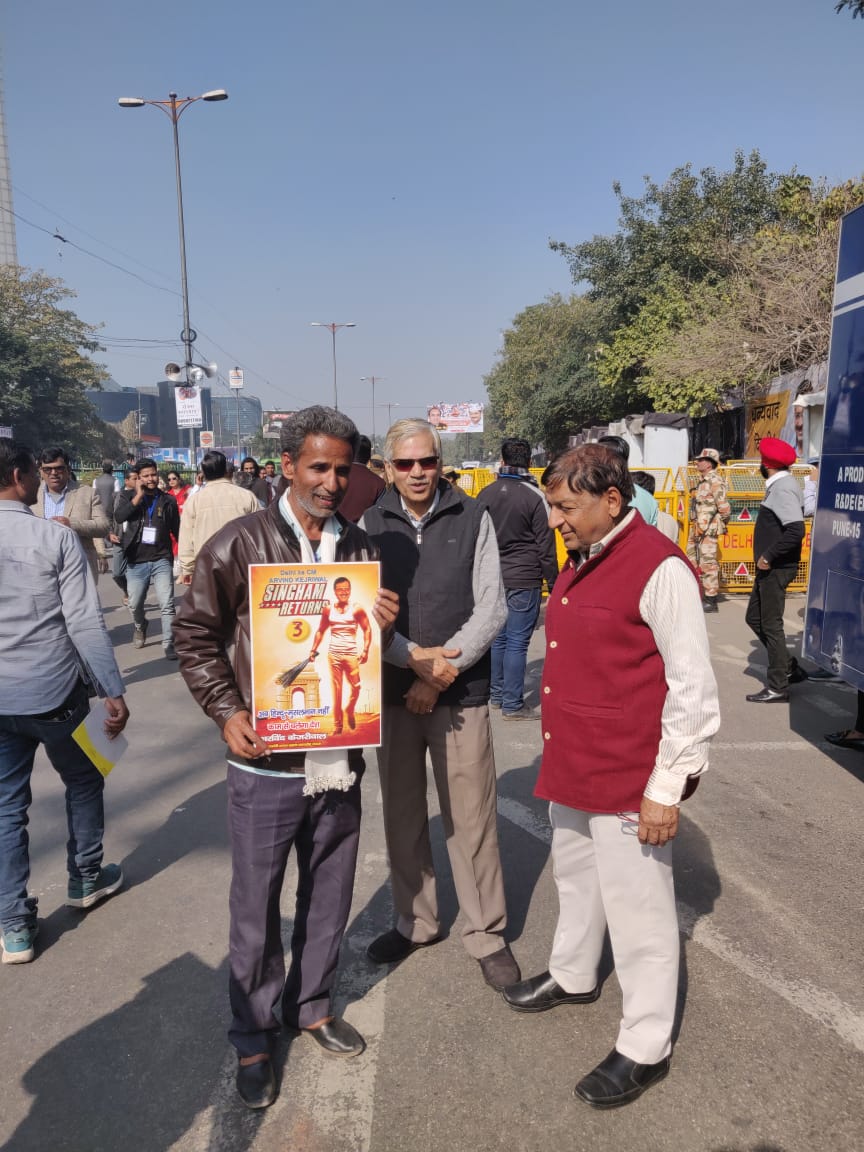 Pointing to the line, Gupta said, 'They (BJP) are misguiding people by doing Hindu-Muslim.' Gupta and his two friends, who are AAP workers in Rajasthan, had arrived in Delhi from Jaipur in the morning.
Another man from Rajasthan's Ajmer, Ramdev Singh Gujjar, had also reached Delhi in support of Kejriwal. Gujjar claimed he was a staunch BJP supporter until recently but now wants AAP to win in his state as well.
'Parliament se panchayat, jhadu chalni chahiye safai ke liye (From Parliament to panchayat, people should use this broom to clean),' said Gujjar, in a reference to AAP election symbol, the broom. He also added that 'Modi and Raje are zeroes' and 'Kejriwal is a hero'.
Middle class crowd almost seemed to be missing from the supporters who had turned up at Ramlila. A group of people from Shankar Garden slums in Vikaspuri said that it is because people like them have benefited the most from AAP's work.
'Usne light free ki, paani diya, bus free ki, road aur naali banayi. Kitna kuch kiya (He gave free electricity, water, free bus rides, built roads and drains. So much has he done),' said Ram Bai, a resident of Shankar Garden. She said it was his work that made her volunteer for the party.