Jubin Nautiyal on how music defines his life
'Music' for me means what 'world' means to you'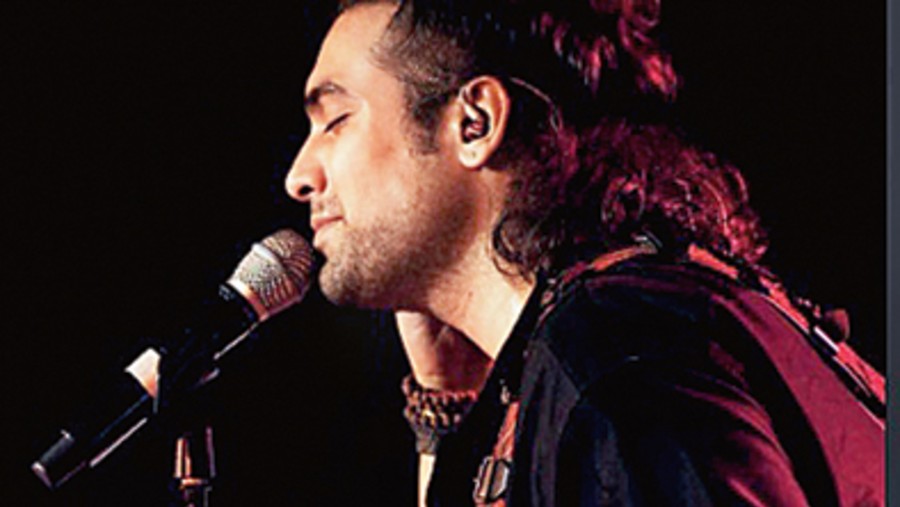 Jubin Nautiyal
Sourced by the correspondent
---
Published 21.06.21, 01:59 AM
|
---
In the last few years, Jubin Nautiyal has become a name to reckon with, not only in the Bollywood playback singing space, but also in the world of independent music. With hits in films like Bajrangi Bhaijaan and Kabir Singh to his name, the 32-year-old singer from Uttarakhand has always been lauded for the freshness he brings to his songs.
On World Music Day today, Jubin teams up with a host of contemporaries — Shreya Ghoshal to Shilpa Rao, Armaan Malik to Sona Mohapatra, among others — to lend a helping hand to Lift Up, a concert initiative by MTV Beats (noon, 6pm, 10pm), Vh1 (noon and 9pm) and MTV (2.30pm and 8.30pm), hosted by singer Jonita Gandhi. We chatted with Jubin on his passion for music and his advice to budding singers.
What does the word 'music' mean to you and what significance does World Music Day have for an artiste like you?
'Music' for me means what 'world' means to you. I was not a musician who suddenly got passionate about music... I was somebody who grew up with it. I started learning music at a very young age. By the time I was in Class 9, I got to know the depth of it and made up my mind to pursue it as my career. Just like how doctors study their subjects, I have studied music from my childhood. For me, music is more like a way of living my world because I find peace in it.
I learnt Hindustani classical music, gave exams for it and kept moving forward with it. I gave my board exams in Class 10 and 12 with music as a subject. I continued learning music in college. Music has been a journey for me rather than something I discovered on my way. For an artiste like me, World Music Day is like my own birthday. This is the kind of significance it has in my life.
What is the primary objective of Lift Up, the MTV initiative that you are part of on World Music Day today?
Music is responsible for making our lives beautiful. It is the only form of magic we human beings can unanimously experience. Music is probably the only language understood and loved by everyone, be it humans or animals or plants. It may be further divided into multiple languages and sometimes you might not even know the context behind it. But it is a sound that sort of gives a background music to your life.
I really respect MTV Beats, Vh1 and MTV's initiative Lift Up, because there are billions of times when music has lifted my mood. I've experienced that magic when I just hear some music and it changes my mood in a jiffy. It has the power to attach to human emotions and form memories around it. It is definitely God's tool and since it's present in abundance around us, we don't realise the value of it.
So, through Lift Up we are going to lift people's mood, since we all have had a very difficult time with the second wave. Everybody has lost someone they knew and while the people who are gone cannot come back, we can help the people who are with us a little bit with the love and compassion music brings in. During these trying times of the last year or so, music has been the coping mechanism for many of us. Has it been the same for you too?
Absolutely! When I found myself in the (first) lockdown, I realised that I haven't been at home like this in the last eight years. One month prior to that, I was doing 22 concerts in 29 days, which was a record-setting experience on its own. And from that, in the next month, I found myself home, unaware of what am I supposed to do and till how long I have to be there. This pandemic suddenly hit us and we all had no work. I think that's when I realised how important music was to me.
In fact, in the hustle-bustle of Mumbai, I forgot why I started doing music in the first place until I got back home (Uttarakhand) this time. That's when I decided to do my first 'Rooftop Concert' for which I was appreciated by Prime Minister Narendra Modi. It created a lot of buzz and we realised that playing live music on a rooftop was a way to reach out to people, telling them to take it easy and that the most difficult time will also pass.
At that moment, I wanted to share why I started listening to and making music, how important this language is in our lives and why we should have more and more gratitude towards music.
Then came the 'Garden Concert', which I did from my own garden, followed by another live-streaming fundraiser concert for the cloudburst calamity in Chamoli. That was again a rooftop valley-facing concert. I think we as musicians are just here to spread the message of love and peace and music is the best way to express that.
You've made a mark in the world of Bollywood playback singing in a relatively short time. How do you look back at the journey so far and what, in your opinion, was your breakout song?
I started my career in 2012, and did my first song Ek mulaqat in the movie Sonali Cable in 2014. I am not sure how well the movie did, but the song surely moved mountains for me. Suddenly, there was a new voice and every composer wanted to know who was behind it. My biggest fear was becoming an artiste who does that one big song and then is not able to cope with the competition and live up to his work.
Today my biggest achievement is that from 2014 to 2021, I still am a fresh voice in the market. I have been singing for the last seven-eight years, giving back-to-back hits. I have been lying low for sure since I am not one of those loud artistes, but I have been working on my music. As per how my career graph is going, I think I am and will be getting good opportunities musically. Touchwood!
I have had multiple breakout moments. Ek mulaqat was one. My song with Salman bhai (Khan) and Pritamda, Zindagi kuch toh bata, (from Bajrangi Bhaijaan) was another. So was Tum hi aana (from Marjaavan). The whole experience of singing Tujhe kitna chahe aur hum (from Kabir Singh) at IIT Roorkee was a breakout moment. My first dance song The humma song (OK Jaanu) was another one.
The whole '90s space that we created in the pandemic has for sure been a breakout moment for me. There was so much of devotional work I did in between, which is doing quite well. I think my voice has that attitude that I don't typecast myself to a genre and my eagerness to make more and more music is helping me out the most.
Of all the songs you have sung so far, across genres, is there any one song that's closest to your heart?
I have not been somebody who has jumped on to a lot of songs at the same time. I believe in working on one song at a time, putting my heart and mind into it. I get attached to every song that I sing, in ways that I cannot explain. It has a lot of emotions and expressions around it and if an artiste works like that, every song becomes close to their heart. Each song has my story which keeps me together.
But if I have to choose, it would be Zindagi kuch toh bata and Humnava mere by Rocky bhai (of the Rocky-Shiv duo) and me. These two songs are really close to my heart and are very intense and liberating.
Do you have a blueprint in mind about how you want to take forward your musical journey in the next few years?
There is no blueprint in the world of music. I can never take my music anywhere, it has always been the other way round. I sit with music like a student learning however much I can. I still want to understand and learn what all my voice can do. That is my strength when it comes to learning music. I have had days, journeys and times with music that I can never forget and if I just keep on growing with my music, I am sure it will take me places.
I have just sung an international song called Breaking the Rules for a film called Initiation, which is an American horror thriller. It's doing really well and I am feeling a lot of gratitude for the love I am getting for it. I never knew I could sing an English song.
If you have to give advice to a budding singer with talent who wants to be where you are but doesn't know how to go about it, what would you tell them?
My advice to all the budding and talented artistes is that music is not an outward but an inward journey. In this world of social media, we have become plastic in so many ways. Over the last two years, I have been trying to understand social media and I have realised that social media is not the actual problem here, how we are seeing it as is. Please use social media to put your reality out there, to motivate people out there because it is a strong form of message. From the day I started putting my reality on my social media, I learnt that people got to know me better, loved me more and I have gained genuine fans. Fans who don't love me for a song but who love me for who I am and those are the kind of fans who create you and make you a sensation. Musically I would say, always pursue music to express your emotions and not to impress your fans... and you will have it!