Work is Durga worship for these people
Meet some of those who celebrate the Pujas a tad differently, by helping those in need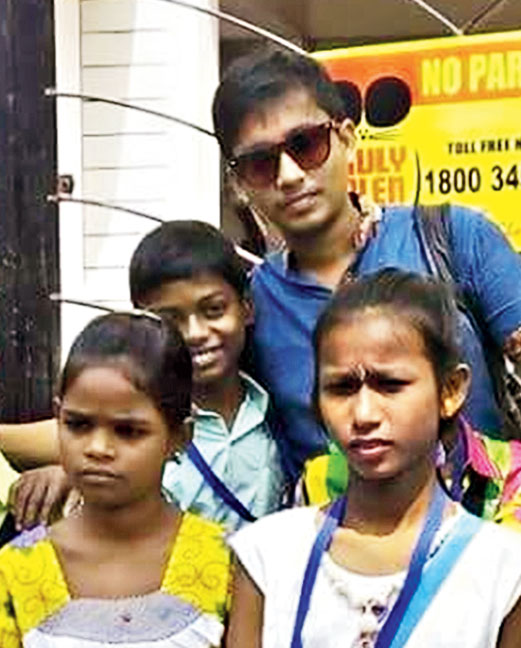 ---
---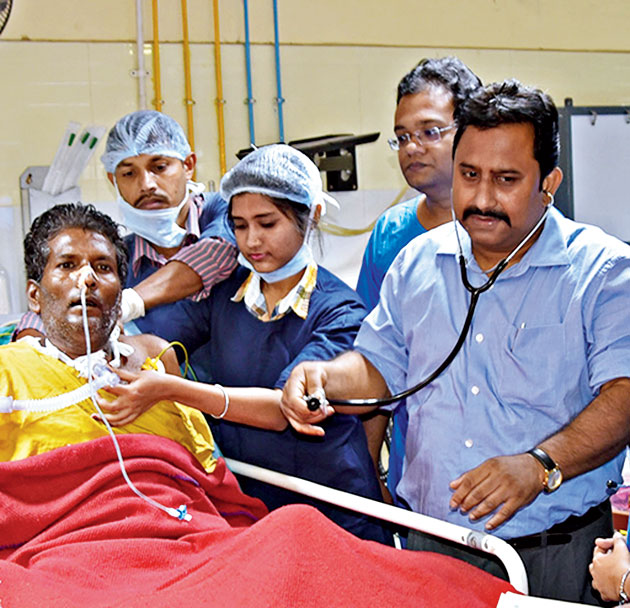 Dr Dasgupta recalls how his team handled the case of Swapna De, a young woman admitted with a severe autoimmune disorder, one Saptami morning in 2014.
"It took us three weeks to stabilise her," he says. He points to a 11-year-old in the CCU. He is suffering from acute tubercular meningitis. Dr Dasgupta adds, "He's been here for nearly a month. You cannot leave such patients in the lurch just because it's festive time."
We find Soham Paul busy with about a dozen street children in front of Swami Vivekananda's ancestral house in north Calcutta's Simla. Manisha, Gudiya, Samir, Papu, Sonali and other children are chattering away excitedly about their new clothes and pandal hopping itinerary.
Paul, who owns a small hosiery unit, has been organising Puja outings for these street children for the last four years. He says, "I used to watch these children wander around the streets aimlessly in the evening while their parents — porters, rickshaw-pullers, domestic help or sex-workers — went about their daily grind."
At the time he was taking a course in Communicative English. He told the children he would feed them if they'd attend his tuitions. He continues, "They agreed and that's when I started Muktakash, a tuition class for them." Eventually, he enrolled them in nearby schools, organised books and stationery for them. Some volunteers joined him in the effort.
Come Pujas, when his students requested him for a spot of fun, he obliged and that is how the pandal tour began. Now there are 40 students — pre-primary to Class VIII — in his fold. Says Paul, "It was not easy to win the trust of their parents. Initially, they were quite suspicious of my intention."
Since last year, Paul has been organising a cultural programme before the Pujas. "We staged Mahishasuramardini," says little Manisha with her bob hair and painted fingers, barely 13. She adds, "I played Durga."
One Durga Puja in 2008, a little girl visiting Calcutta from the hinterland got separated from her parents in the crowd. Nitaidas Mukherjee, a social worker, helped reunite the child and her parents.
The 13-year-old had arrived in the city on Ashtami evening. She got lost in a particularly crowded pandal in the northern parts of the city. Says Mukherjee, "I cannot forget how the child's tearful face turned radiant (when she saw her parents again). The parents too, full of gratitude, fell at my feet."
Today, the 51-year-old, along with a team of volunteers working under the banner, Bondhu Kolkata, runs a round-the-clock emergency to rescue and reunite missing people during the Pujas. They work closely with the police, the state government and several NGOs. Mukherjee says, "We run this service throughout the year, but during the Pujas the responsibility increases manifold." Sashi Panja, the minister-in-charge of women and child welfare, endorses the good work done by Mukherjee and his team.
Mukherjee is not the only one. There are many others in the city who work right through the Pujas. In fact, they have made it their respective missions so that others might enjoy with some assurance of help at hand.
One such is Dr Sugata Dasgupta, the person in charge of the critical care unit (CCU) at the state government-run R.G. Kar Medical College and Hospitals. Ever since he assumed charge in 2011, every Puja he can be found in the Emergency building along with a 60-member team of doctors, interns, paramedics and nurses.
He says, "There's more pressure during the Pujas because now everybody knows we are fully functional during the festive time." Principal of the college, Professor Dr Shuddhodhan Batabyal, says: "Word has spread that our CCU is one of the best and it works round the clock. Several hospitals refer patients to us."