Women are driving their way to empowerment thanks to a cab service
A for-women-only app-based cab service in Calcutta is changing the lives of its women drivers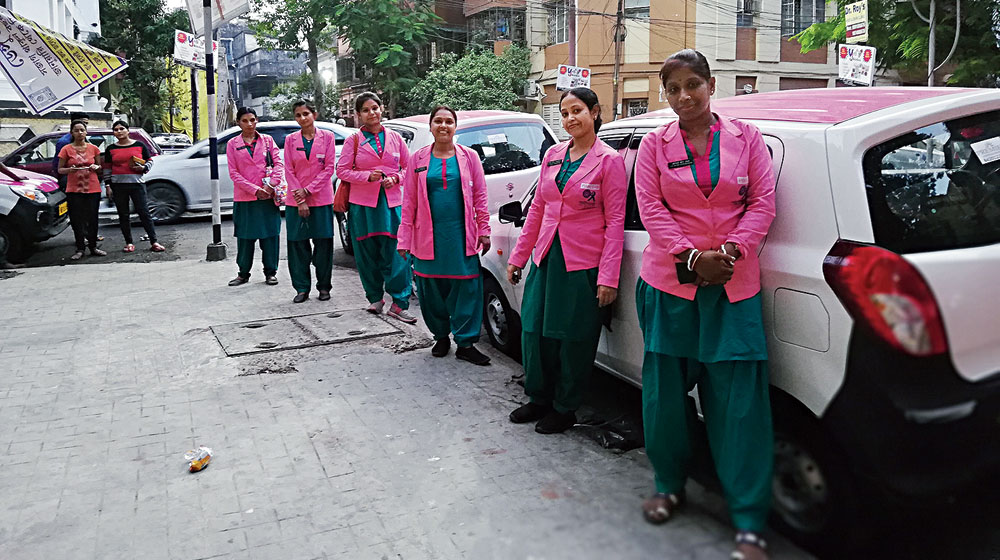 (From left) Archana Mundra, Sankari Halder, Suparna Chatterjee, Tara Samaddar, Reba Koyal and Mitu Dey of the pink cab services
Picture by Moumita Chaudhuri
---
Published 30.03.19, 06:53 PM
|
---
Ramchandra Jha, the owner of Premier Car World — a showroom in south Calcutta — is a worried man. He is one of those who collaborated with NGOs Azad Foundation and Shakha to launch the pink cab or a for-women-only app-based cab service in Calcutta in February. But now it seems there aren't drivers enough to keep the service on the road.
Azad Foundation works largely in slum areas to improve the living conditions of women. All enlisted drivers for the first fleet are women from different parts of the city, each with the same backstory — troubled marriage, domestic violence, ongoing struggle to make both ends meet.
Parked at the entrance to the driving centre in south Calcutta is the model of a car. Occupying the windscreen space is a computer; it is simulating traffic conditions. A 20-something woman is at the wheel and another woman of the same age is instructing her — "Mind the signal. Now, apply first gear. Chalo, chalo, chalo. Keep the car straight."
The instructor turns out to be a 33-year-old by the name of Manasi Midya. These days she is working as a driving instructor apart from driving one of the pink cabs. Manasi booked her cab barely a month ago, subsidised by the state government and Maruti-Suzuki.
That day, most of them — Manasi, Sankari Halder, Mitu Dey, Tara Samaddar, Reba Koyal and Archana Mundra — have been delivered their new wheels. Each of them is holding on to the keys, adjusting the name tags on their Barbie pink coats worn over bottle green salwar suits. The younger ones are unable to contain their excitement, they are giggling; only Sankari looks sombre.
They might be in the driver's seat today, but most of these women are still struggling to assume charge of their own lives. They are yet to make friends with the path they travel. Sankari eases herself into the driver's seat and breaks down. She is thin and tall, has a hoarse voice. Next to her is her younger brother, and he is hanging his head for some reason. "My husband has not come with me today," says the 35-year-old between sobs. "He does not support me financially and does not like that I have gone against his wish to buy this car. But what can I do? I have to bring up my five-year-old," she adds with pleading eyes.
Suparna, 28, is just back from her first ride. A woman tourist from Lucknow has booked her cab for three days. She has a cheerful demeanour and is quite obviously in thrall of her uniform and her new calling. She says, "I was born in a poor family in Diamond Harbour [in south Bengal]. My mother worked as a domestic help, but she sent us two sisters to school."
Suparna talks about how her sister was married off when she was in Class IX. She says, "My mother had to go begging from door to door to collect money for the wedding. I did not want her to do the same for mine." She continued her studies, dropped out of college after the second year and married a call centre executive. It seems, at her in-laws' place, she was subject to a lot of physical violence.
She says, "And then one day I heard a mobile advertising car announce that some organisation was asking women between 18 and 35 to register for free driving lessons. I went against everyone and joined the course." Her eyes steadfast on the pink and white car, she says, "And that has made all the difference."
Jha is one exasperated man. He says, "We are going to the slums to encourage women like Suparna to come forward. They are easy to convince but most often they back off after a couple of classes. The men in the family, the hardships of family life, come in the way." These women have not just been given lessons in driving, they have also received some training in spoken English and in self-defence.
Manasi, who is originally from Chinsurah, arrived in Calcutta with her infant son 15 years ago, after she was widowed. During this time, she found a job, rented a place, sent her son to school — all on her own clout. Her family had snapped all ties. She says, "The day I got the car, I drove to Chinsurah and met my mother. She was overwhelmed to see that I was alive and doing well." Interjects Sankari, "When I hold the steering wheel, I feel like I am a very powerful being. Once upon a time, I was directionless, lost. Now, I drive people around this huge big city."