The ABC of mountain treks
Getting to the Annapurna Base Camp (ABC) is a fairly difficult journey, but one that's worth every single step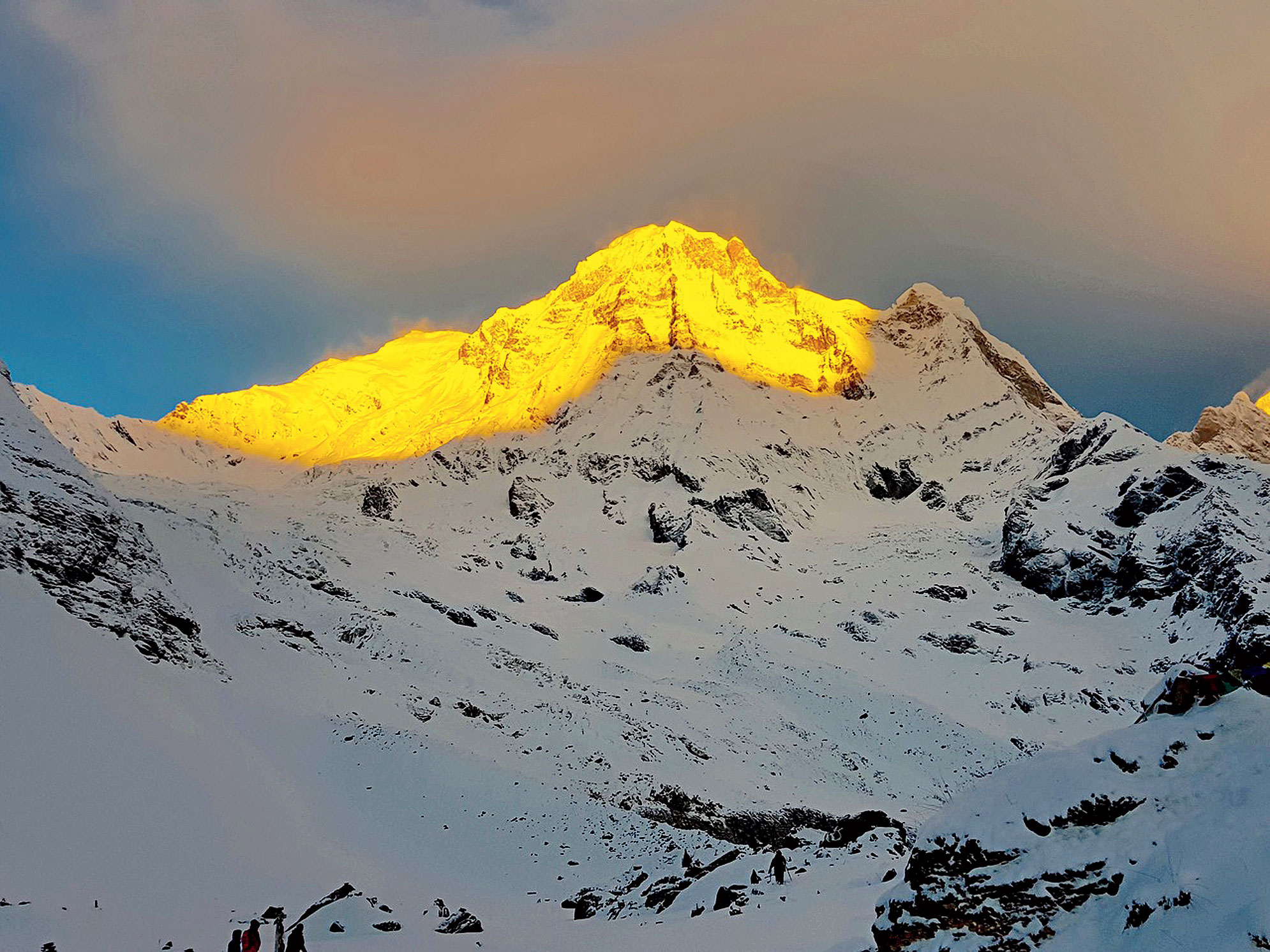 The Annapurna peak glows in the first light of the morning
(Sudhir Ahuja)
---
Published 29.06.19, 01:31 PM
|
---
They say the Gods reside in the mountains. You really need to get up there to actually experience the divine. The higher you go, the closer you get to Him. The connect with nature, the oneness with the clouds only happens when you truly disconnect yourself from the rest of the world. That's what a trek means to me.
A good trek is like meditation. Take a few months of training to prepare yourself mentally and physically as you know the journey won't be easy and not everyone is lucky enough to make it there. So, in search of the divine, you need to work towards it. Prepare your body, prepare your mind and take on the soulful experience.
Annapurna I is one of just 14 8,000-plus-metre peaks in the world and the trek to its base camp, at 4,130m, is considered a moderately difficult one depending on the weather conditions. At 8,091m, Annapurna I, the highest of the five Annapurna peaks, is almost double the altitude of the base camp, and it looks simply spectacular from there.
ABC was the first commercial trekking route in Nepal. Apart from an unmatched view of one of the most scenic mountains, there are lovely views of the 6,993m Machhapuchchhre (Fishtail) and many other peaks on the way.
A group of 18 of us from our gym planned to do the adventurous ABC trek between April 13 and 21. The anticipation was high for the fun part. We had been training for it thrice a week from mid-January to early April.
From high intensity, running near the Rabindra Sarobar, to staircase training and interval training, it was pretty extensive. This was to make sure we increase our lung capacity and strengthen our body, do a lot of mobility exercises as the trek requires walking long distances and for long hours, carrying about 6kg to 8kg rucksacks.
Finally, on April 13, we flew from Calcutta to Kathmandu, stayed overnight and took the early morning flight to Pokhara, where the action was to begin.
Day 3: Sinuwa to Deurali
We braced for a strenuous day. As we gained altitude, the vegetation gradually changed from sub-tropical to alpine and the fantastic sights charged me up and kept me going. We were supposed to gain close to 4,000ft that day. So it was absolutely necessary to take it slow and remain hydrated.
Dovan, the first village on the day's trek, comes up an hour after we start walking. This is a tiny place with only five lodges. Soon, the tip of Machhapuchchhre comes into sight. While we were gaining height, the muddy trail remained a mix of gradual ascents and descents leading up to the Himalayas. It usually takes a day to trek this route, but the rains made it very difficult and tiring for us.
Day 4: Deurali to Fishtail Base Camp
We were already in the higher reaches of the trek now and got ready to cross a few landslide and avalanche-prone zones. We picked up our backpacks and started our climb. Because of the rains there were quite a few waterfalls adding to the beauty of the landscape. The rains came down again and out came our ponchos. And the higher we went, the colder it got. While most of the walk was a gradual uphill climb, there was a steep section right at the end.
There's a cave under an overhang at a place called Hinku on the way. After it the trail passes through a magical valley. There is a bridge over the River Modi and once you cross it the next halt is at the Machhapuchchhre Base Camp (MBC) about 30 minutes away. As we reached there, the weather became extremely windy and it started snowing. The blizzard raged all evening, making the possibility of going up to ABC early morning look very bleak indeed.
Day 5: MBC to ABC and back
This was the longest day of the entire trek. We had to go from the MBC to the ABC and return the same day.
The day started really early at 2am and, surprise of surprises, we were greeted by an absolutely clear sky with the full moon shining on us. What a blessing!
By 2.30am we were on our way. and it was a walk up to the ABC at a steady speed. We were literally going into the mountains now and steadily higher. A short while later, the route takes a sharp 90° left turn. The initial trail has a steep ascent that becomes a gentler climb after some distance. It was quite barren up there. We were approaching around 4,000m now and were above the tree line. So there weren't any to be seen.
Just as we got closer to the camp, the magnificent Annapurna loomed up and got increasingly bigger. We watched spellbound as the rays of the morning sun lit up the Annapurna range. ABC is surrounded by giant peaks and huge never-ending mountain ranges. A 360° spectacle of the magnificent Annapurna range, Gangapurna, Gandharvachuli and Machhapuchchhre was there for us to savour.
Getting to the finish line was like attaining nirvana. Reaching ABC at 5.15am, it really felt as though we were in the land of the Gods. Surrounded by wild purple flowers, the guest house sits at the bottom of gigantic glacial basin like a cosy village inside a snow globe. Annapurna was all-encompassing. There's nowhere to look but up. As the sun's rays poured gold on the highest peaks at 5.43am, we were left in awe of nature and every tiny bit of it. This moment made all the hard work that went into the preparation totally worth it!
When we talk about ABC, there is a sense of awe that starts building up that leaves every trekker spellbound. There are very few treks that have this ability to make you fall in love with the landscape and bring you this close to the base of 7,000m and 8,000m peaks in such a short period of time.
Having soaked in the sight for as long as we could, we started our descent back to MBC, where breakfast awaited us.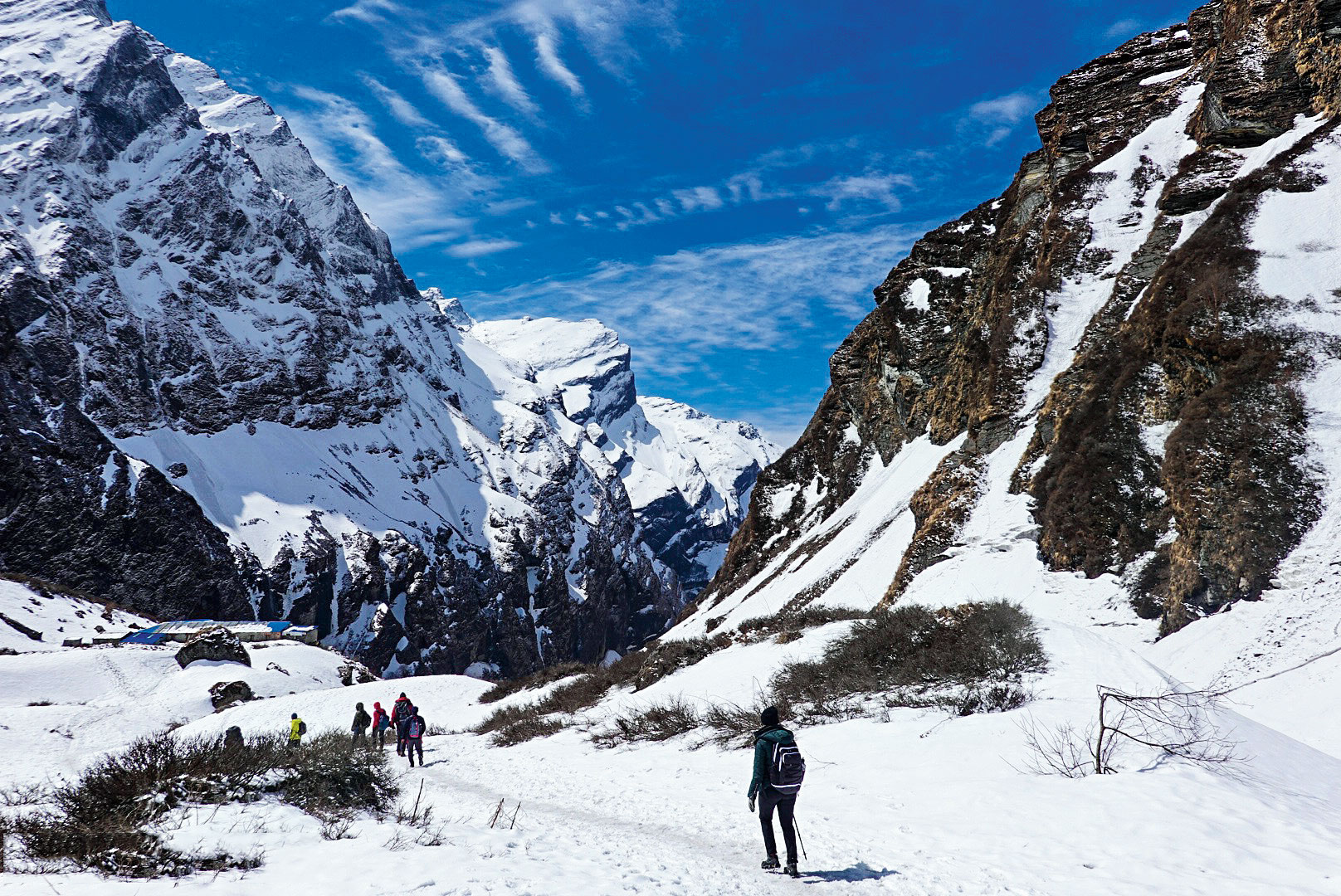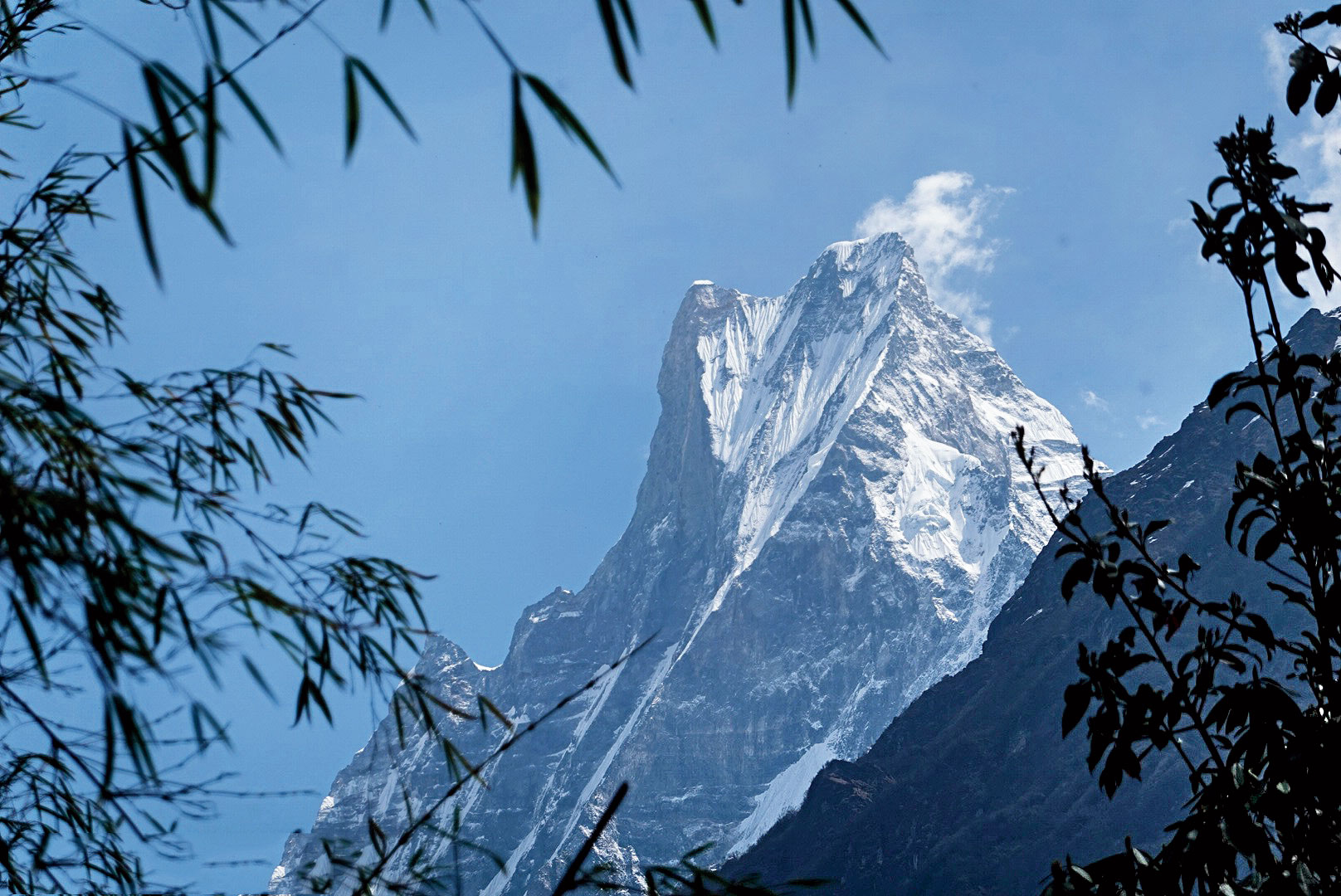 Day 1: Pokhara to Ghandruk
Pokhara is where we dropped our excess baggage, literally and, maybe, even figuratively, and headed off to Kimche. That was as far as we were motoring. After that was an hour-long trek to Lower Ghandruk, the biggest village on the trek route. This place was one of the most beautiful places I have ever set my eyes upon and has magnificent views of the Machhapuchchhre and Annapurna South peaks.
Day 2: Ghandruk to lower Sinuwa
This isn't a very long trek, just about 5km, but it takes a long time, five-six hours. We began at 8am. The day's hike was through a delightful trail with scenic villages on either side of it. A beautiful snow-covered array of peaks — Annapurna South, Gangapurna, Fishtail, Hinchuli — are visible from various points on the hike.
It starts with a descent on 2,500 stone stairs leading to a hanging bridge over the Modi River. We had to cross that to get to Chhomrong Khola, at which point it seemed like we were entering dense forests. We stopped at Chhomrong for lunch. It's a picture-perfect hilly settlement — on a hilltop — with stone-paved stairs leading up to it. It is the gateway to the Annapurna Sanctuary we had to get our entry permits here.
The trail is steep till Sinuwa village which is marked by a few teahouses and lodges. It is enclosed by a thin forest cover. Greeted by heavy rains and a long walk with long hours of walk with our head light torches on, we reached Lower Sinuwa by eight in the evening.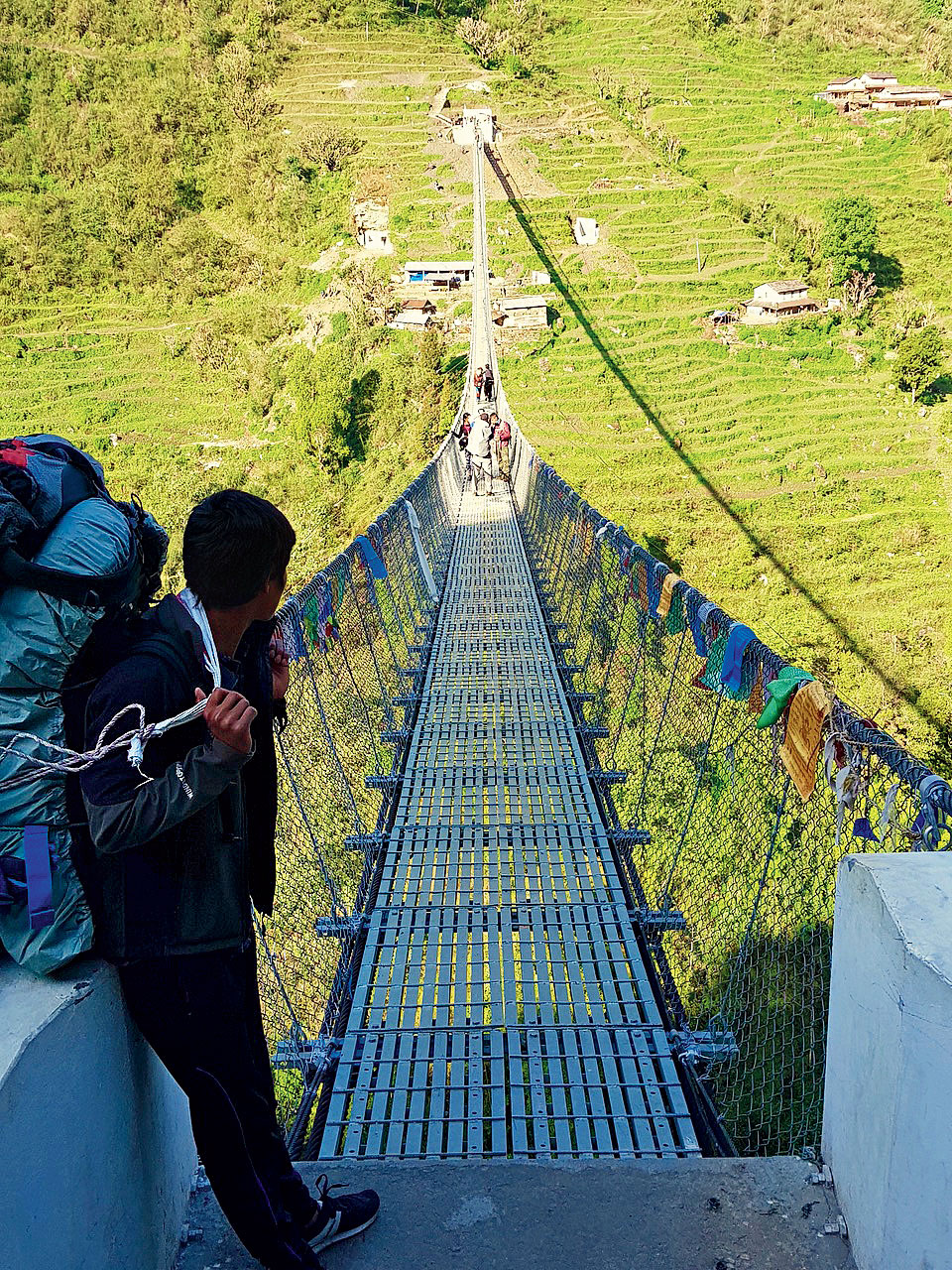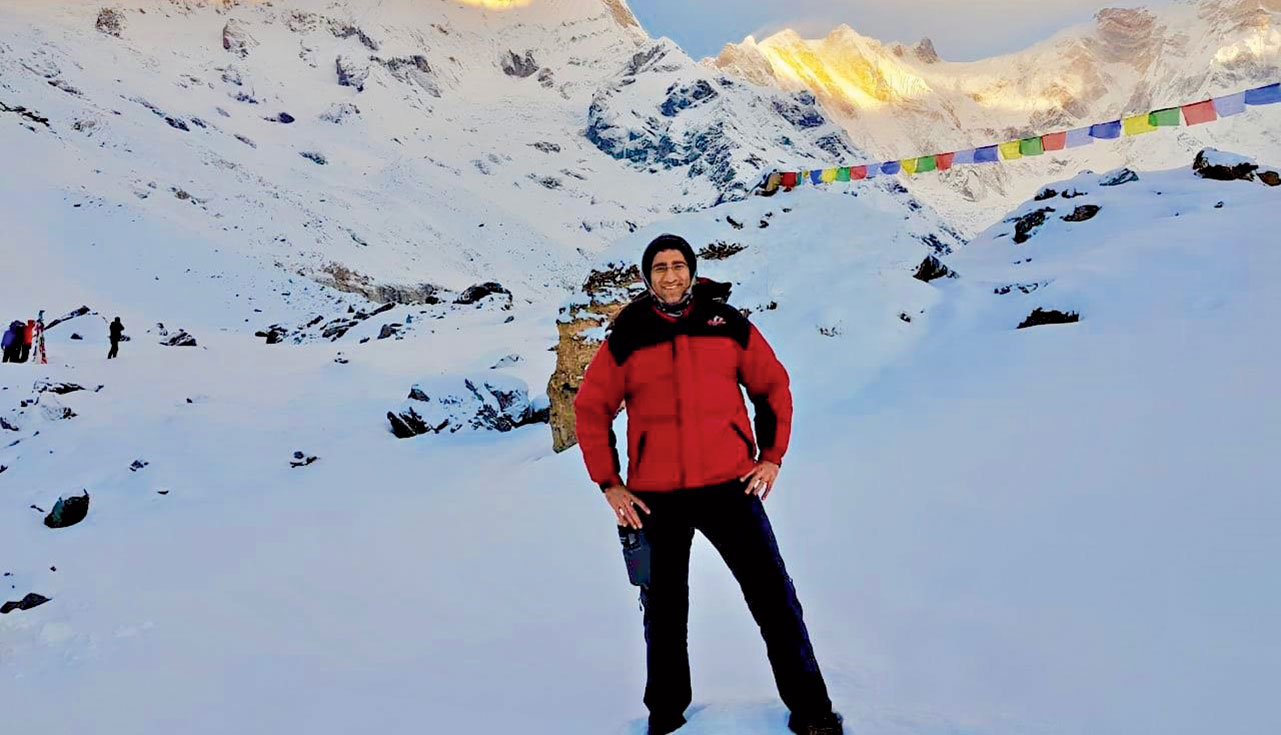 Day 6: MBC TO Sinuwa
The following day we retraced the path to Sinuwa followed by a steep descent to Chhomrong and, crossing the hanging bridge again, were on our way to Jhinu Danda, which is first downhill and then uphill again.
Jhinu Danda is where you get to enjoy a dip in natural hot springs. The village is, in fact, a cluster of tea houses built on the ridge overlooking the valley on either side. The hot spring is a 20-minute walk down to the Modi River through a romantic forest path.
After a tiring day of hiking up and down endless steps, especially in the Annapurna region, the weary ones are reluctant to undertake this additional hike to the hot springs. I would fervently hope that anyone who finds himself or herself here doesn't make the mistake of giving it a miss and takes the effort to get to the spring. It is an unbelievable experience.
We must have soaked ourselves in the spring for more than an hour. It was ultimate bliss, a sensation of thorough pampering which we had not felt in a long time. The skies had just opened up and it was pouring. And there we were, sitting neck deep in hot water, feeling the cold rain on our faces. I was feeling like a king, no less!
It was grand to just sit there in the 'natural Jacuzzi', relieving the tired muscles. After a few hectic days we were finally chilling for the first time on this trip! (Remember to carry drinking water since you can dehydrate quickly if you are in the bath for a long time.)
Refreshed, it was time to go back to Sinuwa, followed by a steep descent to Chhomrong and back across the bridge and up to the village to enjoy the last night stay of the trek.
Day 7: Jhinu Danda to Pokhara
It was a four hour (6km) hike on the last day from Jhinu Danda to Syauli, from where we drove back 45km to Pokhara.
Where there is risk, there is adventure. The ABC trek is something everyone must experience at least once in their lifetime. Will you get to the finish line? Will nature decide if it's your lucky day? Or will you triumph in the face of those challenges? Make the trip to discover what you are made of. The answer lies within you.