White walk to Kanchenjunga
The snow-covered Dzongri trek in West Sikkim is an epic journey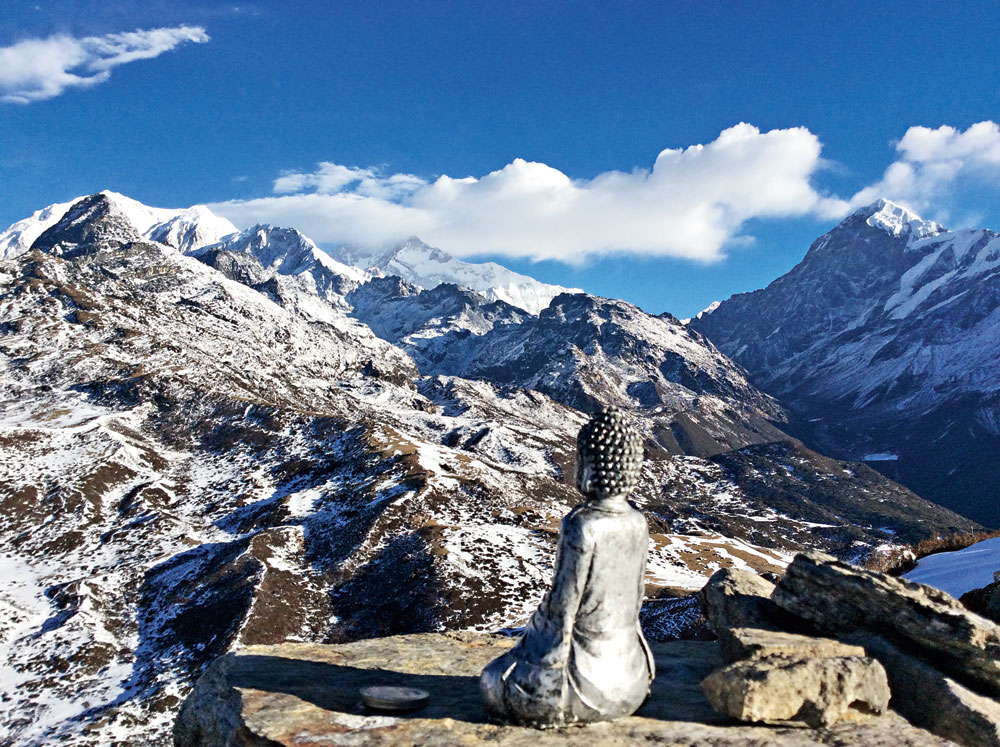 There were Tibetan prayer flags and a little idol of the Buddha at the Top, surrounded by the Kanchenjunga massif with its plethora of peaks seemingly within reach
Picture: Sumit Bhattacharya
---
Published 25.05.19, 12:10 PM
|
---
The dawn when Indian warplanes struck Pakistan, you could see one of the peaks of Mt Kabru (7,412m or 24,318ft) glow in the sun from Yuksom, the gateway to the Kanchenjunga National Park and its trekking trails. As the Twitter timeline began to erupt, the network died and the path wound its way up into woods of mist.
Yuksom to Sachen, the first campsite on the popular trek to Dzongri and Goechala in West Sikkim, is a walk through lush, wooded slopes. It climbs steadily, but is not brutal on city lungs free of smoke for two weeks in preparation. The trek to Dzongri goes up from Yuksom at 5,643ft to Dzongri Top at 13,680ft. You can take two or three days to climb the 8,000ft, but because it was still winter — and because of aforementioned lungs — I had opted for three. The paucity of time also ruled out Goechala, further on up towards the mighty Kanchenjunga and considered an achievement for trekkers, for me. I didn't mind. This was neither of the "seasons" (April-May and October-November) for this route. Temperature forecasts on the Internet predicted lows of minus 16°C at Dzongri. It had been five years since I trekked, and 20 since I walked alone.
One can do the Dzongri trek ad lib, but then you have to keep a day or two at Yuksom (a six-hour drive from Bagdogra airport) to hire a guide (it is mandatory), figure out the logistics and get the required permits from police and so on. Going to a private trekking agency makes it easier. The agencies can also sometimes tag one or two trekkers along with other groups going with them, which I did not want. Be sure — as I learnt later — to clear every little detail with your agency before you start out. Eventually, what kind of help you get is a matter of luck.
I had with me a 24-year-old hot-headed guide, a cook who had withdrawal symptoms after he finished off his Roxy (local brew) by the time we reached halfway and went back to get more (but who rustled up superb hot meals), two dzos (yak-cow crossbreed) carrying rations, tents and so on, and their ever-smiling owner. One of the dzos didn't like being photographed, I was told. You do not mess with an animal that size on narrow mountain paths.
By the time we reached from Yuksom to Sachen (10km, allegedly) it was quite a crowd at the campsite, a clearing in the forest. There was a trio — a Bengali engineering professor from Chennai and his student, and a contractor from Meerut — and another team of five full-power Darjeeling boys. Both teams were headed for Goechala. All had to return from Dzongri because the guides refused to go further, fearing bad weather. There was also a couple from Calcutta — a software exec and his wife — who turned back from Tshoka, the halt after Sachen. I wonder how crowded it gets during season time. There is no human habitation — or electricity, so ensure all your camera and stuff are charged — beyond Yuksom, and mostly Tibetan refugees who earlier would open up season-time shops at the stops have been evicted by the government.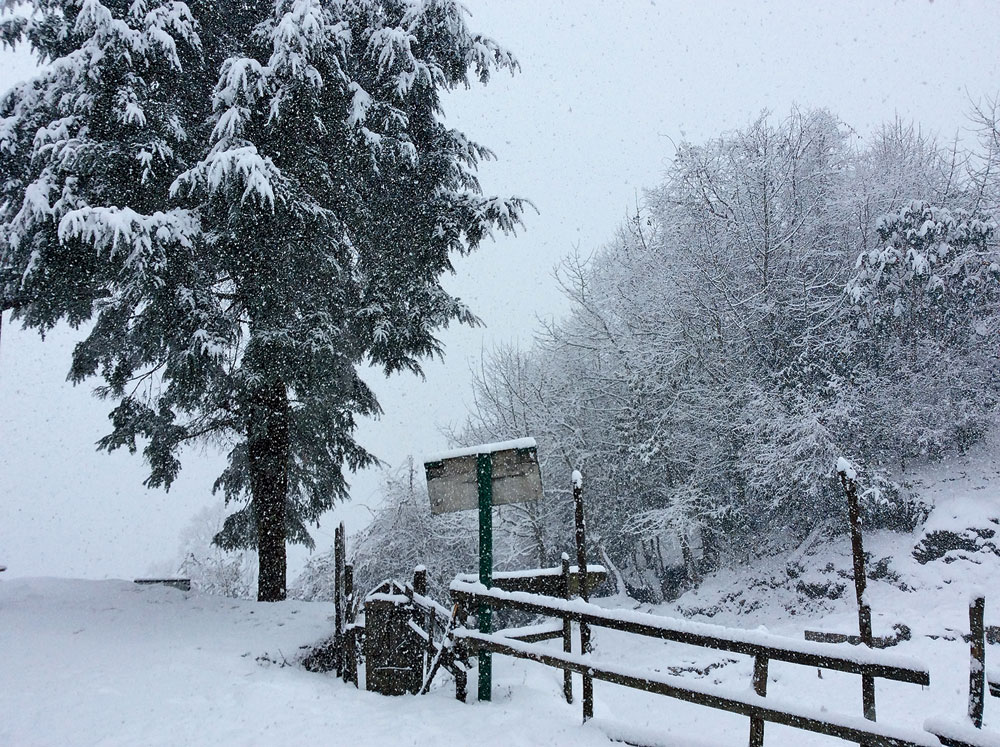 Snow was falling the way Joni Mitchell sang
Day Two's walk, from Sachen to Tshoka, an abandoned Tibetan hamlet, is not very long (6km, officially). Since my first trek in 1996, when we were told every two hours by local people coming down that we were just 2km from our destination, I do not believe distances bandied about in the mountains. But let us not digress. The path from Sachen to Tshoka is short, but it keeps climbing — till you get very tired — through a thick forest that clouds and mist invariably envelop. The Dzongri-Goechala trail is also infamous for leeches, which drop from trees as well as latch on from below. But these being the dog days of the hounds of winter, that menace was thankfully absent. As were insects and suchlike.
When we reached Tshoka, rhododendron trees had begun to appear, a sign that we were getting close to 10,000ft. Snow was falling the way Joni Mitchell sang: Like bolts of lace, waltzing on a ballroom girl. As we warmed up with hot cups of coffee and tea and bowlfuls of noodles (not Maggi, yay!) at the trekkers' hut, Tshoka turned into Winterfell. Through the snowfall, we saw a team coming down. A couple from Bangalore, he an investment bank employee and she working with an
e-commerce giant, had gone up to Phedang, about halfway to Dzongri from Tshoka, and been forced back by the snow and wind. "Agey bohot baraf hai," their guide warned us. Meanwhile, it kept snowing.
The patchy network at Tshoka had brought Balakot into the hut, and everyone seemed damn kicked that "India ne Pakistan ko mara hai." I texted home, asking what the temperature was at Tshoka according to the Internet. After several attempts came the answer: "Minus 8 now, snowing, minimum to be minus 12".
All three teams — the Bangalore folks decided to go down — stayed put at Tshoka the next day because it kept snowing. The guides insisted we should not move in such weather. Thankfully, the sun came out after lunch. Snowballs flew and snow-women were set up as we feasted on gorgeous views of Mt Pandim (6,691 m, or 21,952 ft), framed by forests caked in snow, tendrils of white clouds snaking up from the valley below, and a sky so blue it seemed Photoshopped.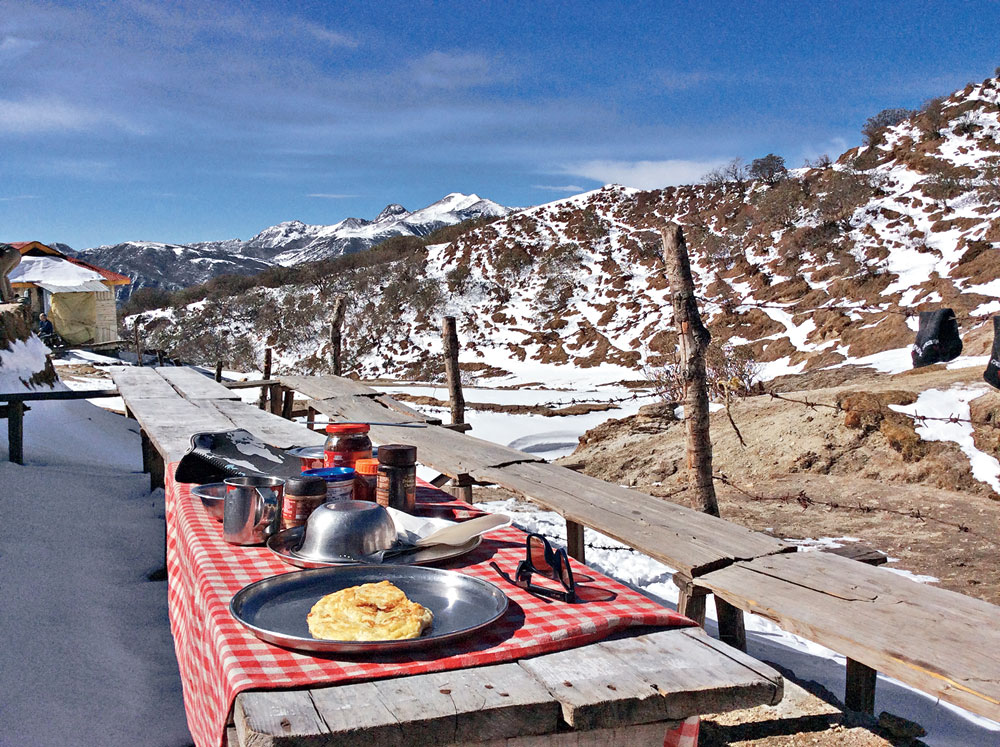 Evoking admiration, mingled with fear
Next day too, the sun shone in the morning, and we set off through the frozen landscape. I always try to leave early on treks because I am ridiculously slow going up. Dzongri is 7.35km according to the signboard at Tshoka, 12km according to my guide and 10km according to Wikipedia. All I can attest to is that with the entire trail a trudge through ankle-to-knee-deep snow, it was a draining, non-stop climb till Phedang and then some more. You gain more than 3,500ft in six-seven hours. The reward — the view opens up from Deorali top, further on up from Phedang, revealing a panorama of peaks including Kanchenjunga, the world's third-highest — makes it worth it. But those views revealed themselves only on the way down, as if teasing me to stay back. On the way up when I reached Deorali the mist was hanging like a shroud. Visibility was dropping with every passing moment, and the trekkers' hut at Dzongri — after what seemed too long a walk — seemed a welcome sight.
Statutory warning: The trekkers' huts are bare-bone wooden structures that can't always keep all of the rain or snow out, and the toilets outside are as challenging as — if not more than — the dry compost ones in Spiti villages. Hiring a toilet tent is a good investment, and the trekking agencies provide them only on specific request.
According to weather.com, which provided fairly accurate predictions, the minimum at Dzongri was minus 21°C the day I was there, though I must say it did not feel that much. In treks with such extreme weather what you carry and how you layer up become important. The down jacket (rated for minus 15°C) and snowshoes I had bought before the trip were lifesavers. I did not have to put on plastic packets under socks like the others did. Rishi, the contractor from Meerut, went to sleep with a flask full of hot water that froze overnight indoors, as did anything wet including sweat-soaked socks.
We started for Dzongri Top before dawn, and though the one kilometre climb up was gruelling with the altitude (13,000ft-plus) kicking in, the view had our jaws bouncing off the snow at our feet. There were Tibetan prayer flags and a little idol of the Buddha at the Top, surrounded by the Kanchenjunga massif with its plethora of peaks seemingly within reach. It was awesome in the truest sense of the word: Evoking admiration, mingled with fear.
The way back was a blur as I went from Dzongri to Bakhim (another campsite a little further down from Tshoka) in one day (slipping on the ice below the fresh snow and falling many a time, but nothing serious), and Bakhim to Yuksom (around 16km) the next. Rishi the contractor, who was on his first trek, was grumbling from Tshoka about having been dragged along by his professor friend for needless torture. "This is my first and last trek," he kept saying. On the way back, he told his friend: "Plan the next trek pronto, and don't forget to let me know."
The mountains have a way of making you eat your words.