North Macedonia: A hidden jewel
North Macedonia is a relatively new nation that should rank right up there as an European destination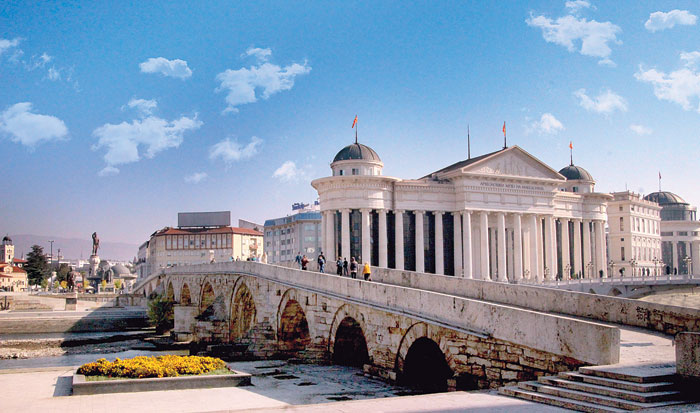 Skopje's Archeological Museum stands next to an ancient stone bridge over the Vardar River
Pictures by the author
---
Published 16.11.19, 02:42 PM
|
---
Everyone who knows me, knows how much I love to travel. I love visiting new places, discovering local music, trying new food, and taking home a plethora of new knowledge. This year I had the opportunity to strike Macedonia off my bucket list. Lost among the pages of history books, Macedonia is so much more than just the legacy of Alexander the Great. Its culture, scenic beauty and heritage have long been overshadowed by the more popular European countries of Italy, France, and Spain. I honestly would not have believed just how beautiful and rich the land is if I hadn't seen it with my own eyes.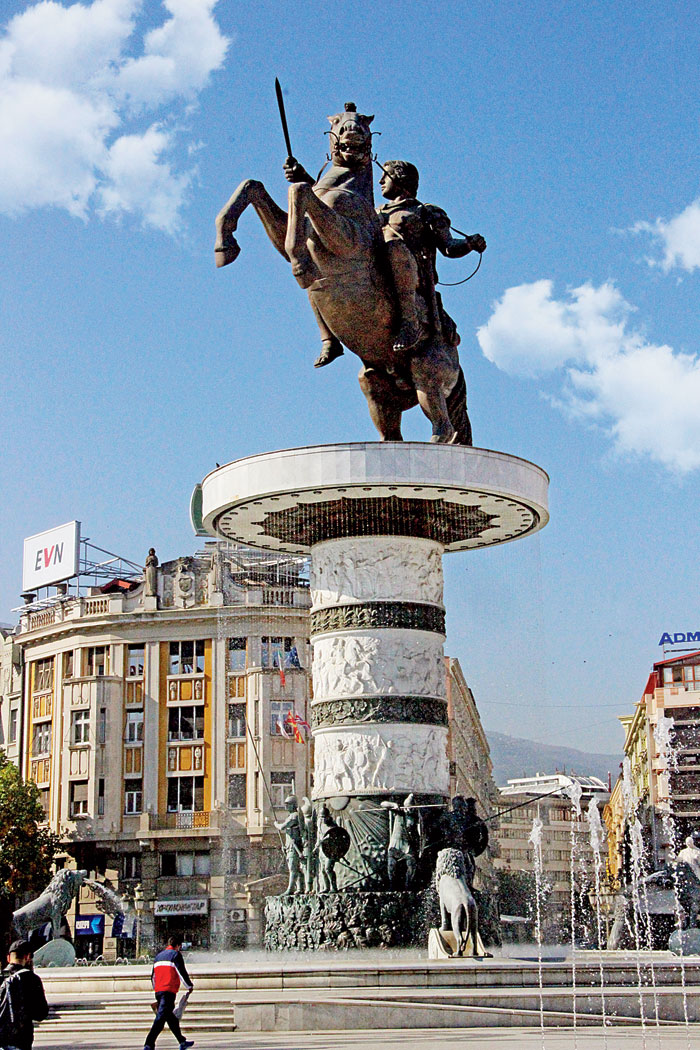 I was fortunate enough to visit the country after my friend Namit Bajoria was appointed the honorary consul of the Republic of North Macedonia. Needless to say, I did not have much idea about what to expect, since my only knowledge of the place, much like most of us, is limited to school-level history books and a few hours of web research. All I knew about present day North Macedonia was that it is fairly close to Italy, Greece and France, it is famous for its statues, monuments, and special dairy products, and is Mother Teresa's birthplace.
We landed at Skopje airport, and my first impression of it was that it is not as big as the other European airports. However, the fresh, pure air that filled our lungs the moment we stepped out of it was a pleasant welcome.
The first place we went to upon landing was the Macedonia Square, by the Vardar River, where our hotel was. It is situated at the heart of the city, surrounded by shops and restaurants, and has a large statue of Alexander the Great. Children playing by the fountain, people eating, shopping, taking pictures — the square is always buzzing with energy, regardless of time. The place is a tourist's paradise. It reminded me a lot of the Champs-Elysees in Paris. I was rather surprised to discover that of the many tourists, none were Indian, and only a handful were Asians. It was then that I realised what a hidden jewel Macedonia is. One has to see it to believe it.
From there we went to the Archaeological Museum by the Stone Bridge where we learnt even more about Macedonia. Each display had a unique story to tell, which gave us more insights into the country's history. While crossing the bridge, we also spotted the Opera House situated across the Vardar River.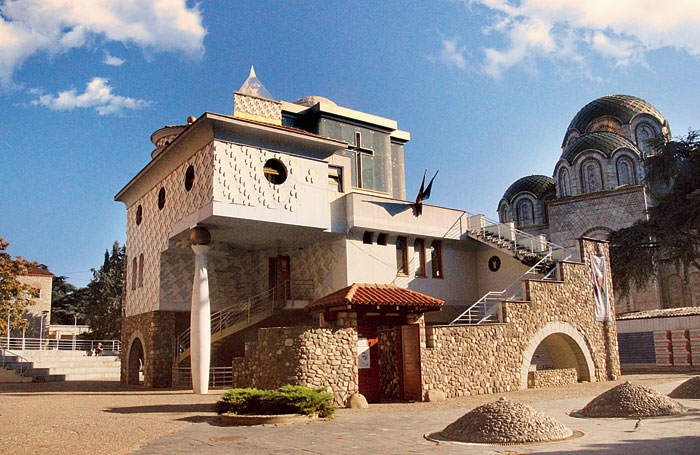 Then we walked to the Mother Teresa Memorial House, which is built on the exact spot where she was baptised. After spending some time there and learning more about the place and its connection to Mother Teresa, we went back to the square for dinner. We had our dinner at one of the many local restaurants by the Vardar River. We tried the popular local dish burek, as well as some seafood. The seafood we tried was interesting to say the least. It was very fresh and tasted very different from anything I've tried before.
The first day was spent in and around the Macedonia Square, looking at the many statues and monuments spread across the area, all very well maintained. We also spotted red double-decker buses, like the signatures ones that they have in London.
At the top of my list for the next day was the Old Bazaar of Skopje, which is connected to the Macedonia Square by the Stone Bridge. To say that I was awestruck by it would be an understatement. With a stone road running down the centre, and small local shops on both sides, the Old Bazaar was quite the sight. 
We saw a large number of leather shops, souvenir stores, antique shops and bakeries. What caught my eye was the unbelievable number of Macedonian coffee shops, which remain open day and night. Tourists and locals are always drinking coffee, no matter what time of the day it is. So, later, when I found coffee carts all over the city, I was not surprised. It was clear that Macedonians love their coffee. So much so that the walls of the bazaar even have funny quips and quotes on coffee drawn on them.
I was also quite taken by the quaint antique stores, which had vintage cameras, coins, jewellery and much more on display. There were some small used-book shops overflowing with different titles, but, unfortunately for me, almost none were in a language I read. But I did manage to find some books on music and food to take home.
We had our lunch in the Bazaar, at a local eatery called Broz Kafe. We ordered a kebab platter, which though similar in appearance to our seekh kebabs, was made of beef and tasted completely different. We then cleansed our palate with some local coffee, which tasted heavenly, to say the least, and I'm not even a coffee person! I tried what they suggested was their best brew — and loved it. The musician in me did not miss out either. There were many street musicians playing local tunes and some Western classical numbers. The whole atmosphere was very welcoming and laid-back. Some sunny spots were covered with makeshift shades, and people were chatting, singing, eating under them. Fountains there dispense real spring water, the freshness of which was unmatched.

After lunch, we explored the Bazaar some more and found the oldest microbrewery of Macedonia, Temov. Outside it was a pyramid-like structure made of beer bottles that made for quite a quirky piece of art. The Bazaar is also home to the 600-year-old hammam, or Turkish bath, named Daut Pasha Hammam. Unfortunately, my wish to experience a hammam bath remained unfulfilled as we found the Daut Pasha had closed down many years ago. The unique dome-shaped structure is now The National Gallery of Macedonia.
That evening we visited the bohemian street of Debar Maalo. On the way we spotted the Porta gate, which resembles the Arc de Triomphe in Paris. At Debar Maalo, drinks, food and music were in abundance. Besides local Macedonian delicacies, here we found numerous restaurants which serve typical European fare like steaks, burgers and pizzas. There were also many local pubs with live bands, either playing old rock and pop covers or local Macedonian music. One such pub had a guitar-accordion-saxophone trio playing local country music, which sounded very similar to Arabic music, perhaps due to their shared Ottoman roots.
The next day, we took a ride on the famous ropeway to the Millennium Cross on Mount Vodno. Just like the Eiffel Tower, which is visible from practically everywhere in Paris, the giant Millennium Cross, too, is visible from pretty much anywhere in Skopje. The otherwise safe ropeway ride was made even more interesting by the fact that we had a beautiful bird's-eye view of the entire city. With mountains touching the crystal blue skies on one side, and mirror-like rivers on the other, the city is a blend of it all. It was a 15-minute ride to Millennium Cross. And you guessed it, more coffee shops here too! We spent about half an hour here, drinking some more delightful coffee and admiring the tall iron figure, before heading back down.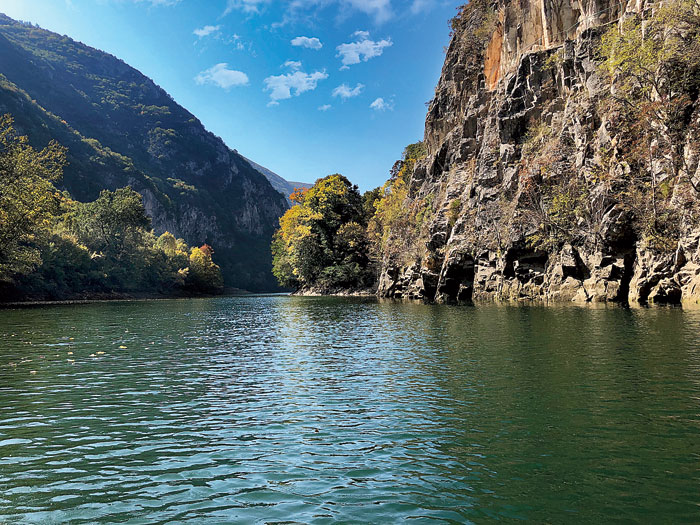 We also stopped by the Matka Canyon, another place I really wanted to visit. And I was not disappointed. We took a boat ride down the Canyon and were met with a breathtaking setting, reminiscent of the Amazon forest. We passed several caves, as well as a few monasteries and churches which have a long historical past. The Matka Monastery, for example, apparently had been rebuilt in 1497, thereby suggesting the date of its actual construction many decades prior to that.
That evening I found myself back at the Old Bazaar for dinner. This time, we tried tavce gravce, a preparation of baked beans, which is another popular local delicacy. We also tasted some local desserts, of which I liked baklava the most.
Ohrid city & Lake
The cities of North Macedonia are two to three hours away from each other. So we were able to add a couple more cities to our itinerary. Next on our list was Ohrid, which is a Unesco heritage site, named after the deepest lake in the Balkans.
On our way from Skopje to Ohrid, we stopped by the Tikves Winery and tasted some wine. Now, I'm no wine connoisseur, but I loved their specialty Alexandria red wine; perfect for a teetotaller like me. Upon reaching Ohrid, we first visited the St. John Kaneo Church, which overlooks the Ohrid Lake. We found some mind-blowing seafood restaurants by its shores, and had lunch at one of them. Later, we took a boat ride and admired the city from the water. The entire city of Ohrid is atop mountains, and the view was very similar to that of the Amalfi Coast of Italy.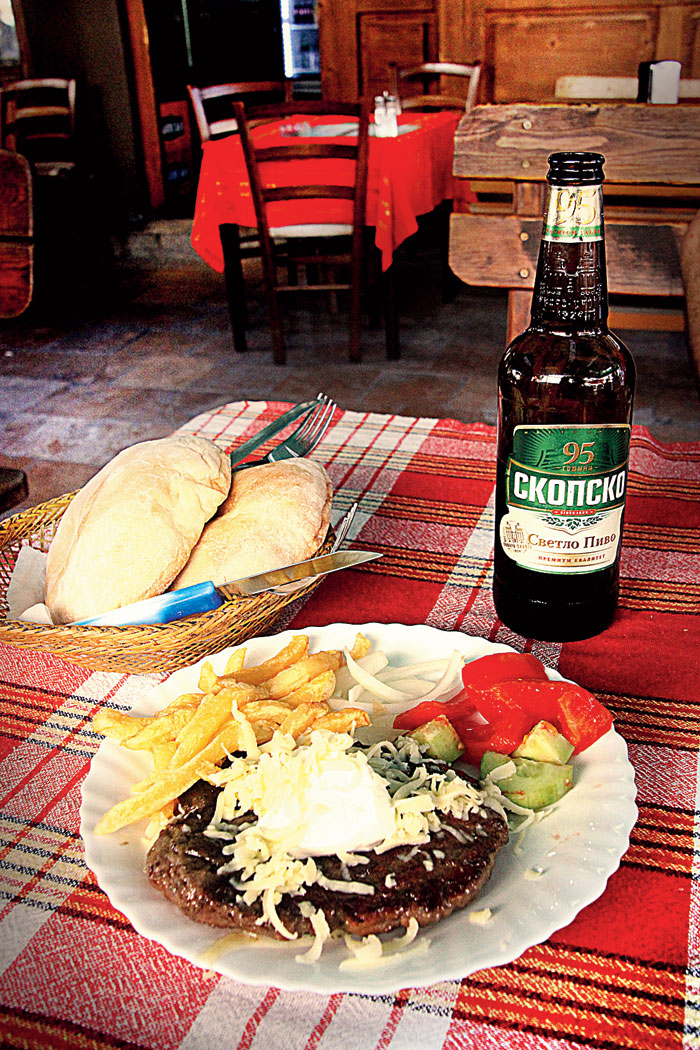 The next city we visited was Tetovo. Our stay here only lasted a couple of hours and we soon left to go to Gevgelija, the Vegas of North Macedonia. By the time we reached, it was already dark, so we could immediately go casino-hopping. We went to some of the famous casinos, like Apollonia Casino and Casino Flamingo. Luckily for us, the food they served was great and we spent our last night revelling in Gevgelija.
We went back to Skopje early next morning, from where we took a flight back home.
All in all, the place was unlike any other I have ever been to. Skopje, with its many tourist attractions, multi-cuisine restaurants, local eateries, great hotels and thriving nightlife, seemed well prepared to welcome any tourist from any part of the world. The other cities, too, had a lot to offer. Their local cuisine, wine, coffee and music was by no means inferior to that of the more popular European countries. I would suggest to everyone to visit North Macedonia at least once, to experience the rich culture and heritage of this nearly forgotten land.
Debaditya Chaudhury is an entrepreneur who co-owns Chowman, Oudh 1590 and Chapter 2 and is a foodie himself. He is also a musician and the founder-member of the Bangla band Lakkhichhara. He's a travel addict, who is always in search of new food and music.