Bigger & Butter
In Amritsar, pretty much everything revolves around the Golden Temple — and food!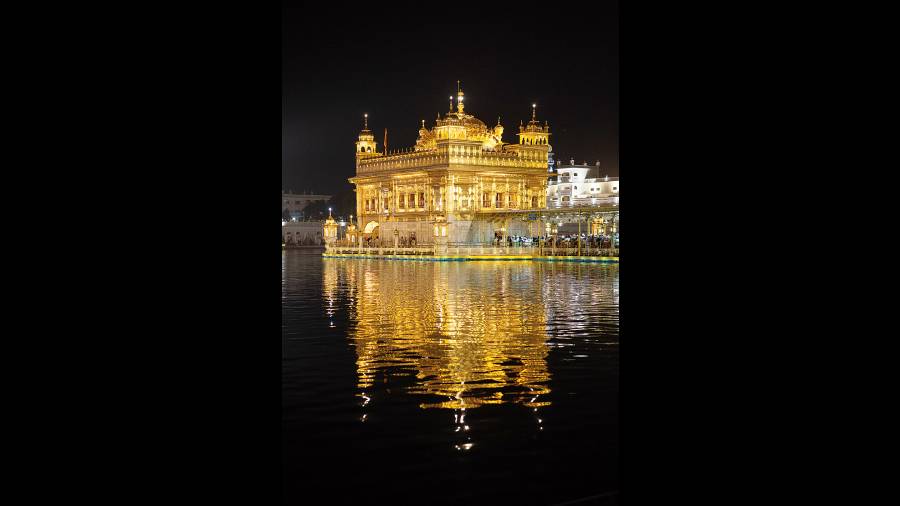 ---
Published 19.09.21, 03:38 AM
|
---
Being stuck at one place and not able to travel at all can become incredibly stifling. I found that out the hard way after successive rounds of lockdown imposed to keep the pandemic in check. So, after numerous failed plans with friends and family, I decided to go solo if necessary, but travel I had to.
My last solo trip was to Varanasi and Lucknow in 2019, a point of time when the world had no idea what Covid was, far less a pandemic of global proportions. Things were simpler then, before the bug changed travel. So, travelling solo when we were far from done with the pandemic looked almost like a daredevil act. The chosen destination: Amritsar.
While it might seem by my choice of locations that I am a deeply spiritual person, there is a big motivation for these trips apart from the usual soaking up the sights and smells of a place — I am irresistably drawn to good sumptuous food and, for that, Amritsar seemed as good an option as any.
Nowhere perhaps in India is the love for rich, desi ghee-laden food more intense than in Amritsar. After the Golden Temple, if there's a second attraction in this city, that is its food — both the vegetarian and the non-vegetarian varieties.
As my local chauffeur-cum-guide Shamsher Singhji had told me, "Yahan ke log sirf khana dekhte hain, jagah nahi!" (The people of Amritsar care about the food, not so much the place.) So, no matter how nondescript a place might be, one can rest assured that all places in the city serve equally good and fresh food.
Guruji ka Langar & Karah Prasad @ Golden Temple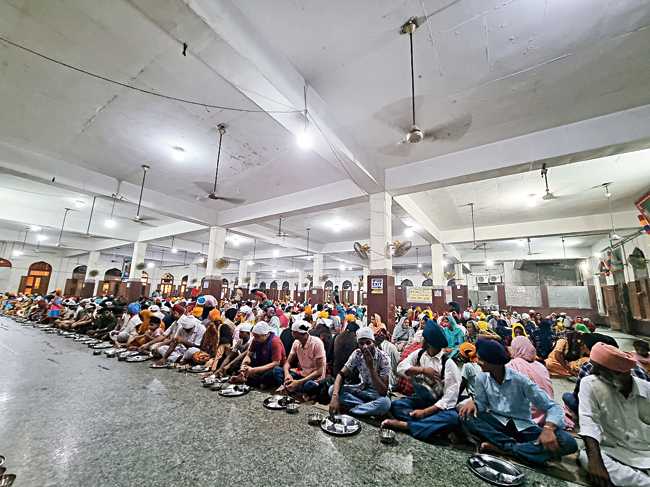 Everything starts and ends at the Golden Temple in this city. The langar here is probably one of the biggest community kitchens in the world and, as the locals put it, nobody goes hungry from the Golden Temple. This was on top of my bucket-list and the sheer experience gave me goosebumps.
After I queued up and collected my plate, bowl and spoon, all made of stainless steel, and got into the serpentine queue to a huge dining hall, I had to quickly find a place to sit.
Serving simple and fresh home-style food — rotis, rice, different types of dal, and kheer — the langar is open every day, rain or shine. Probably the most surreal experience in my lifetime this was — sitting down and eating with hundreds of people and without any commotion or pushing or shoving happening.
In a country still divided by caste and religion, the langar is a great leveller. People from all walks of life sit together on the floor and eat whatever food is served to them by sevaks in the name of Wahe Guruji.
Guests are welcome to ask for more helpings but must make sure that they have it all and waste nothing. Once done, the plates and spoons need to be returned to the sevaks at the floor below, where dozens of them are waiting to collect and wash them. This happens 24x7x365, and is absolutely free for all visitors. The langar works on donations and there are counters where devotees can make cash contributions if they wish.
Before or after the langar, make sure not to miss the Karah Prasad here, a rich halwa soaked in desi ghee that is bound to seep out and drip along the length of your arm (carry a tissue!).
Badamwali Special Chai @ Giani Tea Stall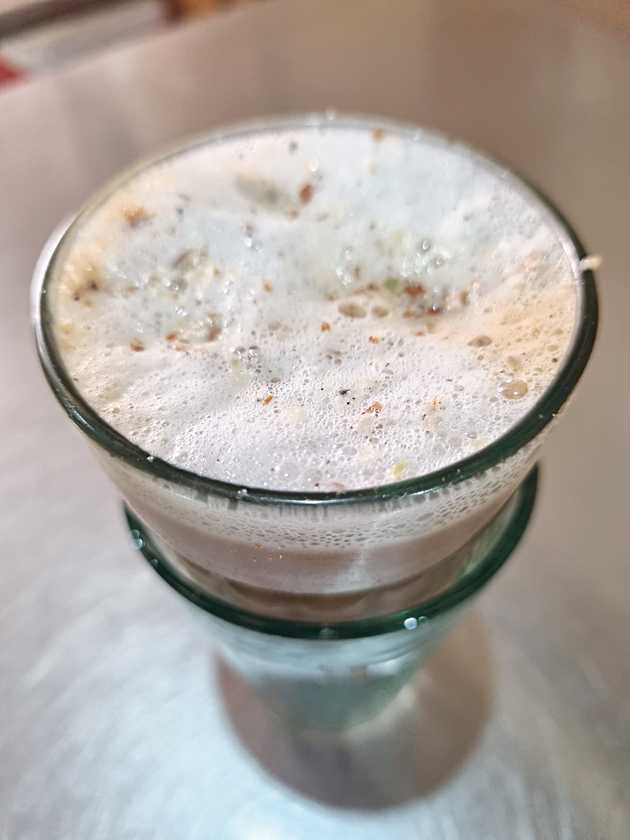 Giani Tea Stall dates back to 1946 and opens its doors at four in the morning every day. A huge hit with morning walkers for some chai pe charcha, even their 'normal' chai is as popular as the Badamwali variety.
For a person like me who only enjoys black tea without sugar, this doodh chai with pistachio, almond and a layer of froth on top, with the right amount of sugar, did take me by surprise. Make sure to go in the morning by 9 to get their special Badamwali chai or you might have to make another visit like I had to the next day.
Present and former chief ministers of the state, Prakash Singh Badal and Captain Amrinder Singh, Navjot Singh Siddhu, Smriti Irani, Ranbir Kapoor, Diljit Dosanjh and Daler Mehndi are some popular personalities who have visited this tea stall.
Bajrey ki khichdi, Sarson da saag & makki di roti @Sadda Pind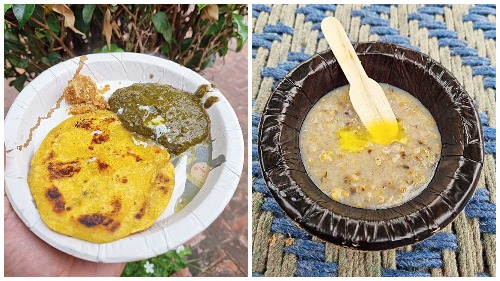 A mini slice of Punjab can be experienced at Sadda Pind, on the way to the Attari-Wagah border. A few local women sit and make fresh and wholesome corn-flour rotis on an open fire oven and serve it with steaming hot ghee-soaked saag and gur on the side. The saag (though a winter speciality) is unlike any I have tasted before. It's a balance between coarse and smooth, with the leaves not grounded smoothly. It's impossible to stop at one round and the women are more than happy to serve more.
In another corner, an elderly woman was sitting with a pot. She put one ladle of the grey-coloured khichdi as opposed to the yellow ones we are used to, and topped it with desi ghee (of course!). It was the best khichdi I have ever tasted in my life. Smooth, well-boiled lentils with rice, spiced just right with hing. The very thought of it is making me hungry again!
Dal, Palak Paneer & Paratha @Kesar Da Dhaba
Kesar is all that you need to utter and any and everyone in Amritsar will guide you to THE Kesar Da Dhaba. If there's one eatery in Amritsar that beats all others in popularity, it's this one. Founded in Sheikhupura, now in Pakistan, in 1916, it shifted to Amritsar post-Independence and Partition.
Young staff, quick service and shared tables with hot fresh food sums up Kesar. Be ready to queue up for a table since this place is packed to the rafters every single day and often runs out of food before their closing time.
I was told to go for the Paratha Thali with Palak Paneer and Maa Ki Dal that's cooked for over 12 hours. What came was food literally with an inch of ghee on top. As I was busy clicking the photograph of the thali, the same server returned to pick up the paratha and give it a quick crush with his hands and, thus, my Churchur Paratha was ready. Popular as it is, Kesar seemed a tad overrated.
Kulcha & Chhole @Brother's Dhaba
Kulchas are synonymous with the city and have to be part of your breakfast menu. Stuffed with potato or cottage cheese and baked to a golden crisp in the tandoor, these hot Amritsari kulchas come with a generous helping of desi ghee on top.
Served with a side of chhole, spicy chutney and plain curd, this is one item you are sure to get in every nook and corner of the city. I chose Brother's Dhaba as this was close to my hotel and opened at 8am for breakfast.
While most spots serve this dish, Kulcha Land has some of the best. Operational since before the Partition in Lahore and later in Amritsar, Kulcha Land has been dishing out this delight for four generations now.
Ghee roasted chicken @Beera Chicken House
Beera Chicken House is a must-visit for non-vegetarian food. Available in full, half and quarter portion options, Beera's is the first eatery in Amritsar to introduce this "famous" chicken way back in 1946 by now owner Bittu Harminder Singh's father. A line of cars parked outside the eatery is a common sight, waiting to get their order, as the whiff of roasted chicken being basted with pure ghee lingers in the air. The chicken is served in a foil pack with onions and green chutney and is so juicy and tender that it falls off the bones. This one's a must on your Amritsar list for sure!
Lassi @Ahuja Lassi
Amritsar's food heavily features dairy products. And a tall glass of Punjabi lassi tops that list and defines the perfect way to finish a meal. And Ahuja Lassis are known for being "world famous".
Though available in plain, kesar and mango options, I had to go for the classic plain lassi since they had run out of the other ones. But I was quick to ask for a second glass. The thick rabri layer on top makes this glass of goodness even better. Earlier, they would serve in stainless steel glasses but due to the pandemic they have shifted to disposable ones.
Abhishek Bachchan had visited for a glass of Ahuja lassi while shooting for Manmarziyaan.
Jabeli @Gurdasram Jalebiwala
A stone's throw away from the Golden Temple, Gurdasram Jalebiwala has been serving piping hot jalebis since 1952. They are also popular for their gulab jamuns and their menu chart says every sweet is made with "shuddh desi ghee" and that can be seen the moment you are around the shop. The shop has been built over an old well and is also known as the khuhwali jalebi.
Fried fish Sangara @Makhan Fish & Chicken Corner since 1962
Makhan (make sure to pronounce it as Makkhan for the locals to understand quicker) is the most popular place in Amritsar for all fish lovers. Their signature Fried Fish Sangara is synonymous with Amritsar's food reputation and is enjoyed best with chilled beer. This lightly battered golden-brown, fresh water fried fish is crisp on the outside and melt-in-the-mouth inside (watch out for bones), with a distinct hint of ajwain that hits the right chord with the taste buds.
Kulfa @A-One Kulfa
Accidentally utter the word kulfi and you will be immediately corrected with: "Kulfi nahi yeh kulfa hai." That's if you are at A-One Kulfa store. And boy, it was delicious! Kulfa is the generous, big Amritsari version of the humble kulfi! It's a piece of culinary art emphasising the city's culinary brilliance.
The kulfa here is made with a thick layer of phirni, topped with scoops of kulfa and falooda, sugar syrup and some gond and kewra. It is finished with some rabri on top.
If there were a way to pack this and get it back to Calcutta, this would top my list!
Golgappe @Panch Pani Golgappe
Though the name says panch but Rajesh Prajapat, originally from Uttar Pradesh, sells six golgappes to a plate. The quintessential golgappa with aloo and chana filling is served with six different types of pani — jal jeera, pudina, hing, kali mirch, lemon and "isspecial" — with onions, bhalla pakoda and dahi. This is worth a try for the sheer variety.
Aam Papad @Lubhaya Ram
Ram Lubhaya has been selling aam papad for the past 55 years at the same spot near BBK DAV College on Lawrence Road. He has two proper concrete shops within 100m of each other, but he himself sells from a cart because that is where it all began and old customers always come back to his cart stall.
This is one place where you will be absolutely spoilt for choice and bound to remember your school or college days. Aam papad peda, sukha aam papad, meetha aam, chatori aam papad, imli ka peda, jeera goli and more, there are 15 varieties to choose from. This shop is so popular that they now have gift packs in various sizes for tourists to carry back with them.
It's a much better idea to visit Amritsar during the winters to enjoy the food to the fullest. With the heat in August, it was clearly not a good idea to try so much food. Having said that, I will not regret trying good food anywhere, any time of the year.
The warmth of their food echoes in the people of Amritsar, be it at the Golden Temple or outside. And that's what makes the city extremely special.
The author is a PR professional and a food and travel enthusiast
Pictures by the author