Afloat in Himsagar
The Telegraph travels to Nadia a to meet fruit royalty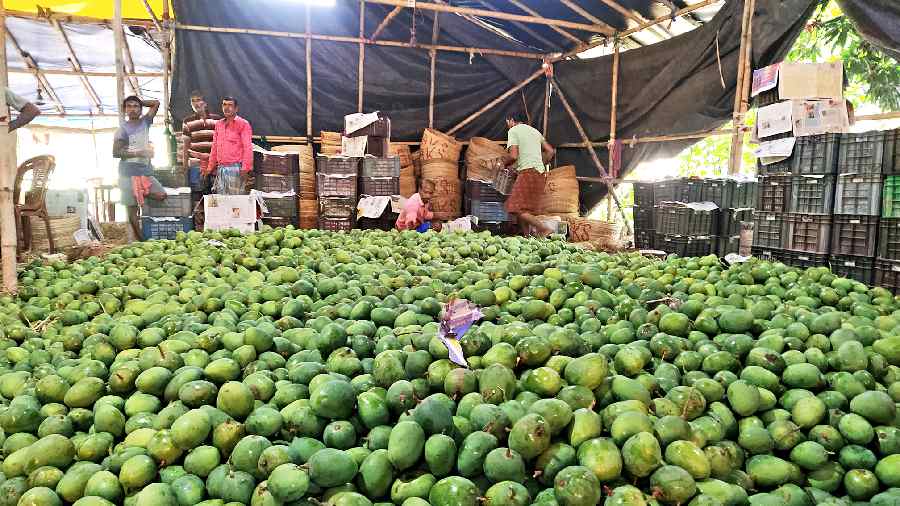 Produce from surrounding orchards heaped at Dakkhinakali wholesale market near Majdia in Nadia
Prasun Chaudhuri
---
Published 12.06.22, 03:03 AM
|
---
The mango wars are swirling again, often ironically bitter of tone over which is the sweetest of them all. Himsagar is the uncrowned emperor of mangoes. There, I have said it now. Not Alphonso, nor Langda, Banganpalli, Gulabkhaas, Dussehri, Chausa, Kesar, but the one and only Himsagar. There, I have said it again.
Last month, at the fruit market in central Calcutta's Chandni Chowk, Mudassir, the fruit seller, seemed unusually sombre. He said, "Sagar ka haal bura hai, supply bilkul down." Those in the trade refer to Himsagar as Sagar. Mudassir knows of my obsession with the gaachh paka or naturally ripened Himsagar. "Your kind of fruit is going to cost Rs 120-150 this year," he added. Something to do with poor harvest in Bengal's Nadia district, 100 kilometres from Calcutta, and the primary source of his mangoes.
Mudassir does not go to Nadia; he buys his Himsagar from the biggest fruit wholesale market of Calcutta — Mechua Bazar.
I call up Swapan Bhaumik, who runs the monthly newspaper Krishi Sahitya (The Farm Chronicle). He is based in Majdia near Krishnagar, also in Nadia district. Bhaumik says, "Himsagar harvest is dismal; hardly a quarter of what was expected. Last year we had a bumper crop, yet farmers couldn't transport the produce due to lockdown and Covid-19 restrictions. Traders, farmers and agents lost crores of rupees." Bhaumik invites me to Majdia. "Come and see for yourself." I agree, but only after I have had a chat with Anandamoy Puste, an agronomist at Bidhan Chandra Krishi Viswavidyalaya, an agricultural university in the satellite town of Kalyani. According to Puste, the best Himsagar is to be found in Bathna, 35 kilometres east of Majdia. He says, "This old alluvial zone fed by several rivers — Churni, Mathabhanga and Icchhamati — is extremely fertile and is just right for Himsagar."
One late May morning, I arrive at a mango orchard in Purnaganj, a village on the outskirts of Majdia. It is owned by Pranab Kumar Paul, who is a trader, and has leased it to farmers Sudeb Halder and his son Kaushik. The Halders have paid a lease for 50 trees — in this case Rs 2 lakh. The understanding is that they'll harvest the crop and sell it at the Majdia wholesale market. The proceeds are the farmers', but he does offer a few kilos of mangoes as "gift" to the landlord. Every two years, farmers have to renew the tree lease that keeps appreciating.
Spread over two acres, Paul's orchard is sprawling with some litchi and jackfruit trees too in a corner. "Most of the trees here are at least 50 to 60 years old. Mature trees usually bear the sweetest fruits," says Paul.
Three labourers are plucking mangoes. Prashanta Sardar is using a plucking pole with a small net tied to it. Plucked fruits are transferred to a bigger net hanging from one of the lower branches. Once the larger net fills up with 30 to 40 mangoes, father and son pull it down and spread the mangoes in a heap beneath the tree.
I try my hand at plucking and realise it's not as easy as it looks. Mature fruit bruises easily. The pluckers get paid Rs 300 for a four to five-hour job.
"Each of these holds about 100 kilos of fruit," says Kaushik. Once 10 baskets have been filled, they carry them to the haat. While I roam the neighbouring orchards, Kaushik has loaded his motorised van with the baskets. But what is this? Most of the fruits are green. "Not to worry," Kaushik tells me very casually, "wholesalers and retailers will turn these into ripe yellow fruit using carbide."
This reminds me of Puste's description of how mangoes are artificially ripened through industrial-grade calcium carbide. When a packet of the chemical is placed near a pile of fruits, aided by moisture in the air, it releases acetylene gas (used for welding iron). The gas emanates enormous heat and hastens ripening. "Gaach paka mangoes rot so quickly that you can't transport them," Puste had said, busting the myth of naturally ripened mangoes. Himsagar is too delicate, its shelf life is too short. It can't be transported around the country. That's why it has never had a pan-India presence.
Fruit ripened artificially is too soft, uniformly yellow and does not have that natural sweetness. The use of the chemical — banned by food safety authorities — is also a health hazard. Ethylene gas is safer for induced ripening, but it is way more expensive.
I get onto the van headed for the wholesale market. All through, Kaushik chats about the economics of mango production. If they make Rs 40 per kilo, it is enough to cover the lease money and still leave a handsome profit. A bumper harvest is actually bad as it brings down the price. Rising profits every alternate year have encouraged many paddy field owners to turn their land into mango orchards.
At the haat, there's a complete logjam of hundreds of other motor vans carrying mangoes. Big traders have arrived from Calcutta, Burdwan, Durgapur and Asansol to collect the choicest of mangoes. Kaushik deposits his consignment in a godown owned by faria or agent Babul Biswas. He haggles with Biswas, who dishes out a fraction of his payment and promises to clear the dues after all the fruits have been sold.
I meet some big traders from Mechua. One of them, Mohammed Iqbal, has a reputation of being a connoisseur of sorts. Iqbal explains to me the nuances of the best Himsagar. "She's like an elusive lover," he says flamboyantly. "You'll know a real Himsagar from the golden tinge near the stalk and the intoxicating fragrance," he adds as he reaches for a basket that belongs to farmer Prabhat Ghosh.
Ghosh's produce — about three quintals or 300 kilos — passes Iqbal's litmus test. Iqbal is generous, he offers Rs 60 per kilo. I sit down to chat with Iqbal. He talks about his annual mango safari that begins with Himsagar in Bengal in mid-May. Thereafter, he travels to Malda in northern Bengal (for Lakhna), to Bhagalpur in Bihar (for Langda), to Ghazipur in Uttar Pradesh (for Chausa) and ends his tour at Malihabad, also in Uttar Pradesh (for Dussehri), in late August.
While chatting he slices a couple of luscious Himsagar on a melamine plate and offers me some. Creamy pulp, musky sweetness, not a single tangy note, not too much fibre. Himsagar is the emperor of mangoes. Nah, there can be no debate about it.