A carat-and-stick story
The construction of Calcutta's East-West Metro has unseated the goldsmiths of Bowbazar yet again. Truth is, their scattering began long ago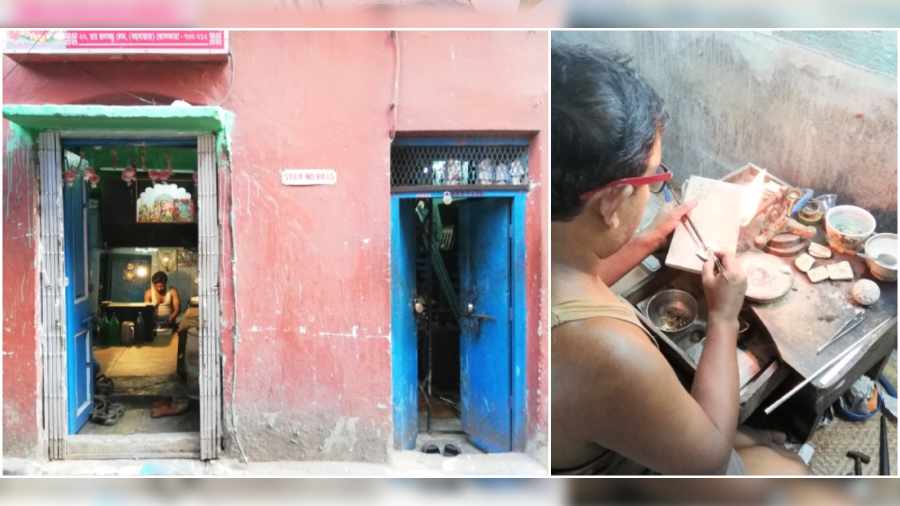 PRECIOUS METTLE: Goldsmiths in central Calcutta's Shyakrapara.
Photographs by Moumita Chaudhuri
---
Published 22.05.22, 03:07 AM
|
---
The first and biggest nail in the coffin of the goldsmiths of Bengal was possibly the Gold (Control) Act of 1968.  It  introduced certification of a person as a goldsmith. It did not allow a certified goldsmith to hire more than one labourer, it did not allow the labourer to make, manufacture, prepare or repair any article or ornament. And the goldsmith was not allowed to possess more than 100 grams of gold. The traditional artisan families could barely breathe.
Anindita Chakrabarti, who is a professor at IIT Kanpur and has been researching the goldsmith industry of Bengal, says, "Before 1968, goldsmiths could buy gold from the market. But the act introduced a licencing system by which artisans could not purchase gold bars. The jajmani system (castebased patron-client system) that was in place before this came to an abrupt end." 
Prabir Ray, a fifth generation goldsmith from Shyambazar in north Calcutta, talks about the "good old days". "Only two kinds of male arti sans were allowed to enter the andarmahal of aristocratic families — the tailor and the goldsmith."
Those days — even in the early years of the 20th century — babus would wear rings, mop chains, gold buttons, pocket watches with gold dials. The women wore fandi nath — a long nose ring with a chain — tikli, taira, bala, bouti and what not. Nandini Devi Bourani of Sovabazar Raj bari has heard from her husband, Aloke Krishna Deb, that a goldsmith from Hamilton and Co. would come to the house seeking orders.
"Later, Thakur Das Hiralal and Hasmul Jahari would come over. The last of the jewellers who came to the Rajbari was Gobindo Hari from Hari Ghosh Street in north Calcutta. But that was 3-4 decades ago." 
Nandini Devi uses the term shyakra for goldsmiths as well as jewellers.
But Chakrabarti says, "Shyakra is actually the name of a caste — men belonging to this caste worked with gold alone."
The shyakras of Bengal had a reputation for their craftsmanship. But if the Gold Council Act choked them, the 1974 Bengal famine broke their back completely, made them leave the trade. Some were absorbed by the diamond cutting industry, some took up jobs as daily wagers in gold and diamond mines.
Says Chakrabarti, "The new age goldsmiths of Bengal are mahisyas or people who belong to the agrarian community.  The new artisans came primarily from  Midnapore and settled down in north Calcutta's Sinthi and Dum Dum areas. This happened in the 1980s and gained momentum in the post-liberalisation period. They took up the job of goldsmiths as some of them were already in some way or the other engaged with smithing — iron, brass, copper."
In the course of the switch, traditional craftsmanship was lost, and so was gene rational knowledge and expertise. Chakrabarti says, "Filigree work has gone out of fashion completely. It is still prevalent in some corners of Bangladesh though." 
Chittaranjan Karmakar, 68, has a workshop in central Calcutta. He says, "I have grown too old to wield a hammer, chisel and nozzle (used to make intricate designs)."
Karmakar was a teenager when he arrived in Calcutta from Madhugarh in North 24-Parganas and started working as a goldsmith. "I was 16. I started training when I was about eight or nine. I would go to my brother-in-law's workshop and learn to make threads of gold. I didn't want to be a farmhand like my father," he says. He graduated to carving designs on pendants and earpieces and, by the time he turned 18, he claims he was a full-fledged artisan.
Bengali goldsmiths did not stop at moving from village to one big city. Wherever the job took them, they went.  Some years ago, Sunanda Chatterjee, an IT professional working in Singapore, visited Little India. She says, "It turned out that the jewellery shops there get their things from Mumbai. But they told me the artisans were Bengalis settled in Mumbai for many years."
Jewellery historian  Usha  Balakrishnan agrees. She knows of goldsmiths from Bengal who have migrated to Rajasthan, Bikaner, Surat and Bangalore pre-liberalisation. In 1990, the Gold (Control) Act was repealed and there was a surge in demand for artisans. 
In a paper — Gold governance and goldsmithery: Economic sociology of an informal  manufacturing sector in India — she has co-authored with Shruti Kanungo, Chakrabarti writes, "The migration  trail, we realise traversed all over India and Nepal as well… interviews in Cuttack revealed that these 'first generation' goldsmiths were from certain districts of West Bengal and had started to migrate to different states within India and neighbouring countries..." 
It is even said that the minakari that Rajasthan boasts of is also the handiwork of Bengali karigars.