Mid-Summer Night's Cream
An icy swirl or its mere craving alleviates the summer heat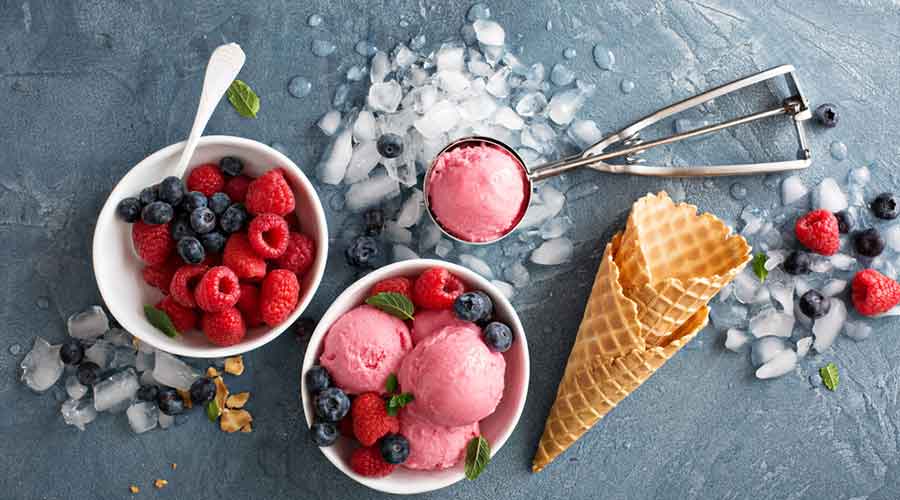 ---
|
Calcutta
|
Published 26.07.20, 12:46 AM
---
The night is sweltering with no whisper of a breeze, not a single leaf moving. The fan lazily sweeps circles, doing nothing to dispel the scorching heat. If anything, turning it on full speed just seems to heat up the air. The bed feels like it has been freshly ironed or there is a fire simmering under it.
Right about now, I would sell my soul for a bowl of ice cream. Not one of those tiny cups that were all we could afford in college and that got over way too soon. I would like one of those large bowls of sundaes with a swirled surface and smoke-like wisps coming off it.
I can imagine holding a bowl of ice cream. Condensation sliding off its surface, chilling my hands. So cold it's almost painful to hold. I'd probably not be able to eat a whole 750ml bowl of ice cream but I would still like one. I'd scoop spoonfuls of it and nibble off the spoon.
Oh, the pleasure of having ice cream in this weather. The transcendental feeling of every spoon of the chilly dessert sliding down the throat and coming to rest in the stomach, decreasing the temperature from within and making this muggy weather bearable. Rationally I know we aren't supposed to be able to feel anything cold inside our stomach, there are no nerve-endings there. But my stomach seriously feels cooler after I've had ice cream.
At these times, I miss being in college. All you had to do to get ice cream was walk out of the hostel. Even if you didn't get any ice cream, you could always have a really, really cold glass of lassi even at two o'clock at night. In fact, most of the campus would congregate around two little dhabas serving lassi and nimbu pani at night.
Ice creams were more treats, you know. They had nothing to do with the weather, only with how much money you had. How much you had squirrelled away to afford a few cups. It would always have to be a few cups because what fun is ice cream having it all by yourself?
Once a friend was invited out by a guy for ice cream. Well, she cajoled him into treating three of us. He was a rather good sport for he very willingly, if not happily, took us to Baskin-Robbins for cones. It must have been rather expensive at that point of time, Baskin-Robbins had just been launched in India. But being the heathens we were, we later declared it was much ado about nothing.
We grew up on Kwality ice creams — the Wall's came later — and a visit to Nirula's with its array of multi-hued treats would be the high point of our month. Birthday celebrations, very often, meant ice creams at Nirula's.
I still think that the Kwality Wall's chocobars are rather a treat. Of course, you always have to hold a glass under them. I started doing that when I was six and I still do it because you are liable to lose the chocolate coating after a couple of bites. If you can capture it in a glass, you can at least drink it.
My tastes have gotten sophisticated with time. At one point my favourite flavour was black currant, tangy and impossibly purple. These days I'm rather partial to bitter chocolate gelato. I like cookies and crème, chocolate and nuts, lychee ice cream when I can find it. I like those little matkis of ice cream that pretend to be kulfis, though there I think I'm more enamoured of the containers than the contents.
While I don't miss the black currant from my college days, I mourn my other favourite — the mango ice cream. Not the yellow-orange pretender that is ubiquitous these days but a vanilla ice cream base loaded with chunks of the real fruit. They do not make them like that anymore.
Talking of chunks, I remember having a butterscotch ice cream when I was 10 or 12 that had chunks of butter in it. I never ever came across something like that again. I think I would still like it, the sweetness of the ice cream balanced by the slight saltiness of the butter.
But if I had to choose a flavour of the day today, I'd choose watermelon. It was a serendipitous discovery. My brother had decided to introduce his nephew and niece to healthy, fruit-flavoured ice creams. The shop was out of the strawberry-flavoured variety — my daughter's absolute and absolutely unoriginal favourite — so they suggested the pink watermelon flavour. While she was delighted with the colour, I was blown away by the flavour. Watermelon has a light, crisp flavour and the ice cream had successfully captured it. You actually anticipated the crunch of watermelon with every lick. The perfect summer fruit to beat the heat.