The Pedal Pushers
They cycle the length and breadth of India, and some even go beyond. What powers these impassioned men and women?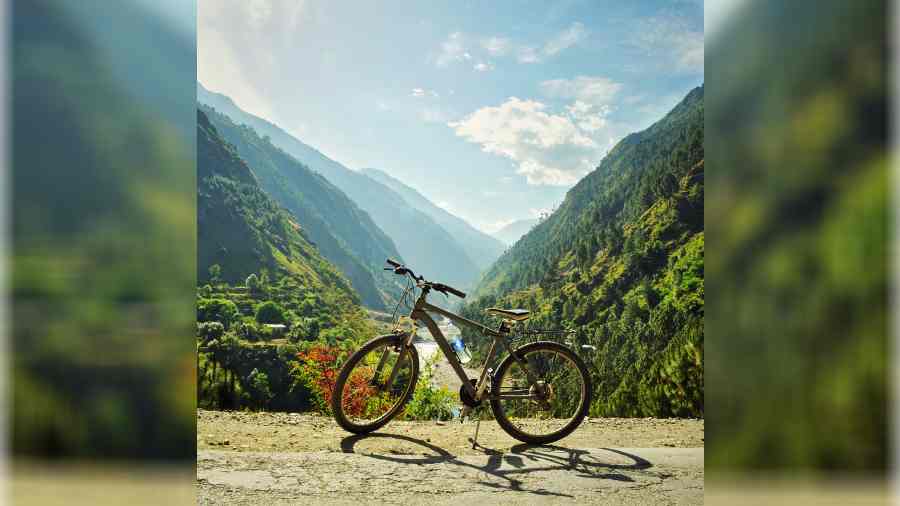 FORTUNE WHEELS: Chandan Biswas's cycle strikes a pose in Tirthan Valley
Courtesy: Chandan Biswas
---
Published 19.03.23, 03:45 AM
|
---
A hundred years ago, four friends got their bicycles out and went on a world tour. They took off from the Town Hall in Calcutta and returned after two whole years; in that time they covered five continents — Asia, Africa, Europe, North America and South America. One of them, Bimal Mukherjee, wrote down his experiences in a book, Du Chakay Duniya.
Mukherjee wrote that he had a two-fold purpose for writing the book. First, to prove that Bengalis are not cowards, and second, to show countless other young men and women that one can achieve anything and everything no matter how difficult. It must be remembered that when Mukherjee was writing this in the early years of the 20th century, the idea of a free India still had to jump through many hoops before it could become a reality and the racial stereotype of the "effeminate Bengali" was very much in circulation.
Times change. Anirban Acharya, a fitness consultant from Calcutta, had apparently nothing specific in mind when he decided to take up cycling. "I did Digha-Calcutta, a distance of 180 kilometres, on a cycle in 2006. And that changed everything," says Acharya, who has since then covered all 28 states of India and also the eight Union Territories on a cycle. He continues, "In 2019, I decided to cycle through challenging terrain, starting from California, then travelling through Arizona, New Mexico, Oklahoma, Kansas, Missouri, Illinois, Indiana, Ohio, West Virginia, Virginia, finally stopping a few kilometres away from Washington D.C. I covered the entire route at my own pace, but I did it."
Chandan Biswas, a documentary filmmaker and a cinematographer, has cycled through the trans-Himalayan foothills; environment activist Samrat Moulik has cycled from Ladakh to Kanyakumari; Ujjal Pal, who is an organic and composite farmer, has cycled up the Kilimanjaro, the highest peak of Africa; and Lipika Biswas, a railway employee, has done the Calcutta to Kanyakumari stretch on her two-wheeler.
Most of them are between 35 and 55 years of age, and no one — except Lipika who has a feminist take on the matter — seems to be doing what he or she is doing to score a fitness point or an ideological one. As Mukherjee puts it, it is all for some atmaprasad or self-satsfaction. Chandan's trans-Himalayan expedition was fulfilling enough for him to make his first documentary titled Charaiveti. The documentary has been screened in 25 film festivals across 15 countries.
When asked why the cycle, why not the car or train or bus, our cycle enthusiasts pause in thought. Some begin to construct reasons — "on a cycle you cannot speed" or "it has its own leisurely pace" — but it is apparent, the choice was not studied in most cases. Chandan says he finds the cycling expeditions "challenge one's own limits".
Ujjal, however, is a man with a mission, and that is to spread the word about planting trees. With the cycle as his choice of vehicle, he can cover vast geographies and also weave his way closely through communities. He says, "I have travelled through the villages in the Sunderbans when I was involved with the Save the Tiger project." When on his wheels, he stops at tea shops where he says one is sure to find a small gathering. Ujjal continues, "I always try to draw their attention and show them a short PowerPoint presentation on tree plantation and their conservation. I have cycled through and stopped at least 500 villages for this purpose." If Ujjal is the green cyclist, Samrat is often referred to in his cyclists' circle as "river cyclist", a title he himself does not endorse. But it is a fact that most of his expeditions have been along riverbanks. He says, "I want to understand what ails our rivers."
Recently, he went to Bhopal to check the quality of water in the rivers there. "I have been told that residues of the 1984 Bhopal gas tragedy are still to be found in the waters," says Samrat.
In his 1926 book, Mukherjee writes: "From the experience of the first day I understood that we had committed a blunder by crossing our load carrying capacity. Each one of us had fixed a steel trunk to the back of our seats. On top of it there were bundles of clothes and blankets. We had also loaded the haversack. We had rifles with us which had their own weight... So, before leaving for the expedition, we decided to reduce our luggage.One shoe polish and brush and four toothbrushes." They left four trunks at a friend's place in Chandernagore.
Fast forward to 2015. Chandan carried with him a stove, mestin utensils typically used by the army, a tent, a mosquito net, a sleeping bag and a mat, some food such as instant noodles, chhatu, muri, chire, chocolates and lozenges for energy and dry fruits. He says, "I have to carry my cycle repair kit as there are no workshops uphill." Once he had to repair a flat tyre when he was crossing Jalori Pass in Himachal Pradesh.
Mukherjee also writes about his experience of halting for the night at Katrasgarh, now in Jharkhand, all those years ago. He narrates, "Tired, when we arrived at Batakrishna Ray's house, there was a mela-like crowd waiting to greet us. There was music. A young woman, Kamla Jharia, was singing, michhe mala gathiya ashe boshe thaki..."
Samrat recalls how he spent days with the Nyishi tribe in Goloso village of Arunachal Pradesh and with the villagers of Kotbari in Comilla in Bangladesh. Chandan has made impromptu stops in Himachal Pradesh's Batal and Assam's Silapathar, in the second instance, he stayed among the Misings. "They are nomadic people who spend their lives on water," he explains.
Ujjal has lost count of how many tea shops he owes money to. "They just won't let me pay," he says. Chandan couldn't explain to the people of Mala Pora in Kashmir that he was not in a position to cycle to Lolab Valley with a sack full of apples. "I ate apples for every meal for the next few days," he says.
Some of them have names for their bicycles. Ujjal calls his cycle Chetak after Maharana Pratap's mount. Anirbancalls his mount Lal Ghora. Ujjal was determined to take Chetak with him when he went up the Kilimanjaro. He narrates how he carried the cycle on his back for the last few kilometres.
Now, would the Rajput legend have done the same for his war horse?