The Other Khela
In poll-bound Bengal, nothing is apolitical. Not the ilish, not the sweetness of the dal, and certainly not a game of football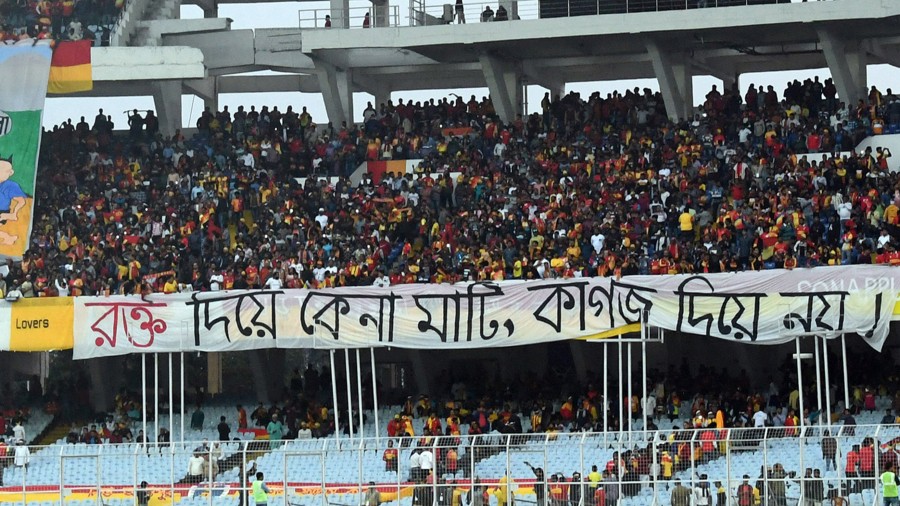 ---
---
The war cry like khela hobe, meaning, let's play — a call borrowed from Bangladesh — is reverberating across poll-bound Bengal. The real khela, or game, started last year.
It was early September when chief minister Mamata Banerjee announced that East Bengal, in its centenary year, would be part of the Indian Super League (ISL), India's new No.1 football tournament. Hari Mohan Bangur-owned Shree Cement came on board as the new investor, agreeing to pump crores into the football team in times of a raging pandemic and an economic downturn. As East Bengal officials and sponsors sang paeans to the chief minister, it became clear that football would become an important player in the build-up to the Assembly elections.
Football and politics have always gone hand in hand in Bengal, right from the days of Mohun Bagan's IFA Shield triumph in 1911. For a long time, Bagan, perceived as the upper-class bhadralok club, and East Bengal, supported by Partition refugees, shared space in the football ecosystem. After assuming power in 2011, Mamata started patronising Mohammedan Sporting, the third force in Calcutta football, with an eye on the Muslim vote.
But what happened on September 2, 2020, was unprecedented. Never in the history of Bengal politics had a sitting chief minister announced the inclusion of a club — in this case East Bengal — in a league from a government platform. Post the presser at the state secretariat, Nabanna, it might have looked as if Mamata was lending a helping hand, but she was actually extracting as much political mileage as possible.
With the 2019 Lok Sabha elections showing that the Hindu refugee vote had started shifting to the BJP (particularly in north Bengal and North and South 24-Parganas), Mamata chose East Bengal as a medium to woo voters. It was her khela and she was putting her money on East Bengal.
East Bengal were facing an existential crisis after Mohun Bagan merged with the Sanjiv Goenka-owned ATK to earn an ISL berth. "If they can play, why shouldn't we" was the refrain.
The pandemic was at its height but football-crazy Bengalis got into a war of words on social media. Mamata grabbed this opportunity with a message "I am with you, East Bengal" and became a messiah in the eyes of thousands of East Bengal fans.
Krishanu Sengupta, 37, who in the past had voted the Left, says he will vote for the Trinamul (TMC). "It's only because of her that we are in the ISL. It is every East Bengal fan's moral responsibility to vote for the TMC.
Yes, we didn't play well (finished ninth in the 11-team league) but how can you blame her for that?" Says Calcutta football chronicler Kushal Chakraborty, "Yes, it will have an impact on voters. Her role was appreciated by the fans."
The Matuas, who came to Bengal at the time of Partition, can swing votes in as many as 74 of 294 Assembly seats in the state. And they happen to be largely East Bengal supporters. Both the BJP and the TMC are trying their best to woo this vote bank.
Kapil Krishna Thakur, who is a veteran Dalit writer and CPI candidate from the Gaighata Assembly seat, thinks the East Bengal card will not pay off for Mamata. "It was a short-lived euphoria and people have forgotten that. If you ask me, it's an exercise in futility. She has done that before, doling out grants to para clubs. She is just trying to cash in on the emotion of the supporters," Thakur says. He narrates a story from his younger days. "In the late 1970s, we planned a football tournament in our village in Habra. We asked the office-in-charge of the local police station to let us use a portion of his land for the match. Initially reluctant, the police officer relented under sustained pressure from the villagers. As a mark of respect, we named the winners' shield after his son who had died young. What I am trying to say is football has always been a popular weapon for the have-nots."
Thakur says he has never been to the East Bengal ground to watch a match but followed the team's performance in his younger days. Now, his son Kinjal eats, drinks and sleeps East Bengal, and doesn't miss a chance to see his favourite team play. He travels from Bamangachi near Barasat to the Salt Lake Stadium to root for the red and gold. The 25-year-old says, "Till November, my friends were thinking of going with the TMC. But as the club's performance dipped, the mood changed. Now, nobody is talking about how she helped get into the ISL."
Says Debabrata Bhattacharya, 42, a teacher from Jalpaiguri, "Helping our club has definitely given a boost to her political image. But the impact now stands diluted. Had the team performed well, it would have given the party some traction."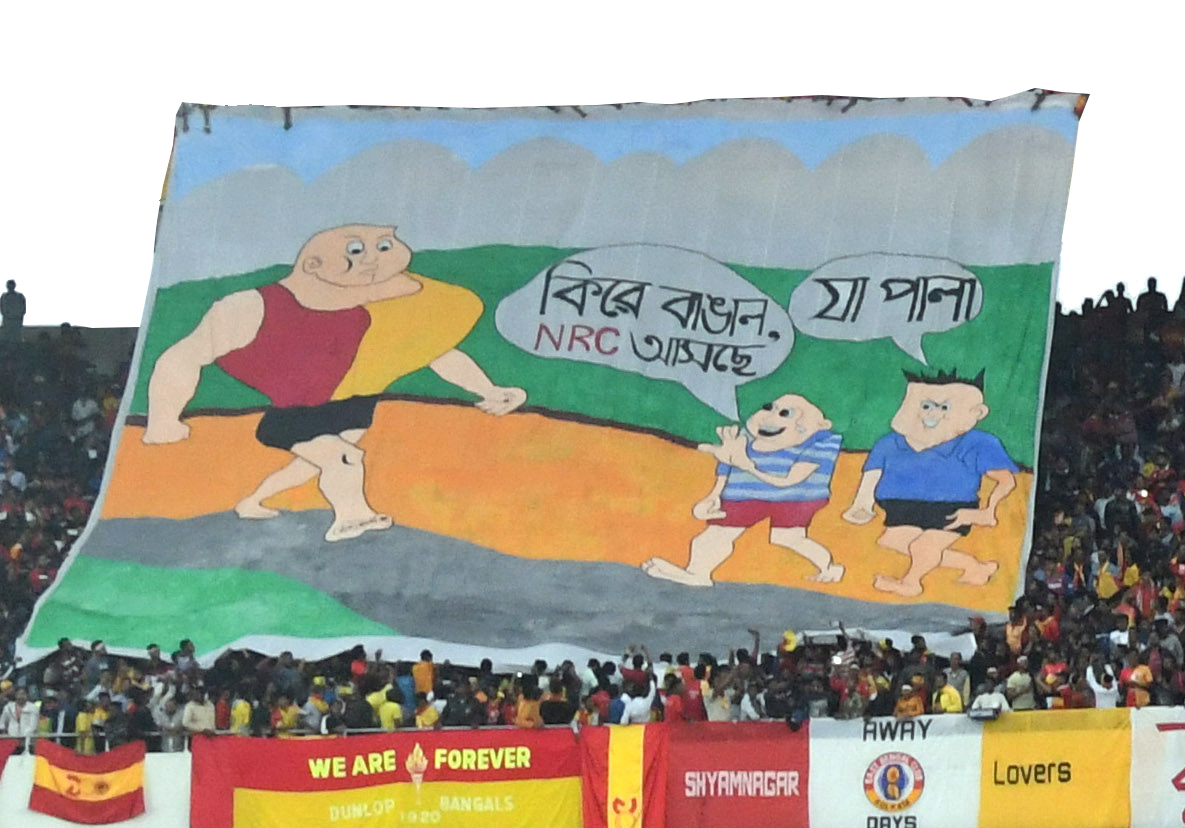 "The term khela hobe is being used in a very negative way, thanks to the TMC," says Kalyan Chaubey, former India goalkeeper and BJP candidate from Manicktala in north Calcutta. "As a footballer, I find it repulsive," he adds. According to him, Mamata's East Bengal gamble will "fall flat". "I am meeting a lot of people and they are upset that their favourite team has performed so badly."
Formed in 1920, East Bengal is a matter of life and death for the Hindus who migrated from what is now Bangladesh before and after Partition. With barely anything to fall back on, the refugees had found solace in this football team and some comfort in its victories — 16 trophies in the 1940s and the 1950s. Players such as Sunil Ghosh, Somana and Ahmed Khan were much revered.
Says football historian Gautam Roy, "The refugees had a grudge against the Congress, who they thought always gave preferential treatment to the refugees from West Pakistan. The Congress was also suspicious of this huge number who were slowly becoming a vote bank for the CPI(M)."
In 1957, the then chief minister of Bengal, Bidhan Chandra Roy, asked East Bengal, Mohammedan Sporting and Rajasthan Club to change their names. Continues Roy, "He found the names regional and they were a law and order problem. Jyotish Chandra Guha, the then East Bengal secretary, stood his ground in front of a towering personality such as B.C. Roy. Had he buckled under pressure, East Bengal would have been finished that day itself."
The refugees remained loyal to the Left for over three decades. But as job opportunities dried up during the Left Front rule and aspirations grew in a liberalised economy, the next generation of voters came to bank on the TMC as the best alternative. But with the ascent of the BJP and its divisive politics in the state, this chunk too has turned its back on Mamata.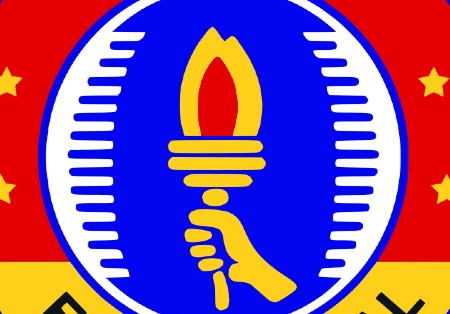 Taunted as Bangladeshis by Mohun Bagan fans, East Bengal supporters had put up giant tifos during one of the Derbies in January 2020. Those were the days of CAA and NRC agitation and the political message underlying the tifos was all the more glaring. One of them showed Bantul the Great, a popular Bengali comic strip character created by Narayan Debnath, in East Bengal colours, being taunted by bete noires Bachchu and Bichchhu thus — "Ki re Bangal, NRC aschhe!... O you refugee, watch out, NRC is on its way." Another showed Bantul as Bangal the Great punching Bachhu and Bichchhu. The banner that caught the imagination of the country read "Rokto diye kena maati, kagoj diye noy". Rough translation — This land we have come to own, we paid for with our own blood; blood, not some deed on paper.
First-time voter Bibrito Mukherjee says, "What's wrong in that? It happens everywhere. See Barcelona and how proudly they wear their Catalan identity on their sleeves. The CAA is a controversial bill and when Mohun Bagan fans call us Bangladeshis, it hurts. How can someone like Tathagata Roy tweet that we should go back to Bangladesh?"
It is perhaps no coincidence that the 96-year-old Narayan Debnath was conferred the Padma Shri by the Narendra Modi government this January.
Mamata has not spoken about East Bengal and the ISL during her recent visit to north Bengal. "My hunch is that once the final agreement between the club and the investors is signed, she will start talking about it," says Chakraborty.
Not to be left behind, the BJP is also dribbling the football metaphor. Modi brought up the "Ram card" and roared khela khatam, meaning, the game is over. Swapan Dasgupta stopped at the "Mohan Bagan (sic)" tent recently to attend a condolence meeting in memory of P.K. Banerjee and Chuni Goswami. Modi tweeted congratulations to Mohun Bagan for winning last season's I-League, and to East Bengal, on August 1, 2020 — the day it turned 100.
"I do not see anything wrong in that," says Srinjoy Bose, secretary of Mohun Bagan Athletic Club. He continues, "Politicians always look for metaphors that will have an immediate connect with the masses." Reasons Kapil Thakur, "When in Bengal, goal debo has more appeal than a chhokka or six."
Soon enough we will know who is still playing and who has lost the match, but one thing is for sure — football will continue to rule Bengal. Rule and kick. What say you?