The Exposure Tour: In Calcutta, first-time voters from Mizoram
First-time voters from Mizoram just had a first-time experience in Calcutta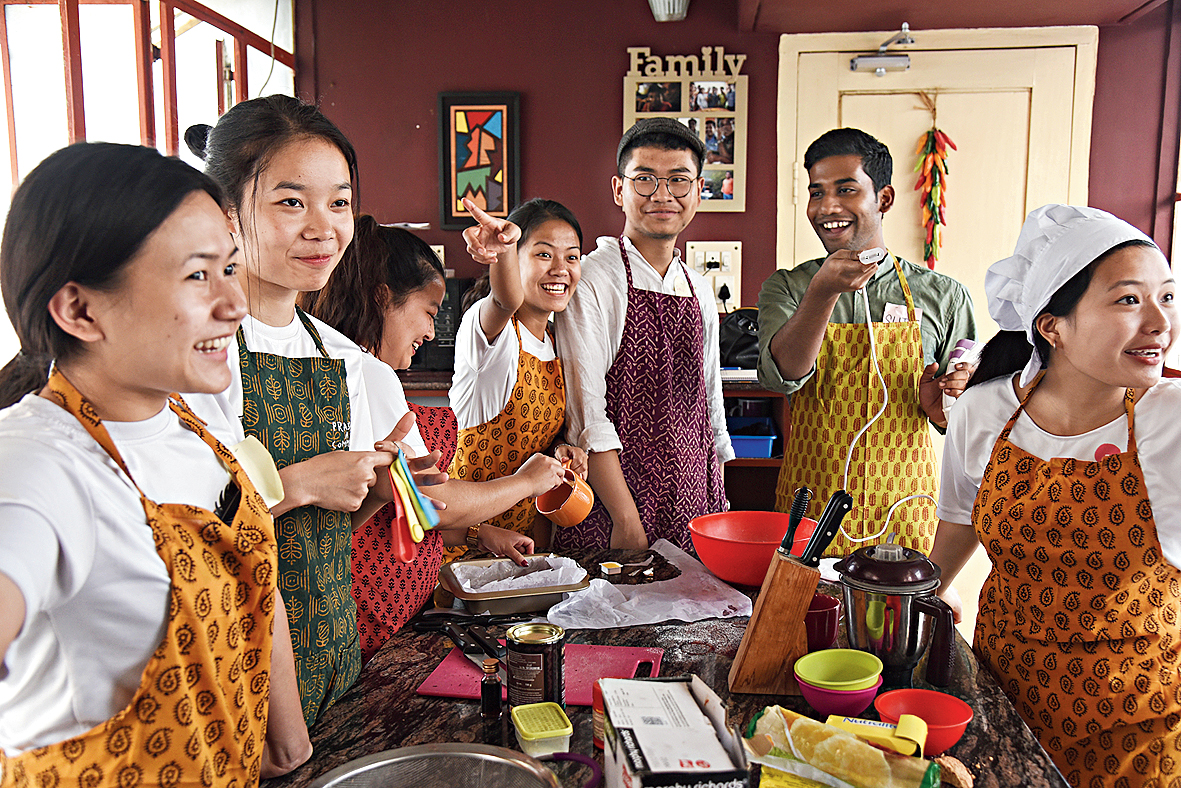 ---
---
A tiny niche of Calcutta exulted in a Mizo wave this week, when 32 Psychology students of Pachhunga University, Aizawl, arrived with a cheery chibai (hello). Elections just over, these first-time voters from Mizoram, the lone Congress bastion in the Northeast, will be back home in time for the poll results on Tuesday.
The idea of this "exposure tour" germinated when the two professors accompanying the 25 girls and seven boys discovered the Salt Lake-based development organisation and Unicef partner, Prayasam, on the Internet and asked if their students could come and interact.
Lucy Ralte, proudly displaying her inked finger, brimmed with excitement. "This is the first time I voted," she said. "And this visit is heralding more changes, of terrain, world view and life skills. We were overwhelmed by the welcome. The Prayasam family greeted us with tika and gave each of us a handbag, T-shirt and photo frame, all made by them. Such warmth reminds me of Mizo hospitality. We were divided into four groups to join activities like painting, music, cooking and media. They taught me to knit and I'm making this scarf for an installation at their arts podium, Kalanjali."
Samuel Zothansanga has joined the music group. Adept at playing the keyboard, he unhesitatingly picks up the guitar to break into song. "This environment is so warm, we felt at home right away. I especially like their unique way of sharing knowledge. This creative pursuit has brought about a perception change," this young voter said. Will be a change in political fortunes back home? "Well, the Congress has ruled for 10 years," he smiled. The major unit of his group is on the terrace, dancing. Mizo musical talent is legendary, and these students adapted to Bollywood and Bengali tunes readily, under the guidance of Prayasam's Subhojit. "You're doing good," he encourages Tuyir, Laltlanpari, Malsawmkimi, Zodinpuii and others. On their part, these girls, along with Lalduhawmi and Lawmzuali, taught the Calcutta youngsters Cheraw, the Mizo bamboo dance.
In the adjoining pantry, a group learnt how to cook Bengali cuisine while Sujit, Rahul and Abida of Prayasam picked up the nuances of bai (Mizo vegetable soup), antam (a dish with mustard leaves) and arsa kan (fried chicken) from David, Lalnunpuii and their mates in colourful aprons. Sujit, who hails from the hard-hit Dakshindanri colony, went to community college in Mesa, Arizona, and his fluency in English made cooking an easy pastime.
But the popular draw was visual basics and community television under Manish, a bright youngster who attended community college in Wisconsin, US, and has just been invited to the Sundance Film Festival next month. "From Salt Lake, Calcutta, to Salt Lake City, Utah," he beamed. "As a community journalist and filmmaker, I learnt about the Mizo socialisation process, shaping their lifestyle and ethos. Like us, the Mizo youth too have deeper socio-economic cultural norms. The three days gave us an opportunity to research their daily life experiences and explore our culture; how each is coping and embracing transitions and change."
Manish has come a long way from his roots in Nazrulpally colony, but has his feet firmly on the ground. He is not overawed by his achievements because Prayasam has a legacy of equipping underprivileged children: they have gone to Oxford University to speak to students, been invited by Bill and Melinda Gates and trained by Adobe in filmmaking, among other activities. Learning from Manish was such a delight the Mizo visitors cannot wait to go back and replicate community TV on their campus.
The group that opted for art was most in evidence to an onlooker, because students like Esther and Laltlankimi have painted an entire wall with colourful graffiti and helped Mili and Monoj decorate Kalanjali.
Prayasam founder Amlan Kusum Ganguly said their youth and Pachhunga University students "engaged as a learning community. Young men and women in Mizoram are being encouraged to set up their own entrepreneurial start-ups. The visit provided exposure on how the youth of Prayasam are handling their ventures and social enterprises with a larger vision. Like here, youth in Aizawl and elsewhere in Mizoram often fall prey to the vicious cycle of drug abuse, unemployment and cyber crime."
Professor Samuel Vanlalruata, who accompanied the students, said, "If only there were youth organisations like Prayasam there!"
As they bid the new friends mangtha (goodbye), there was no doubt that come elections or change, the Pachhunga-Prayasam bonding will endure.