Why 'Clean Beauty' is the only way forward –– for your skin and the planet
A few brands that chosen to forego chemicals and embrace natural ingredients to create products that are easier on you and the planet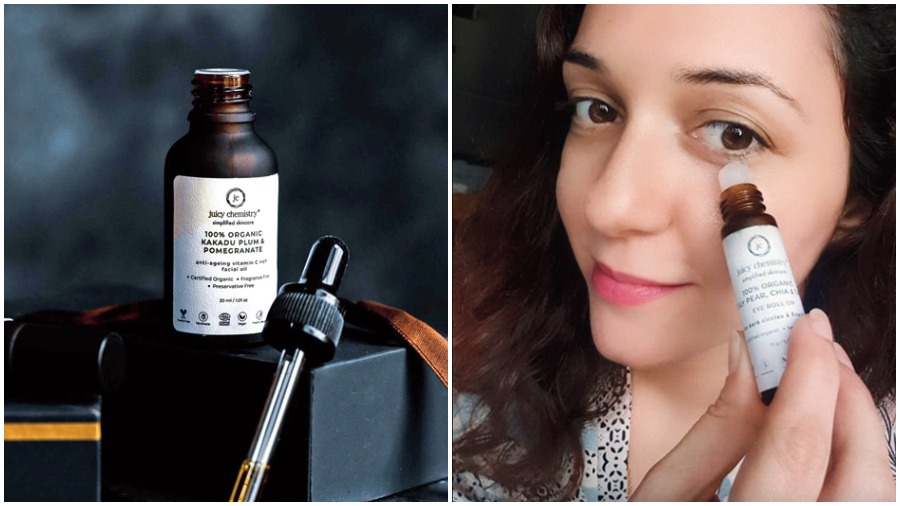 Juicy Chemistry
Sourced by the correspondent
---
Published 26.04.21, 02:17 AM
|
---
The Internet can be a daunting place but with increased time being spent on it, trying to find answers to deep existential questions plaguing all of us in isolation, led to many different discoveries. One such would be the importance of reading the ingredients label before choosing to eat/drink/apply/use a product! Understanding your body and its needs is a personal process and every individual is different. Understanding what works for you and what doesn't gives us the power to make informed choices about our general upkeep. The Telegraph decided to plunge deep into the emerging world of 'clean beauty' to bring you brands that have chosen to forego chemicals and only embrace natural ingredients found around us to create products that are easier on your skin, body and hair. Not only are these brands chemical-free, most try to adopt the vegan approach and extend their services to recyclable packaging. Not only are they good for you, they are good for the environment as well.
Setting precedents to such brands would be older cousins like the modestly priced Khadi Naturals and the more-expensive Forrest Essentials who firmly go by the motto: "If you can eat it, you can use it". Staying clear from any harsh sulphates, parabens, silicones and alcohols, these products may have a shorter shelf life than the five-year-old mascara in your dresser but the glowing testimonials of a steady band of loyalists will definitely help you change your mind about clean beauty. Here are the brands that we absolutely love, who don't just put 'natural and organic' on their label because it sounds fancy, and instead truly care for your well-being and the planet's.
Juicy Chemistry
Started in the kitchen of Pritesh and Megha Asher with Rs 5,000 in their kitty in 2014, Juicy Chemistry has now become a name to reckon with in the industry. With their firm belief of finding cure to every skin ailment in nature's lap, they mean business when they say 'organic'. Gourmet soups, essential oils and cold-pressed oils also form a part of their repertoire of extremely effective products with ingredients sourced from all over the world.
We loved: Frankincense & Hemp Facial Oil for acne prone skin
Ruby's Organics It was Rubeina Karachiwala's love for cosmetics and the subsequent realisation of their ill effects that led her to found the completely organic make-up brand that is Ruby's Organics. With all natural pigments and other ingredients, this brand doles out the best lipsticks along with a wide range of foundation, eyeshadow, lip gloss and eye pencils to name a few.
We loved: Sangria Lip Oil Gloss
SoulTree SoulTree started when a lone entrepreneur, Vishal Bhandari, left his life as a naval officer and travelled through Uttarakhand and Himachal Pradesh. From organic farming of ingredients to mindful packaging and European certification, SoulTree's efforts are not limited to providing the best experience to their customers but also the producers. While their 60-product catalogue is enviable, it's their social consciousness, Ayurvedic approach and ethical sourcing practices that make their products wonderful. Along with the skin and body care necessities, they also have a range of make-up that is completely natural.
We loved: Ayurvedic Kajal (available in 11 different shades)
Pahadi Local This brand redefines the idea of luxury by believing that their access to the mountains and fresh ingredients is a form of luxury. And why not when they manage to package this Himalayan goodness into little bottles and send you the best products for your hair and skin? Think Badam Ka Tel (sweet almond oil), Thanin Ka Tel (hazelnut oil) and Akhrot ka Tel (walnut oil). Keeping a minimal repository of facial oils, facial clay, scrub along with tea and honey for wellness, this is a brand that believes in doing less but excelling at that little. Founded by Jessica Jayne, this brand found a mention in Freida Pinto's recent interview for an international publication where she swore by Pahadi Local's Apricot Kernel Oil that she manages to get in India only!
We loved: Gutti Ka Tel for face and body
Daughter Earth Green biochemistry meets Ayurveda in these rich products by Daughter Earth, which are non-toxic and plant-based. Presenting a holistic skincare solution, founder Prasanthy Gurugubelli is dedicated to fair trade and research. Body butters, oils, serums and tints form the large base of products by Daughter Earth, which ethically sources its ingredients and has formed a large fan base for its Youth Rejuvenating Serum. Super concentrated actives with steam-distillation forms a part of their creation process that is led by an engineering graduate with complete empathy for the planet. We love a transparent brand and Daughter Earth is just that!
We loved: The Lip and Cheek Tint in Amor-true red
Ilana Organics Nikita Deshpande and Amit Patil founded brand Ilana Organics that speaks to millennial women at a core level. Aimed at those who manage work, a household and all it's trials with elan, they paint a picture that is relatable to anyone with little time on their hands. Reasonably priced and completely transparent, this brand believes that the complete process of production has to be sustainable and free of toxic chemicals. Watermelon essence, beet tints, collagen-boosting eye creams all form a part of their product catalogue.
We loved: Soft Blur Concealer
Bare Anatomy This vegan brand comes with a unique proposition –– customised solutions for your hair. Landing on their website entails a detailed filling of a form that outlines one's concerns and the brand would then find the right mix of ingredients to create the best three-step hair-care products for you. Slowly extending the brand proposition now, Bare Anatomy has also introduced beauty substitutes like Biotin Gummies. You can also shop some of their ingredients directly like Aloevera gel and Moroccan Argan oil.
We loved: Hair Serum
Nuskay Derived from the Urdu word Nushka, doctor siblings Pooja and Drishty Chhabra founded this brand after having travelled extensively across South East Asia to realise the importance of local remedies unique to a country. This brand was formed to bring these old, traditional remedies to every house, making it accessible and fuss-free. Their products are rich in antioxidants and include products like face elixir, micellar oil- infused cleansing water, under-eye cream and more.
We loved: Golden Dew Concentrate