Who's the dumbest of them all
Read more below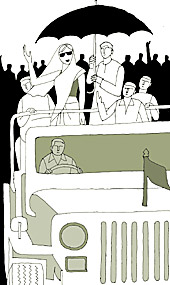 ---
Published 18.04.04, 12:00 AM
|
---
There may still be lights, camera and action. But no script, no direction and — absolutely no retakes. Perhaps that's why there's a helluva lot of laughs. It stands to reason. When actors are thrust — without lines — on board the unruly stage of politics, you can bet your last copy of Stardust that they will miss a cue or two. Thereby turning the serious business of governance into high comedy.
Or tragedy, depending on how you look at it. Actress Moushumi Chatterjee is a case in point. As the vivacious lady (now a little past her prime) traipses alongside Vinod Dua at Howrah station, sporting an elegant sari, orange tilak with a bindi beneath it, she looks all set to give a shot, or rather, give politics a shot. "There should be only one party in the country," she says, in her inimitable earnest style. "And that is the Congress."
Dua, veteran journalist though he is, appears stumped. He clutches the mike even more firmly. Then, unable to hold in his outrage any longer, he protests, "This is a democracy. And you are suggesting that there should be no elections, people shouldn't exercise their franchise, and there should be only one party?" "No, no," comes the unperturbed reply. "Of course they'll vote. People will vote for the members of the party. We should follow the pattern in schools where there is just one principal and many teachers." The Balika Badhu speaks rapidly, unfazed by the reception her remark is accorded.
Our stars, then, are a-blunderin' and this time the common man is privy to each of their goof-ups, thanks to the series of Poll Khol-type election specials telecast regularly on the news channels. The best contributions of the glittering lot can easily make for a collectors'-item joke-book. One that can perhaps be brought out by a certain Bharatiya Congress Publishing House, set up jointly by the Bharatiya Janata Party (BJP) and Congress, post-election.
But gaffes or no gaffes, Chatterjee's meetings and padayatras in the vicinity of central Calcutta are witnessing a sea of people. "Her ideas are her own. She believes in the single-party concept and most of what she says is extempore," says All India Congress Committee member Maitreyi Basu, who is coordinating the actor's campaigns in the city. "Khali phool dile hobey na, vote tao dite hobey", "Ki, dekhchen to amaye? Ebar election er din dekhben kintu" — her extempore delivery, exuding warmth, has apparently been striking a chord with the hoi polloi. "Surviving in Bollywood for so many years is really tough. The fact that she has succeeded speaks volumes about her capability," defends Basu.
True, but there are no reshoots in real life. Our stars still have to get used to that. Sample the lines Veerupaaji urf Dharmendra delivered shortly after he followed his Basanti urf Hema Malini into the BJP fold. "Dharti ma ne bulaya, so main aa gaya," grunted the BJP candidate from Bikaner, with his nostrils flared. Thanks, man. Glad, you took the call.
"What do you think about Sonia Gandhi's foreign origins?" he's asked later. Paaji looks miffed. "Indians don't respect their women, they have no brains," he says disapprovingly, the nostrils again coming into play. Evidently, garam Dharam has forgotten which party he is lobbying for. And there's no director to shout, "Cut it…out."
But seriously, can we really blame our stars for the comedy of errors? After all, they live, for the better part of their lives, in a make-believe world, with no place for words like impossible and implausible, especially when propelled by a filmic overdose of patriotism. Their ignorance has a freshness (if you like), their naïvete, a charming innocence.
So when Hema Malini (she prefers to travel by jeep and not in Dhanno's tonga because "people are not able to come close to you easily when you are in a jeep") — whose USP , this election, is her role as Basanti in Sholay — says, "I am not taking any kind of extra care of my voice. This is because I don't get a chance to speak much. The minute I start my speech, the crowd cheers so loudly that I don't get an opportunity to say much," all we can say is, "Thank God for small mercies".
But not everyone has that kind of luck. Congress party candidate Nafisa Ali has openly declared a 'major' weakness for the CPI(M), unwittingly of course, though she hasn't as yet changed sides. Music director Ravindra Jain has. "It was so ludicrous to watch him suddenly praising Vajpayee to the skies when Jain was meant to campaign for the Congress," points out Arjun Chowdhuri, a first-year student of political science at St Xavier's College, Calcutta.
Obviously, Jain's words weren't music to the ears of the Congress, which dropped him like a hot brick, and the BJP took him on. "It is only for money that these stars are now suddenly responding to the call. And if it's desh bhakti they're talking about, their delivery is not powerful enough to be convincing," adds another first-year student, Rituparna Banerjee.
But then, as they say, exceptions prove the rule. Shabana Azmi, Sunil Dutt, Shatrughan Sinha, and Jayalalithaa have done substantial work prompted by what passes for the love of people. At least they didn't make fools of themselves. Our present lot of stars-turned-wannabe politicians should perhaps start depending on tailormade scripts. Because if they need a script for mouthing lines in a film, they certainly need another when they climb onto the political bandwagon.
"The glamour world is better than the underworld," says Maitreyi Basu, who sees some justification for starry entries into politics. But not when glamour merely succeeds in drawing out the dim-witted side of our stars. So, here's a suggestion: how about dummies? Just as stand-ins are de rigueur in stunt scenes, or even chhoti si sex scenes in love stories, how about using them in election campaigns? Surely that would ease the lives of the voters and be easy on those voted too. Could perhaps even make for yet another talking point. What say you? Action.