Wal and Wani, a fresh label from two Parsons School of Design graduates
They have started with their thesis collection 'Around the Block' and spoke to The Telegraph about what drew them to fashion and their dreams for the label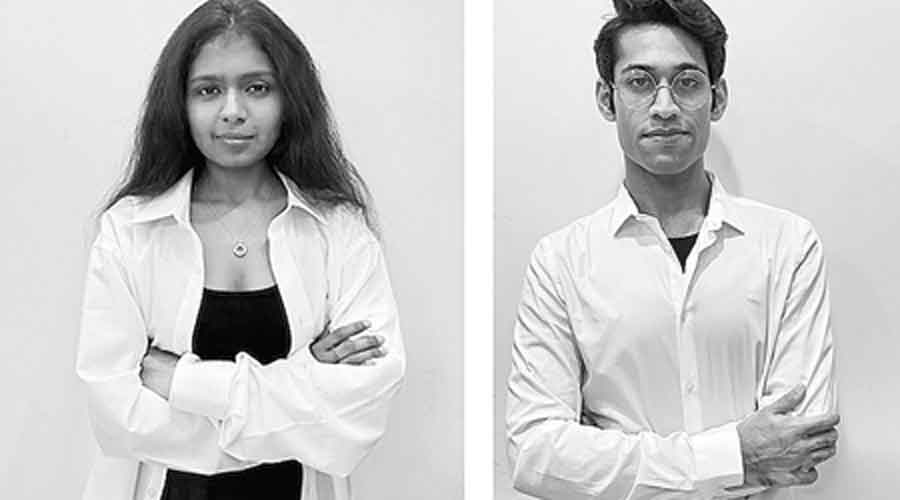 ---
---
We had first met Saniya Agarwal back in 2016 when she was putting together Saniya's Duniya, an exhibition of upcycled items, at ICCR. Made wholly from scrap, the products showcased an unmissable creative spark. The Loreto House alumnus is now a Parsons School of Design graduate and has joined hands with fellow Parsons School of Design graduate Nishit Daswani to launch their label Wal and Wani, derived from their names. They have started with their thesis collection 'Around the Block' and spoke to The Telegraph about what drew them to fashion and their dreams for the label.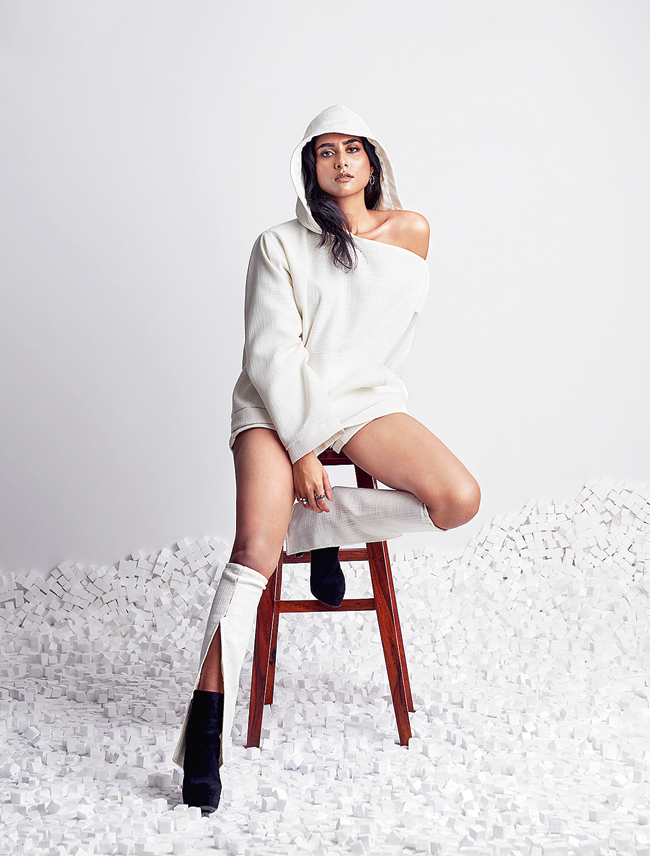 What drew you guys towards a career in fashion?
Saniya: Fashion connects people to their bodies. There is something special about that. To me, fashion is my preferred mode of communication, not only with the outside world but also with myself.
Nishit: I had seen how the women where I come from were dominated and I was learning how my mother used fashion to fight that dominance in her workspace. That's what mesmerised me — the power of fashion!
Who are your icons and inspirations?
We are inspired by the unique sights that are only found in India — the rich cultural heritage of the forts and palaces of Rajasthan, the Rajbaris of West Bengal. The sense of grandeur that is attached to our country is like no other in the world. The immaculate grandeur of Maharani Gayatri Devi never fails to inspire us with the power of her determination. Along with incorporating these ornate visuals into our practice, we are also inspired by the everyday life and robust activity of people in different cities such as the streets of New York City and London.
We are drawn to the manner in which classics are redefined by the collections of Monse, whilst keeping a strong sense of femininity in the clothes; Proenza Schouler for the crafted wearability in the most modern way. Stephane Rolland, Viktor & Rolf, Jonathan Anderson, Nicolas Ghesquiere are amongst our fashion icons. We are also inspired by Rahul Mishra, Prabal Gurung and of course the genius of Anamika Khanna for her unique style of working with textiles.
Around the Block looks edgy and cool…
This collection encompasses these crafts with a modernised, global perspective yet remaining true to their Indian identity. The brand is about us being part of the same world. The silhouettes are recognisable, but when you go closer, there is a feeling of something different.
What kind of textiles and art and craft have you worked with?
Growing up with a huge variety of crafts around us, we have worked with a diverse range of embroidery techniques — mukeish and chikankari being some of the most used. We have explored techniques such as kantha, zardozi and batik and aimed at transforming these into designs that have a globally inclusive appeal, whilst preserving the sense of Indianness attached to them. Whilst in New York, we explored conceptual making through 3D printing, laser cutting and using virtual pattern-making technologies in fashion, metal and woodworks and also the fine craftsmanship of leather goods but we did not delve into the limitless variety of textiles and techniques that our country had to offer. Working in India has provided us a unique opportunity for doing so. We aspire to integrate technology and craftsmanship in a synergetic manner into our making process.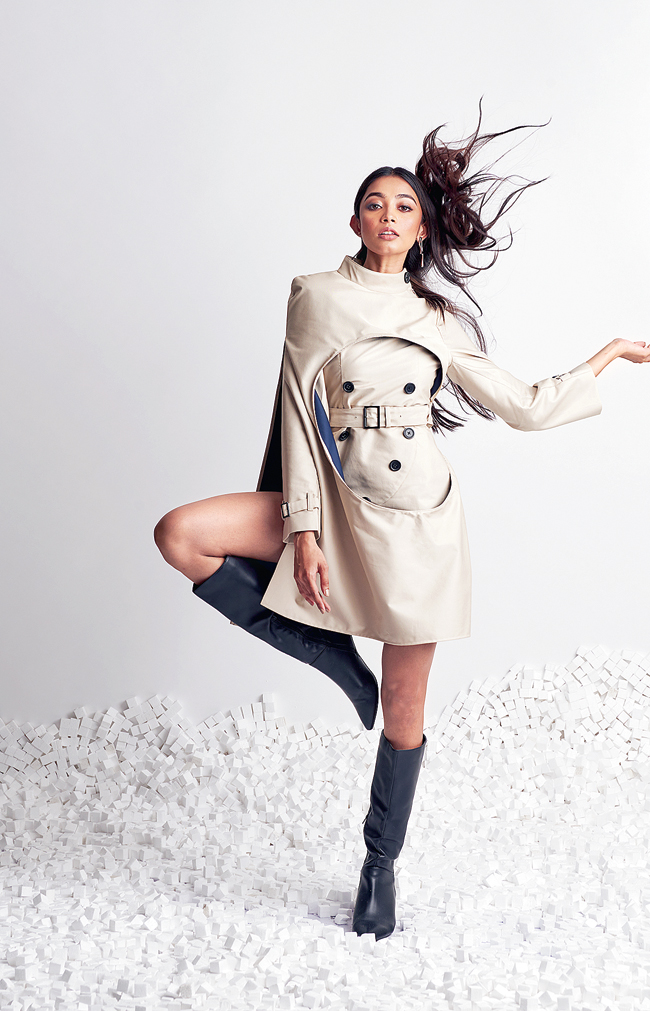 You say you have drawn inspiration from "your fondest memories and experiences of New York and integrated this into the imagery of Calcutta". Can you give some examples?
New York as a city has a lot to offer through the various galleries and events happening all over but it also has a unique way of reminding you that you are in one of the largest fashion capitals of the world. It can be as simple as a compliment from a stranger or the 65-year-old stunning fashionista just strutting by you. There is fun in that city, it is about consciously making yourself a tourist there, eager to learn and explore. Walking through the streets of downtown and the fashion district and getting inspired by the enormous wealth of fashion on the streets and random wall art makes you fall in love with the city. It is amazing to see the glamour of fashion week, the lifestyle of ladies who lunch and the connoisseurs who dress up for a cup of coffee. At the same time, the energy of the everyday commuter rushing to catch the train with a bagel in one hand and a briefcase in another is what pushes you to keep going. The nightlife of the city has a whole lot to offer too, waiting in the arenas of drag shows, Broadway theatre and different arrays of inspirations that you coexist with, is enough to make you realise the power that art holds. There is a method in the madness.
The architectural wonders of wrought-iron railings and the plethora of Calcutta's historical buildings. This imagery can instantly draw you into the traditional heritage of the city that is closely interlinked with its colonial influence. The massive haveli courtyards of Rajbaris and the exuberant lifestyles of the 'Kolkata babus' are yet another dream that can flow the colours of artists.
What kind of a vision do you have for Wal and Wani?
In the wake of the pandemic, the crafts industry has been under threat and many craftsmen have lost their jobs. We endeavour to develop this brand into one that has a global reach and outlook and attempts to preserve and contribute to the rich tradition of the Indian crafts industry. It integrates the directional with the classics and weaves traditional techniques into the modern realm. It combines our cultural sensibilities with the journey of our growth to create a world that may seem like it is made up of unfamiliar elements, but deep down is a part of each person that connects with it. Step into our world and along the way, you might find yours too.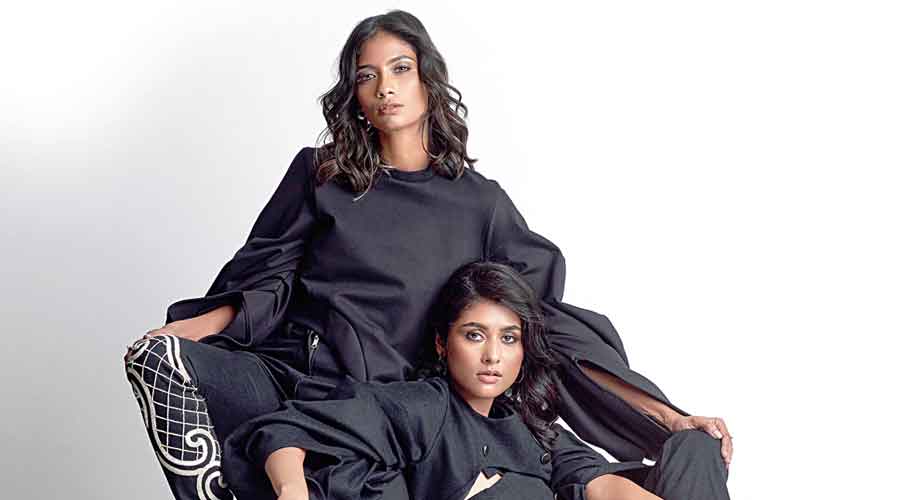 Design and direction: Saniya Agarwal and Nishit Daswani
Pictures: Rahul Mall, Studio Pomegranate
Models: Diti Saha, Priyanka Das, Ruchira Mookerjee; Make-up: Zainab Ashraf
Meet 'Wal' and 'Wani'
Saniya Agarwal
Age: 22
Born in: Calcutta
Studied: BFA, Fashion Design, Parsons School of Design, New York (2021); Integrated Study Abroad, Central Saint Martins, University of Art London (2020); Advanced Summer Study Abroad, Central Saint Martins, University of Art London (2019)

Nishit Daswani
Age: 21
Born in: Kota, Rajasthan
Studied: BFA, Fashion Design, Parsons School of Design, New York (2021); Integrated Study Abroad, Central Saint Martins, University of Art London (2020); Advanced Summer Study Abroad, Central Saint Martins, University of Art London (2019)

Reach them: @walandwani (Instagram); Website: https://www.walandwani.com; Email: walandwani@gmail.com