Veteran designer Hemant Trevedi on being back with his new eponymous label and walking the 'horizontal line' of design
From a sari to tunics and palazzos, the collection has been envisioned as a practical retail-friendly one with designs that look good on all shapes and sizes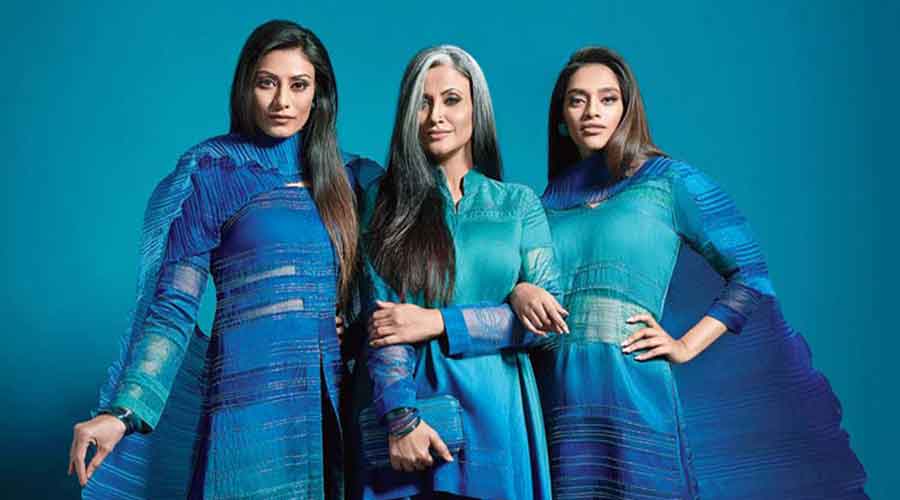 ---
Published 23.08.21, 11:13 PM
|
---
Anyone with any stake in fashion is familiar with Hemant Trevedi's name. Fashion da'hling of the 2000s, he has mentored and designed for some of the biggest names in Bollywood, including Aishwarya Rai Bachchan and Priyanka Chopra Jonas. Since then, he took a brief hiatus from the limelight but continued to work in fashion in a different capacity. Now, he is back with the launch of his eponymous label in collaboration with Purple Style Labs (PSL), with a collection titled Paradoxical Shadows.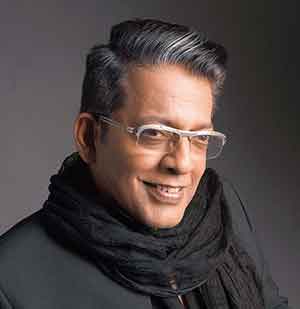 Classic silhouettes have been imbued with versatility, five ombre shades, a range of sizes and breaking the monotony of vertical lines with horizontal rows of fabrics such as silks and organza. From a sari to tunics and palazzos, the collection has been envisioned as a practical retail-friendly one with designs that look good on all shapes and sizes. Wear them as separates or put together, the collection is high on wearability. Here's more on the collection from the veteran designer: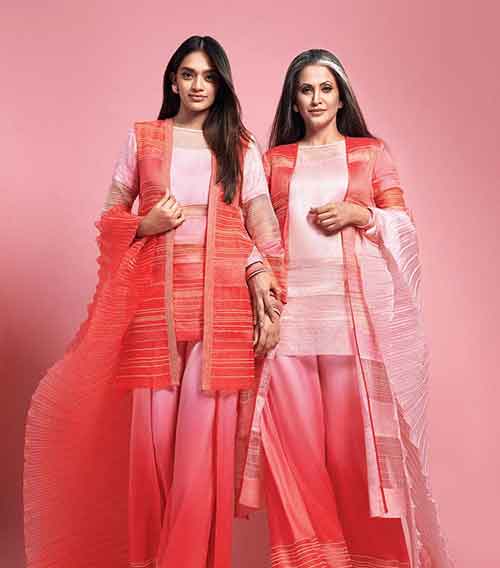 The beautiful ombre colours seem pivotal for the look of this collection. What led you to choose this kind of a mood-board?
In these troubled times, I wanted to introduce colour in my new collection as I feel it's exactly what we need. The collection is presented in a range of five ombre hues: blush to a soft rose, peacock blue to aqua, burgundy to charred plum, dove to dusk grey, and finally, saffron to rust. Paradoxical Shadows sees a brilliant play of dark into light, denoting the Yin and Yang of life.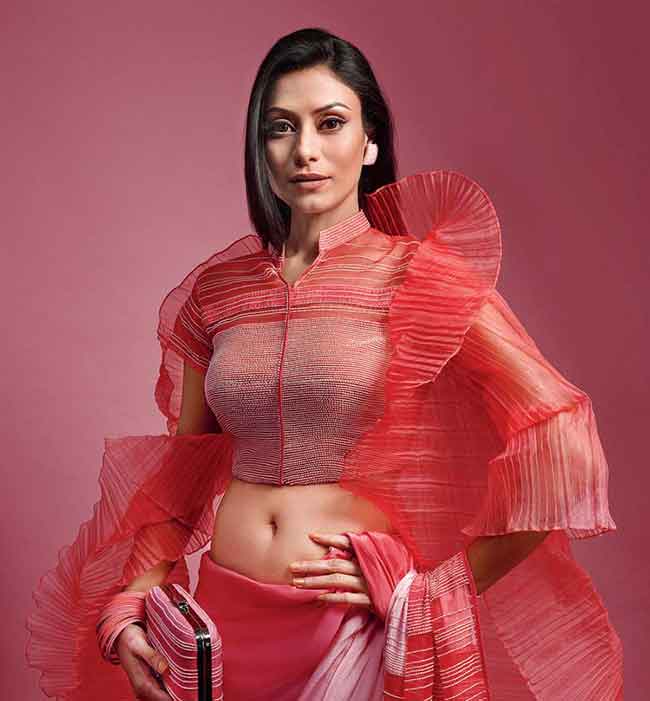 Why did you want to challenge vertical designing with this collection? What about horizontal design elements attracted you? What are its challenges?
As the norm known to designers is to create fashion vertically to give the illusion of a longer line and silhouette, I have challenged this concept and ventured against the grain to represent the beauty of the horizontal line. In the midst of the lockdown, I drew inspiration from the adversity of life and how when you're in a difficult situation, the only way to go through it is to go forward, in a horizontal line. Hence, I have found beauty and truth in the horizontal line and channelled it into my collection.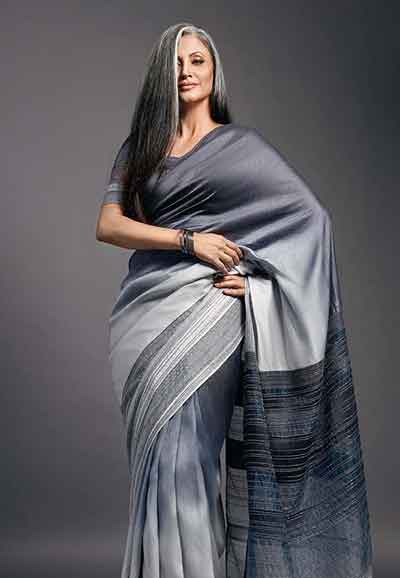 There are saris and there are contemporary evening dresses too. What was your design objective while creating the silhouettes for this collection?
Since versatility and timelessness are at the core of my label, I kept in mind the concepts of inclusivity and longevity while creating this collection. Be it classic saris or contemporary evening dresses, I have made sure there is something for women of every age, size and taste. It's a line of separates available in five colour shades in XS to XL sizes that can be worn as standalones or in pairs to make sure there's enough variety for every woman to choose from. Real clothing for real people — that's my brand philosophy and that's what I'll be carrying forward in every collection of mine.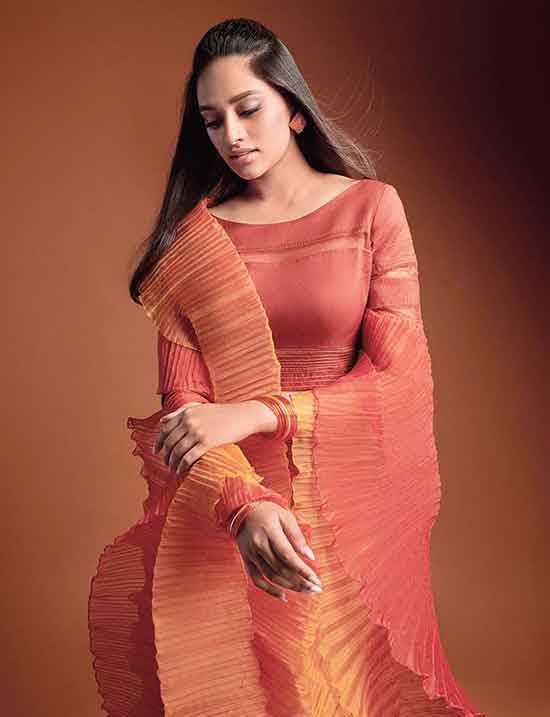 What led to the creation of Paradoxical Shadows and your return to fashion after so many years?
At a time of my life when I was beginning to wonder about what lies ahead, due to the nationwide lockdown I was told by the young director Abhishek Agarwal (founder and CEO at PSL) himself that he'd love to have me on board and it would be an absolute honour. These grey times led to the start of my new journey with Purple Style Labs and the birth of my new collection Paradoxical Shadows. Taking inspiration from the out-of-the-norm horizontal line, I have celebrated the truth and beauty of it and created a beautiful collection for women across the spectrum of age, size and taste.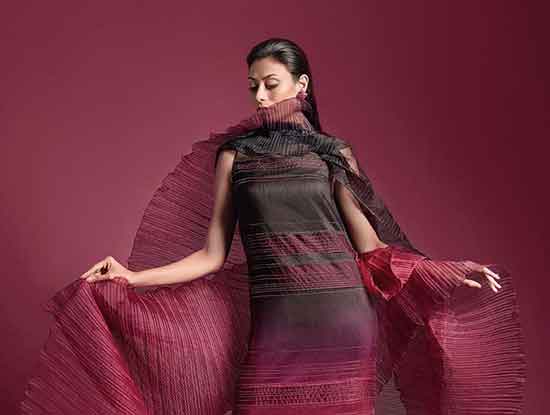 Now that you have returned to fashion, what can we expect next?
It would be wrong to say I have returned to fashion since I never left it. Fashion is my life and there are many other avenues and facets of it more than simply designing and retailing outfits that I was focused on during my brief sabbatical from the mainstream circuit. It has been proven that working with a great marketing team, a group of professionals who believe in your work and your success in today's competitive industry can have a successful impact and I couldn't ask for more.
With respect, recognition and total belief in me and with the right team handling the other aspects of my label for me, I will continue to create what I'm best known for — beautiful clothes for beautiful people, whatever their age, size or demeanour may be.