Vaani Beswal on her eponymous label
Checking out new label launched by the young designer that champions earthy fashion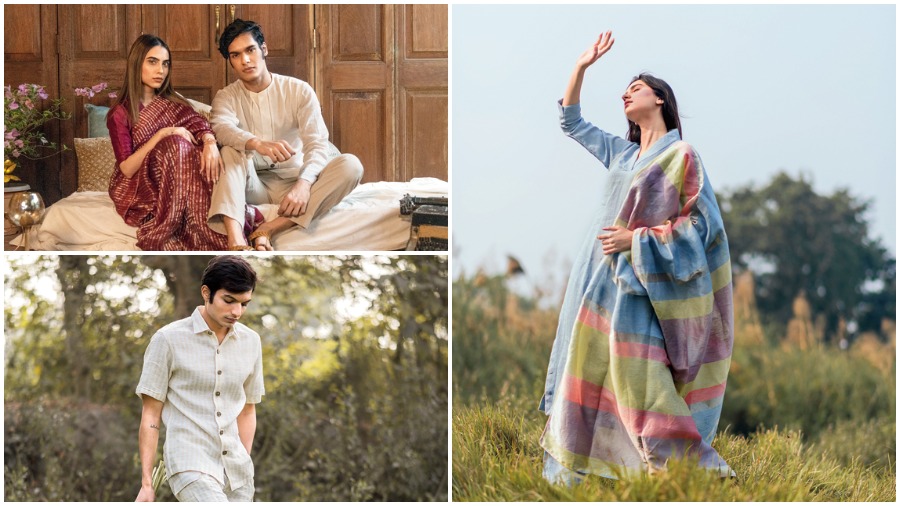 ---
---
Flowy silhouettes, soothing shades, a laid-back spirit. Vaani Beswal found her eponymous label in August 2020 and rooted it to sustainability and the magic of the handwoven. We chatted with the young designer on what inspires her and her design dreams.
Tell us how the label was born...
I can still remember it was right before my class X board exams that I started exploring the fashion industry. I know it's not the best time to think about other things right before my boards, but it fortunately was the right time for me. After my exams I started exploring and searching more about fashion, its trends, various designers and their work. I had decided then that after my class XII, I would like to pursue my graduation in fashion designing.
During my four-year course in fashion design (Pearl Academy), I had done quite a few short-term internships under a fashion designer, an export house, a fast-fashion label and even with Lakme Fashion Week. After working and acquiring experience and knowledge about each and every segment, I just knew one thing — if I want to be a designer, I can't work under someone because I have to work on their design aesthetics and their guidelines, which will eventually set creative restrictions in my mind. So post my degree, I was lucky enough to have the entire lockdown period to do the back-end work and plan for the label full-time. And then in a couple of months I launched the label.
What drew you towards this profession?
During my internships with the various companies, I started enjoying and loving the profession even more. I did already have the passion towards it, but the on-field experience of being in live workshops, shows and backstage, really drew me more towards it.
Your clothes are fuss-free and easy breezy. Who do you design for?
Most of the clothes that I design are more of comfortwear. I don't think of any particular kind when I design it, but it's more for someone who likes wearing clothes which have a history. Each of my garments go through a lot of handmade processes connecting back to our nation's history of weavers and artisans. From the process of spinning the yarn to weaving the fabric and the finishing of it, we use our local craftsmen. So I guess it's more for someone who likes the comfort of breezy clothes and the softness of handwoven garments, making them look chic and elegant.
You have launched three collections till now. Can you take us through them?
My first collection was 'Nirvik' — autumn-winter 2020 (which means the 'fearless'). It was based on the bittersweet nostalgic feelings of my childhood, which was spent in Calcutta. The main festivals of the city revolve around women deities like Goddess Durga who is the embodiment of power and truth. All fabrics were hand-loomed in West Bengal itself, to keep the essence of the inspiration alive through the journey. Details like faggoting and different types of pleats were a part of my collection.
My second collection was more of a capsule collection for the festival season. It was called the Festive Edit 2020 and had eight styles which were vibrant and bright. The third collection, which we have launched recently, is called 'Gracelia' — spring/summer 2021. This collection is more towards something that gives me peace, calmness and mental stability. This line-up is nature-inspired and the forms of this one include block-prints of gladiolus, olive branches and dove. At the same time the palette is very powder pastel and the buttons used in the collection are customised handmade ceramic buttons.
What is the core value of the brand?
The core value for the brand is to promote the local artisans and local weavers of India and at the same time promote the sustainable fashion industry in India with more versatile styles and comfortable clothing for everyone. All of our garments can be turned back to Mother Earth and decomposed into its natural state.
What are your design inspirations?
So until now, for all the three edits that we have come out with, the inspirations have been more towards the experiences and surroundings that I have had. Like the city Calcutta, the festivals and things that give me peace and calmness.
With a lot of designers doing sustainable clothing, what are the challenges for a new label like yours? Don't you think it'll soon hit a saturation level?
I think with a lot of designers, there are a lot of customers as well, but reaching them is difficult. The challenges are more about informing and reaching the right audience. The process of concentrating on the label, the collection and even the collaborations and then at the same time getting the right audience, gets difficult.
Who are your all-time favourite designers?
David Abraham and Rakesh Thakore, Sanjay Garg of Raw Mango and Lucy & Yak.
What are your design dreams?
My design dreams at this stage are more simplified into what the core value of the label is. My dreams are not about how big the label or designs get, but more about promoting the craftsmen, the weavers and the people who really are behind making sustainable and organic fashion. I want to make sure to help the audience understand the process and the real work that goes into handmade and handwoven garments.
Personalities Vaani wants to dress
Sayani Gupta: The reason I want to dress her is that I personally find her vibe very raw and nature-centric. She being from Calcutta also gives me the home connect and at the same time she is rooted to her culture and is proud of her heritage.
Farhan Akhtar: The reason I would like to dress him or work with him is because I have already noticed that everything he does or is related with, he really likes to understand it and gives his full efforts in the process. He really inspires me to be more dedicated
Know Vaani...