US suburbia in Bangalore
Read more below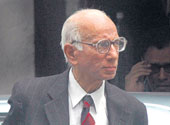 ---
Published 13.11.05, 12:00 AM
|
---
Can you tell the difference?
Sobha Emerald enclave, Bangalore
San Jose, California
George Samuel almost sounds smug when he gives directions to his house. "Come to the second house in the lane with bottle-brush trees," says the retired, Dubai-returned Coca-Cola vice-president, when security calls to tell him he has a visitor.
But Palm Meadows ? where Samuel lives ? puts the directions in perspective. The 100-acre residential colony is a picture of homogeneity. Tidy, red-roofed houses ? all looking quite the same ? line the serene, suburban-style streets, dotted with Hondas and SUVs. Each road is adorned with the same kind of trees and similar antique-looking street lights. Children, in similar T-shirts and baggy cargoes, cycle on footpaths that run along the street.
It could have been a Sunday afternoon in a San Diego suburb. That is, if you take away the drive down the potholed road to reach the colony, the traffic snarls and the dust storms that the speeding Bangalore Metropolitan Transport Corporation buses raise as they race past. But Palm Meadow, a microchip away from the International Technology Park Limited (ITPL) ? Bangalore's knowledge hub ? is sealed off from the clamour of urban India. It is a slice of suburban US in an increasingly congested Bangalore.
It is also an oasis in the midst of chaos. Once the hard-nosed security men let you in, the potholes give way to spotless tarmac roads and sprawling villas with manicured lawns, cobbled driveways and arched foyers. The city's din does a disappearing act ? the silence seems to announce that this is where the southern city's well-heeled live. Palm Meadow is one of the places where people once called non-resident Indians are making their new nests.
The planning is perfect. Located in an upmarket suburban area called Whitefield, the colony has its own in-house shopping mall, complete with a super market, beauty saloon, travel desk and ATM machines. Each street has a dead end to enable children to play without bothering about traffic.
There are even strict rules on the kind of trees residents can plant in their front lawn. "It has to synchronise with their street's landscape," explains Samuel, who moved to Palm Meadows last year.
Villa and row house enclaves such as Palm Meadows sell a suburban US lifestyle. And in recent months, these upmarket residential colonies have become a hot real-estate option in Bangalore. There are dozens of such developments scattered across the city, Palm Meadows, Prestige Ozone, Purva Park Ridge and Sobha Emerald being the big ones. Most of the enclaves have come up in the last few years.
Last month, Bangalore-based Sobha Developers launched Adamus ? an enclave of 36 row houses spread over nine acres of land. Each house costs Rs 1.1 crore. The houses were all grabbed on the first day of booking. "Actually, bookings closed in half a day," says a satisfied Jackbastian K. Nazareth, director ? sales and marketing, Sobha Developers Pvt Ltd. "We have 220 people wait-listed for our next project," he says.
Clearly, the demand for high-end living is overshooting supply. "This demand has been created by NRIs returning to India and globally-travelled IT professionals," says Gayatri Nayak, proprietor, Manipal Consultancy Services, a Bangalore-based real estate firm. Nayak says she gets eight to 10 calls every day from people wanting to buy or rent a villa. "Two years ago, this was a non-existent market,"she adds.
At present, NRIs account for a big chunk of those who buy high-end homes. According to a National Association of Software and Service Companies (NASSCOM) estimate, about 30,000 Indian IT professionals returned to India from overseas between September 2001 and March 2005. Most of them came to Bangalore.
The NRIs added a spin to Bangalore's real estate market. "They are cash-rich, choosy customers. They want to retain the style and comfort of American life," says Swarup Anish, vice-president, business development, Prestige Estates Projects (P) Ltd ? whose 286 villa and row house enclave, Prestige Ozone, is close to completion.
Cost, for many of them, is a non-issue. When bookings opened at Prestige Ozone two years ago, the villas sold for amounts ranging from Rs 35 lakh to Rs 70 lakh. "Today, they cost twice as much," says Anish.
But the city's luxury homes are not just for home-bound NRIs. Globetrotting software professionals ? who regularly travel to offshore client sites ? are fast following on their heels. "They return with big money and exposure to an upscale lifestyle," says Nayak.
Nayak, for one, believes that the demand for villa homes is here to stay. NRIs may well go back overseas sooner or later, but the market is convinced that there will be enough high-earning Indian professionals willing to fill the space.
MODEL HOMES: Palm Meadows enclave (top and above) in Bangalore
Real estate prices are soaring across the board in Bangalore. If the best villas cost a crore of rupees, even modest apartments in the city's suburbs are not cheap. A two-bedroom apartment in Whitefield ? in the Palm Meadow's neighbourhood ? costs up to Rs 35 lakh. "Mid-level professionals cannot afford high-end living in Bangalore," says a team leader at Satyam Computers, who recently booked a flat at Whitefield. "Villas are not for me. Since I can't afford it, I don't aspire for it," he adds on a philosophical note.
As property prices shoot up, villa developers make hay. A villa costs anywhere between Rs 1 crore and Rs 3 crore. Rents range between Rs 1 lakh and Rs 1.5 lakh a month. "Money is a customer's last criterion while buying a villa," says Sherjeel Ebrahim, partner, Citilink Realtors, a Bangalore-based real estate firm.
That's because, the new residents hold, places such as Palm Meadows make the west-to-east transition easier. "It's difficult to re-adjust to the noise and grime of urban India," admits George Samuel, as he strolls down the colony's vacuum-cleaned streets. Having lived in swish enclaves in Dubai and Saudi Arabia all his life, he also shudders at the thought of running after plumbers and electricians.
At Palm Meadows, all services are a phone call away. Power cuts and water shortage are alien concepts ? the colony has its own generators that provide round-the-clock power back-up and a water treatment plant that ensures hygienic water supply. Security is tight ? residents' cars have sensors and servants, drivers and support staff have swipe cards for identification. The seven-star club has two swimming pools, two tennis courts and three badminton courts. The colony turns into a quiet zone after 10 pm.
Located further down Whitefield road, Sobha Adamus is geared towards entertainment. Villas come with barbecue pits in the backyard. The enclave has its own amphitheatre for in-house get-togethers.
Resort-like clubs, gyms and spas are routine features at these enclaves. "Living here helps us maintain a good quality of life," says Seema Pai, whose software engineer husband recently returned to India after long work stints in the US and Kuwait. The Pais have bought a house in Sobha Emerald, a row house colony on Bellary Road ? situated diagonally across the city from Adamus.
Pai says most villas in Sobha Emerald are occupied by NRIs who have returned to India ? either for work, or post-retirement. "It's the best of both worlds. We live in western comforts on home ground," she says, as she gets up to answer the phone. The security guard is on the line, asking if he can send her house maid in. Call it what you will ?Emerald, Adamus, Palm Meadow, or whatever. This, clearly, is another word for bliss.