Undercover brothers
Read more below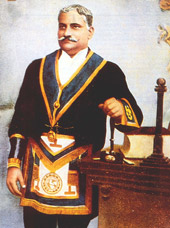 ---
Published 09.05.04, 12:00 AM
|
---
In THE LEAGUE: Motilal Nehru (top), and Sanjiv M. Shah (above)
When Sanjiv Mohanlal Shah was a 10-year-old boy in Nairobi, he was intrigued by a box whose contents were known only to his uncle. And Shanti Lal Shah whetted his nephew's curiosity even further by remarking mysteriously: "Not now, what is in this box has to stay a secret. But one day, if you are good, you will find out."
Today, Sanjiv Shah, who moved to Britain when he was 15, is 45 years old, a successful businessman and a respected member of the Gujarati community in north London. He has also discovered his uncle's secret.
"He was talking of being a Freemason — what was in the box was his regalia," says Shah, a chartered account and security consultant who has incorporated holograms for Indian share certificates as well as past elections.
This may come as something of a surprise, shock even, to most British Asians to learn that many people from their community, such as Shah, are active Freemasons, belonging to the ancient society shrouded in myth and mystery.
According to its members, of whom there are between 300,000 and 305,000 under the overall supervision of the United Grand Lodge of England — the headquarters is a massive building with a huge ornate "temple" near Covent Gardens in London — Freemasons subscribe to "brotherly love, relief and truth".
However, critics allege Freemasons are a secretive lot, held together by strange rituals and handshakes and a desire to show favouritism to one another on such matters as jobs. If a Freemason appears before a judge who is a Freemason, the guilty can expect to be dealt with leniently if he makes a private sign — or so it is claimed.
Two books, The Brotherhood: The Explosive Exposé of the Secret World of the Freemasons, published by Stephen Knight in 1985, and a sequel in 1989, Inside the Brotherhood, by Martin Short, badly damaged the reputation of Freemasons by accusing them of corrupting the very fabric of public life in Britain, especially the judiciary and the police.
Following two Home Affairs select committee reports, in 1997 and 1999, Tony Blair's government has decreed that all new entrants to the judiciary and the police force should disclose whether they are Freemasons. It could be that if Indians join in sufficient numbers, the day might yet be saved for Freemasons.
"Yes, I think we would welcome more members from the Asian community," declares John Hamill, director of communications for the United Grand Lodge. "We would be very delighted to see an increase in members from the ethnic minorities."
In his book, World Freemasonry, An Illustrated History, Hamill says: "In India, Freemasonry went from strength to strength. Increasingly from the 1830s, natives were admitted to the lodges. At first there was a problem with the admission of Hindus, because of the mistaken belief that Hinduism is a polytheistic religion. An appeal was made to the Duke of Sussex (the Grand Master) who insisted that the lodges admit Hindus, knowing well that the various 'gods' of the Hindus were not separate gods but personification of characteristics of one central deity."
He adds: "Freemasonry had a great appeal to Indians, who joined in great numbers. As Kipling and others were later to point out in their writings, whatever quarrels there may have been between the various Indian religious groups and between Indians and the British, they all met on an equal footing in the lodge."
Some of the biggest names in society, including rajahs and maharajahs, became Freemasons. There exists a photograph of Motilal Nehru, in the colourful regalia of the "District Grand Deacon of Bengal". A Parsi, Dorabjee P. Cama, became the first Indian Grand Officer when he was appointed Grand Treasurer in 1886.
The lodge at Fort William, Calcutta, appears in the Engraved List of 1730, as No. 72.
"Swami Vivekananda was a Freemason of the Calcutta Lodge," exults Shah.
Records do show Vivekananda was "initiated in Hope and Anchor Lodge No. 1, Calcutta, in 1884".
The Indian cast list also includes W.C. Bonnerjee, Justice R. Bhattacharya, Sir C.P. Ramaswamy Iyer and Presidents Rajendra Prasad, Dr S. Radhakrishnan and Fakhruddin Ali Ahmed.
In Britain, a pillar of the community like Sanjay Shah — educated at the London School of Economics, happily married to his childhood sweetheart, Kamini, and the father of two children, Falgu, 14, and Paras, 10 — is a prize catch for the Freemasons. As a Jain, he remains a strict vegetarian.
Encouraged by his uncle's example to become a Freemason, Shah was proposed and seconded by two existing members, as all new candidates have to be, and was accepted in 1992 as a member of Kenton Manor Lodge 7882, part of the Province of Middlesex, one of 47 provinces in this country. In all, there are about 8,000 lodges.
Since joining, Shah hasn't looked back and is happy to invite friends to lodge dinners, hoping one or two of them would follow in his footsteps.
"At our lodge we have 31 members, 12 of whom are Asians," he says, making it sound like a club. "In our lodge we have Jews, Christians, Sikhs, Hindus. I am a Jain. We have two new people joining, a Muslim and a Zoroastrian."
On the face of it, what could present a more harmonious picture of a multi-cultural group? And, indeed, if Freemasonry is such a dodgy business, how come royalty and aristocratic figures are so closely bound up with it? In England, the Grand Master for nearly four decades has been the Duke of Kent.
In East Africa, too, where Freemasonry has not been mired in the kind of controversy it provoked in Britain, eminent Asians would go on the waiting list for years before being let in. This probably explains why Asians who came to Britain from East Africa joined lodges in Britain without a moment's hesitation. Shah points out: "The head of the East African order, known as the District Grand Master for East Africa, who is the top man, is an Asian, Sir J.K. Chande. He was knighted this year by the Queen."
In Britain, though, Freemasonry has been through a bad time since World War II when it was driven underground by Hitler's persecution of an organisation which he found he could not control.
Other countries, among them Pakistan, Iraq and Iran, where hundreds of Freemasons were executed after the 1979 revolution, have banned Freemasons. In a curious twist, one of the Pakistani lodges, called Quetta, has been reconstituted, but in London.
For Asians, there is no one better to act as guide to the United Grand Lodge of England in Covent Gardens than the enthusiastic Shah, accompanied by the even keener Chris Connop, a Justice of the Peace and former school headmaster who now acts as the Freemasons' media manager.
Building work started in 1926 and was completed in 1933 at a cost, phenomenal at the time, of £1.5 million. The library is stuffed with gifts from maharajahs and Indian Grand Masters.
The place reeks of ritual and tradition. On ceremonial occasions, the corridor is lined with Grand Stewards in bright red aprons holding white wands. There are stars on walls, lapis lazuli on the floor, and "4,000 linear feet of South African gold on the ceiling which still looks brand new after 70 years".
Two massive bronze doors, each one and a quarter ton in weight, lead to the "Grand Temple", 120 ft by 92 ft and 60 ft high, and so called "after King Solomon's Temple". The Grand Master represents King Solomon.
Could the Grand Temple be filled one day with hundreds of desis with a Shah or a Patel installed as Grand Master? Shah's eyes sparkle as he talks of great occasions when he has worn his regalia.
So, why is it that some Christians and Muslims are vehemently opposed to Freemasonry?
"It is the objection that some fundamentalist Christians have," responds Connop. "In the Christian community, it is the fact you can have a prayer to the great architect of the universe and you don't mention Jesus Christ. 'If you don't mention Jesus Christ, how can it be a prayer?'"
"It doesn't matter whether you are a Hindu, a Sikh or a Muslim, you have to believe in a Supreme Being to be a member," explains Connop. "You pray to the Great Architect of the Universe which means you will be praying for your god and I will be praying for mine."
He adds that the leadership of the Freemasons has now decided there is nothing to hide, partly in a bid to attract more Indians.
One cosmetic change is the introduction of a new dark blue corporate tie, with a compass and square, symbols of Freemasonry. This has replaced the old funereal black tie and can help with recognition.
"I could go to a lodge in Mumbai and wear this tie," comments Shah.
He cannot forget how, as a small boy, he was fascinated by his uncle's box.
"My uncle has been my inspiration," he admits.
It does look that after being undermined for 60 years, long term respectability for Freemasonry can only be delivered by Indians.
The dilemma is whether they should join. There isn't a Gujju takeover yet but more might be persuaded.
Having got his nephew in, Chacha Shanti Lal Shah, who is 78, wants Sanjiv's children eventually to follow him into Freemasonry.
"I would recommend it to anyone," declares the old man.
Elementary, my dear Watson

On the roll call of famous people who have been Freemasons, one name often included to show Freemasonry is a respectable business is that of Sir Arthur Conan Doyle, the creator of Sherlock Holmes. He was an erratic member, who was initiated into Freemasonry in 1887 at the age of 27 in Phoenix Lodge No. 257 in Southsea, where one of those present was a Dr James Watson. The latter was immortalised in fiction after the two became close friends. Doyle quit his lodge in 1889, rejoined in 1902 and withdrew permanently in 1911.
Although Holmes is not a Freemason himself, he is knowledgable about it. There are references to Freemasonry in A Study in Scarlet, The Musgrave Ritual, The Red Headed League, and in A Scandal in Bohemia, Holmes says to Watson: "There is a wonderful Freemasonry among Horsey men. Join and find out."