Umrao Jaan, the story untold
Read more below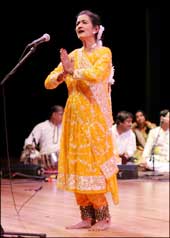 ---
Published 29.10.06, 12:00 AM
|
---
In the era of globetrotting gurus, it's not rare to find the great masters of Indian classical music and dance on the stage in New York or Chicago. But when Madhuri Devi Singh showed up recently at an international symposium and festival of Kathak in San Francisco, she made history. Singh is one of the last living tawaifs — once known as nautch girls — and the only one ever to perform on an American stage.
Madhuri Devi — who once performed from a kotha in Bowbazar in Calcutta — got a standing ovation in San Francisco. "So much love, so much respect as if they have forgotten who I am, as if I am some great artiste," the 60-something Singh says. "But I know where I come from."
Madhuri Devi Singh's journey from Bowbazar to San Francisco started decades ago when she was a little girl in Calcutta. Her sister was already a tawaif. The Kathak master who would arrive every day in a rickshaw through the narrow alleys of Bowbazar was the famed Kathak guru Ram Narayan Mishra of the Lucknow gharana. He was accompanied by one of his young students, a boy named Chitresh Das.
Das remembers his guru going from baiji-quarter to baiji-quarter, the burly bouncers touching his feet, mothers of baijis in their zari-bordered saris personally dressing a paan for him. "It was very strange going from my respectable middle class Bengali home to the baiji houses of Bowbazar and then off to school with the Italia-brothers of Don Bosco," laughs Das.
And Madhuri Devi — who in her heyday performed for the Rajas of Benaras and Raigadh — fondly remembers Das. "He never treated our home as the house of baijis," she says. "His affection and izzat have brought me all the way to America."
Das, who now runs the successful Chitresh Das Dance Company in America, calls Singh his "guru sister". "She is the real Umrao Jaan," he says.
But today's Umrao Jaans have fallen on hard days. Madhuri Devi remembers she was once asked to perform on a ferry on the river for visiting West Indian cricketer Clive Lloyd. Now she gives dance tuitions to make ends meet while she watches the downslide of the famed kothas of Bowbazar.
The decline, ironically, comes at the same time as an unprecedented nostalgia for the babu-baiji culture, points out ethnomusicologist Amie Maciszewski. Aishwarya Rai is the new face of Umrao Jaan — in a film to be released this week. The murals at the Central Aveneue Metro station are adorned with pictures of dancing girls and their patrons. There are mujra clubs in the United Kingdom. "But while everyone romanticises the past, no one wants to know the reality of their lives today," says Maciszewski, who has been visiting the kothas of Bowbazar for over a decade.
The tawaif, Maciszewski adds, was known for creating an atmosphere for an intimate musical setting. There would be a big bed for the sarangi player to sit on. The tabla player and the harmonium player would be on the floor. Then the tawaif would sing the first notes, perhaps of a thumri made famous by Begum Akhtar. Madhuri Devi remembers how the cultural aficionados — "samajhdar log"— were invited to her debut performance, and the rupee notes spread out on the floor like a carpet.
"We would study for five or 10 years before we were allowed to perform," she recalls. "Ab pehle laate, baad mein taalim (first they bring them out, then comes the training)." She says there are still mujras in Bowbazar. But the setting has changed drastically. Classical music and dance are the last things on the minds of those who come to Bowbazar these days. Gyration to Hindi film music is the driving force.
In her day, she recalls, "big men" courted their favourite tawaif for two or three years before she consented to a "relationship". "Now they bring a new man every day and you have to go with him," she says. "In our day if anyone misbehaved, we'd just tell them, 'Matlab se aaye, jaiye Sonagachi (if you have come with bad intentions, go to Sonagachi, the red light district).'"
Madhuri Devi had hoped that classical training would be her ticket out of the kotha. The family had moved to Calcutta from Benaras where her father's family was in the "kotha business". Her guru wanted her to be a "straight dancer" and she even gave two Kathak examinations at Chitresh Das's father's music and dance academy, Nritya Bharati. But then before the third examination, after teaching her for nearly eight years, her guru died. "My training stopped right there," she says. "I couldn't go ahead. And then we had problems at home and I had to go into the kotha." Soon, she was giving two or three mujras a day.
Even now there are few ways out of the kotha. Maciszewski says she knows of one tawaif who eventually married one of her patrons who built her a house in another neighbourhood. None of her neighbours knows her past. "I wonder how much she suppresses," says Maciszewski. "After all, this dance is what she has known from her childhood." She wishes for an organisation that could help women like Madhuri Devi retain their art since few ustads stop by the kothas of Bowbazar anymore. "We do what we do today in our art to a large extent because of the contributions of these women," says Maciszewski. "People forget they are the wellspring."
Chitresh Das remembers. In fact, he has come full circle from his childhood days. Now he works with a non-governmental organisation called Urmi to bring dance into the lives of the children of the red light district. He says at least it gets them out of the six-by-four cages where they are sometimes shoved under the bed while their mother entertains a client. "I have to do it," he says. "My mother always told me 'You have to do something with your life. Otherwise I would have given birth to a cat or a dog.'"
Madhuri Devi herself has long hung up her ghungroos. But the glimpse of the limelight in San Francisco has been tantalising. "I feel like going back and practising again," she says sitting in her dressing room, unwinding a garland of flowers from her hair. "But then I think, what's the point? Who will I dance for anymore?"