Tips to celebrate V-Day as Mumtaz Sorcar exudes the moods
Through this special fashion shoot, take ideas on how to soak up celebration and make the most of it by spending day doing things you love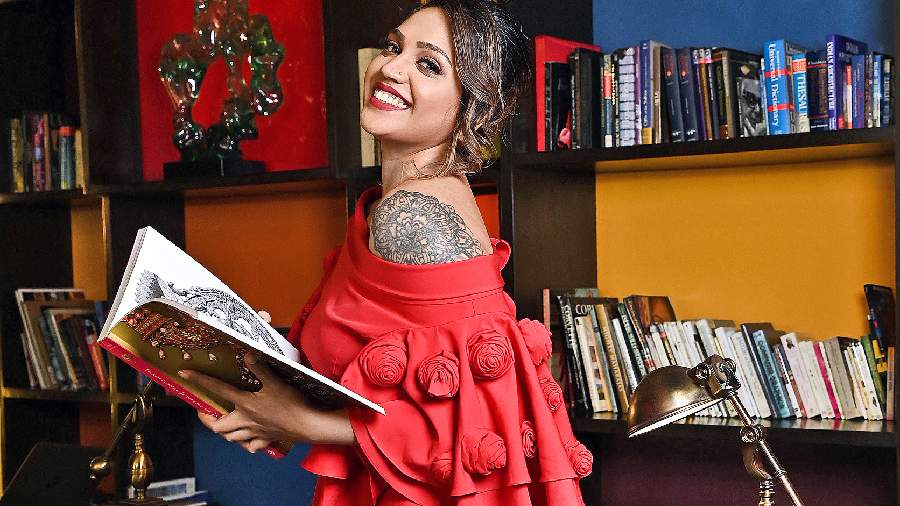 A bookworm? Spend the day amidst the whiff of new books and dusting the old ones for a re-read. The stylish library date for Mumtaz was all about exuding her happy mood in a bright red Bardot crepe jacket top designed with handcrafted crepe flowers from Eshaani Jayaswal, paired with crepe flared pants styled with slits. Messy bun, winged eyes and dark lips enhanced the look.
---
Published 11.02.23, 12:04 PM
|
---
When the world around us celebrates this day with so much hype, it sometimes becomes almost impossible to turn a blind eye to all of it! So, for this V-Day, The Telegraph, through this special fashion shoot, gives ideas on how to soak up the celebration and make the most of it by spending the day doing things you love. From a pet lover lazing around with a pet in comfy co-ords and a bookworm's library date in a pair of smart flared pants with a fancy top to the foodie's evening out for a dessert date in a sassy dress and sealing the day with a pamper stop in the bathtub — it is all about making the day memorable with a splash of self-love. Actress Mumtaz Sorcar sports the looks in the internationally trending red to show the moods and talks to us about her story of self-love. On Valentine's, we focus a lot on the partner and other things, but it is actually a celebration of love and love comes in various forms. It is not only about the partner and it shouldn't be about one particular day. Getting true love, unadulterated and unconditional is very rare. To get that eternal, true love one needs to be blessed and I am blessed to have people around me who unconditionally love me and that is the kind of love I want. For me, that love means family and I get so much of it that I don't think I miss anything from outside..."
"Above everything is loving yourself. We are always trying to impress someone else so much that we are losing ourselves in the process. We can't love others if we don't love ourselves. It is not easy. We need to learn how to do it. I think I am in a 50-50 state because there are times I have let myself down. But self-love is not being selfish, there is a fine line between being selfish and self-love.
"The meaning of love hasn't changed for me over the years. Every person has their definition of love. For me, it should be unconditional and genuine. You don't have to try and love or force it. It has to happen naturally. The vibe is there. You don't need to try. But I see that the definition of love has changed all around. Times are changing, and now love is about swiping left or right!" (laughs) "For me, V-Day is going to be about self-love. We have to take care of ourselves. No matter who stays with us or doesn't, we have to stay with ourselves for eternity. The biggest teamwork is with yourself. I think I have cheated myself regarding self-love. But this year, I took a resolution to not cheat on myself and it is going to be all about self-care and self-love."
"Eating is definitely my expression of self-love (laughs). Being a complete foodie, that is definitely there. Me-time is all about food for me, not caring who thinks what or being conscious about how much I am eating. Listening to music, reading and being with my kids (pets)...but these are not just about one particular day, I do it every day. These are my batteries to charge myself. Life is all about the race now, it is very competitive and it is all about hard work, but at the end of the day it is always great to come back to people or situations that charge me up and make me feel good." "I had a blast in the shoot. TheTelegraph did all the things that no boyfriend of mine did. So, I am very happy to feel pampered and taken care of. (laughs)"
Pictures: Pabitra Das
Location: The Westin Kolkata, Rajarhat
Styling: Isha Thakkar
Hair and make-up: Ujjwal Dutta
Accessories: July and Sakshi Jhunjhunwala