Timeless appeal
A Calcutta designer's new collection marries traditional weaves and contemporary aesthetic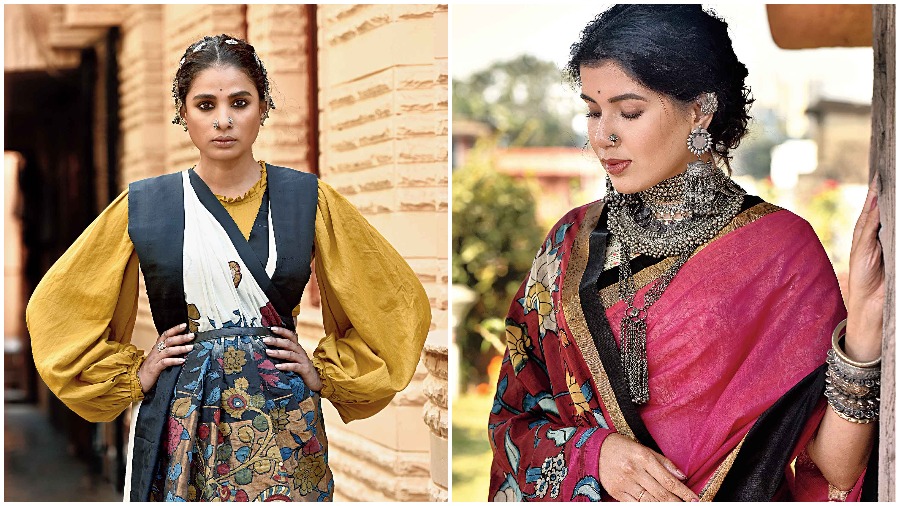 ---
Published 18.02.21, 02:48 AM
|
---
Fashion today is about experimenting with many textiles. But to work out a contemporary aesthetic within the boundaries of traditional weaves is challenging. Calcutta designer Santanu Guhathakurta (above) has taken up the challenge. He has added to Mangalgiri and Kalamkari a contemporary edge.
"In India every state has its own handloom techniques that are used to weave unique fabrics," says Guhathakurta. Mangalgiri saris are produced in Mangalgiri, a small town in Guntur district of Andhra Pradesh. "The making of the sari involves warp and weft method of weaving. Only pitlooms are used for weaving. The sari has borders on two sides and the body is different," he adds.
Kalamkari is a very old style of handpainting done on fabric with a tamarind pen using natural dyes. In India, it is done in Andhra Pradesh and Telengana. "This art involves 23 steps of dyeing, bleaching, handpainting, cleaning and more," says Guhathakurta.
"To address the basic concern about combining urban design and cultural heritage, my work has translated into a fusion of Mangalgiri, Kalamkari and applique," says the designer. Kalamkari fabric patches are layered on Mangalgiri saris, then stitched in place with raw edges turned or covered with decorative stitching.
"For me fashion is not only silhouettes and fabrics. Rather, it is more about the stories from the past that are contemporised so that they have a timeless appeal. I believe  that culture and tradition can only be kept relevant with contemporary style and aesthetics through a link between cultural heritage, style, design and commerce," says Guhathkurta.
• Models: Sanjukta Das & Megha Julka
• Hair & make-up: Abhijit Paul
• Styling: Madhab Sarkar
• Photographs: Baban Mukherjee
• Creative direction: Nick Rampal