The winter's tale
Warm, woollen mittens and all things favourite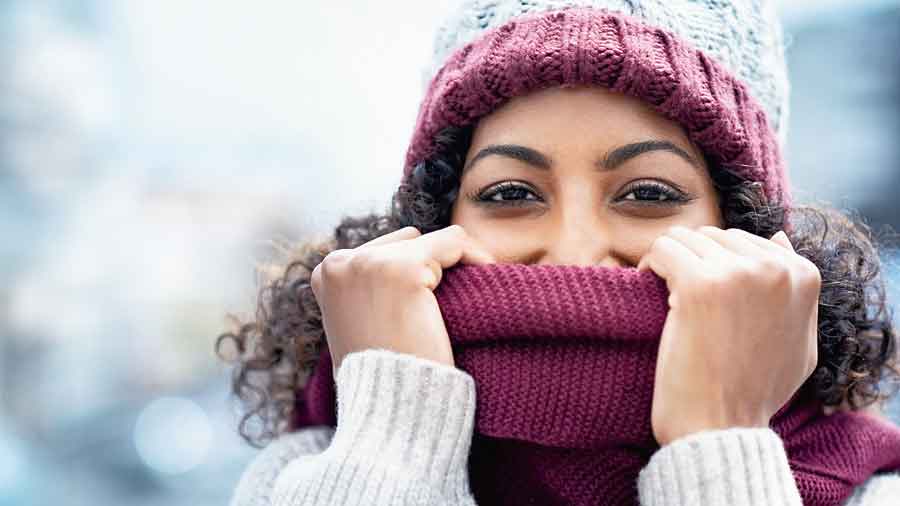 ---
Published 02.12.21, 12:55 AM
|
---
Each season comes with its own high maintenance rules. For summer, the a/c needs a service, cottons and light floral perfumes are in, and if you are like me, gallons of rosewater to freeze in cubes for face rubs. For the rains, I like stylish water-proof slippers that don't squeak when wet, frilly (but sturdy) umbrellas, and a pedicure or at least cheery nail paint.
But what is it with winter and hauls? The no-sweat, largely dry and sunny season rarely throws a tantrum. But its charms possibly make it the most demanding among the seasons. Winter hauls tend to be bigger.
Skipping the usual suspects like sweaters, socks, body lotion and foot cream, my must-haves for a chilled-out winter include saffron soaked in warm water, green tea and coffee and golden latte — turmeric milk with a dash of cinnamon — as sips.
Winter perfumes should be warm and sensual, like YSL's Black Opium or Givenchy's L'Interdit. Lip colours typically tend to be bold this season, so don't let Covid dim your shine. In places where you can safely take off your mask, ensure no one can take their eyes off your red, wine or fuschia lips. And winter is the only season when your eyelids can go smokey or sparkly with equal ease, and you can swing the lashings of mascara and blush on your cheeks during daytime as well. (Don't forget to take out the mascara with a Q-tip dipped in almond oil, your lashes will fervently thank you).
With the layered look in, it's a clever idea to invest in a body shaper for a more streamlined silhouette, whether you're sporting a trendy trench coat, a classic shawl or a casual hoodie. And, a body shaper acts like thermal wear too.
Chunky or sparkly accessories look good in winter. With sleeves going long, wear bracelets over them or push up your sleeves a bit to show them off. Cocktail rings are made for winters in India where you don't need gloves in most places. Your headgear decides your earrings, but oversized studs and danglers add that element of fun. You can wear your chains and pendants over a high-necked top, and pair the more traditional necklaces with a shawl. Only one thing: stow away your minimalist jewellery for summers.
Winter ain't the season for discreet jewellery.
And yes, closed-toe shoes look better in winter. It's one of the rare times comfort meets style.
It's also the only season when leaving one's hair loose is an option, so make sure it looks healthy from within. I'd prefer cold-pressed almond or olive oil anyday over serums for my mane, but to each her own. (I do draw the line at castor oil, the worthy oil demands a gallon of shampoo to rinse it off.)
If you are a lip balm addict like me, you may add a lip exfoliator to your list. Now a days they come in enticing flavours and leave lips pink and soft. So does almond oil, but a girl needs variety.
Speaking of variety, there's a scarf for every mood in winter —  casual, flirty, no-nonsense, glamorous or smouldering. For me, any scarf in red or black warms the cockles of my heart.