The village is the city
Read more below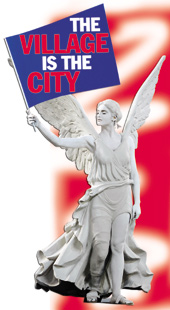 ---
Published 22.08.04, 12:00 AM
|
---
Past to present: An artiste symbolising ancient Greece performs at the opening ceremony
Analyse this: they had been hurt when the 1996 Centennial Olympic Games had been given to Atlanta and not to its birthplace. Now they have it. But what the Greeks had bet their bottom drachma on, those pre-euro days, has proved a psychological disaster for the mortals today.
The Olympic Games. The Greeks started it all, and, in typical Greek fashion, forgot to take a world patent out on the concept. The 1896 stadium of the first modern Olympic Games, tons of marble et al, lies mid-city, lit up, dressed up, forlorn. Having spent close to eight billion euros on 'welcoming home' (as every banner on the streets says) the Games of the XXVII Olympiad, they suddenly find they don't know it at all. Today it's a Dr Frankenstein's creation, owned and controlled by mega-corporates, with smaller nations just about lucky enough to be here, and with vested interests inside Greece straining for lucrative toeholds.
Think about it. Coca-Cola says there isn't going to be Pepsi mentioned in any Olympic zone. You don't even dare carry that American drink anywhere in an Olympic venue! And NBC says no photojournalist with a video camera enters even the mixed zone or press conference area to take a byte of his or her home hero or heroine. You aren't anybody in the electronic media if you aren't NBC. These are the two mega sponsors of the Games, neither Greek, nor welcome.
And the beer, oh dear — the Greeks love their morning swig all right — it must be Heineken. Oh! have we forgotten McDonald's? It's the most preferred food joint even in the Athletes' Village.
So where does the Olympic spirit fit in? All that 'it's all about participation and not about winning' preaching? "Garbage," says a Greek resident, Kostas Kontakos. Sitting in his café in Kalitheya, and with his drawl — that you could mistake as Hindi or even Bengali if you weren't looking — he meant quite that.
In the first place these Games are being held in August, when most Athenians prefer to be on holiday in the islands, leaving the capital's dust and heat. Look around the city, they aren't here, they don't care. "There is a joke in Greek," explains Kontakos, "that if World War III was happening in August, we Greeks would say, no, no, we'll join up in September, after our holidays."
So what's happening here? "Money is," says a volunteer at the Main Press Centre, the hub of the entire non-electronic media. And she refuses this correspondent use of her name for the quote. That's understandable. It's all about money, honey. "This lady, Gianna Angelopoulous Daskalaki, president of the Athens Games organising committee, was the one who wanted the Olympics here, we didn't," Kontakos says. Rumoured as the richest lady in Greece (mostly as wife of shipping and construction magnate Theodorus), Gianna isn't much liked by the hoi polloi.
Okay, but what about the fine roads and flyovers, the metro, the trams, the glass and steel, and this spit and polish that has been introduced to Athens for the Games? "Look, I like that," says Helen Rondos, the American wife of Alex, the Greek ambassador at large in Athens. "I came here five years back, and all this wasn't there. Then there started this noise of jackhammers and drills, all night long, but they made it in time, all of it."
A glimpse of the Olympic village Photo: Reuters/AFP
Helen's remains an American view. She likes what she sees. The irony is that while the Greeks too like what they see, they can hardly not be scared as they look into their pockets and wonder when the next tax announcement is coming. Michael Bizos drives one of those Mercedes Benz taxis (there are BMW yellow cabs as well). "Business is not better much, much, from before Olympics, no," he says. This was a section which had to be lured into the crowded Olympic zone, so they were offered a 'bonus' of three euros per ride if they attended such a zone. "This is what makes it a little better." Talk of 'Olympic spirit'.
And talking of that 'spirit', still, Kontakos says it was easy to reduce 20 days from a Greek's mandatory 12-month military service if you were willing to join as a volunteer at the Games!
When a couple of hundred die as Hurricane Charlie hits the Florida quay — and may their souls rest in peace — that's very big news in Athens. They are all talking about it. When security is demanded by the Americans and the Brits and the Aussies, guess what, you got it. Doesn't matter it cost the Greeks over a billion euros! (To be honest, though, security in Athens is anything but choking. You just get X-rayed and metal-detected a lot).
The Greeks who have stayed back realise the futility of their protests. They are eating their musaka at the Plaka (old town) evenings, washing them down with homemade wine in the neon-lit glory of the incredibly imposing Acropolis. They aren't the Aussies who toured the streets of Sydney chanting 'Aussie, Aussie, Aussie, oye, oye oye' four years ago. They aren't the Americans who drove hundreds of miles down to Atlanta, just to watch Michael Johnson hit his purple. They are plain Greeks. It just happens that they also have more history around than the Americans or Aussies will be able to gather in another maybe 3,000 years.
The commodity is hot today, the Games. It needs an incredible amount of financial and personnel management to decide who should play how when the big time comes. The Greeks notwithstanding. Major construction contracts had been handed on a build-own-squeeze-the-locals basis. These will stay in foreign hands for many long years. The Greeks will have to pay — sometimes the Americans, sometimes the Germans, sometimes others — to use these facilities for decades to come.
Hence to the world brotherhood-neighbourhood, the Olympic Games. The message and the feelings filter down to the Athletes' Village. In the E block, the Indians occupy four buildings and more to house their athletes. And those who have finished their schedule just want to leave. Bengal's Mouma Das wears a rather coy smile as she talks about "bari jabo. aar bhallagchche na... ticket kat-te diyechi".
The Internet parlour is there, the Olympic museum is there, there are video games parlours, and the heat apart, there is so much of chic around. But something is missing in the heart of it all. Athlete Soma Biswas thinks she will run all the way back home when she finishes.
It boils down to that 'spirit' factor, maybe. Today, this word is taken too seriously by the people. The wine festival at the Zappeo, a massive, breathtaking traditional Greek mansion, bang midtown, is well attended by happy Greeks.
Hmmm. That's it. The missing link. It reflects in Tito Tejinder Singh, an Indian editor of an English periodical in Athens. He sums it up nicely: "This is Greece. You go to a village, they will take you in, feed and rest you. No money, no problemo. In Athens, all that's changing. The cold European winds come visiting, people forget to siesta, they forget to say hello and smile."
These Games reflect that change in times. See the Village again. In other Olympic Games, the stars and the superstars dress so well, you see that (and the label, too) before what they do. In Greece, the locals dress better, the athletes have stuck to their sporting dress codes, and sponsor logos abound. They haven't been missing too much, it seems.
No wonder when lifter Kunjurani Devi and Sanamacha Chanu want to go back (and the latter will, on a dope charge), like Mouma and Soma. "We are bored," Kunjurani says. Soma, at least has been lucky enough to have had a chat with Namibian sprinter Frankie Fredericks — "He recognised me, from when he had been in Hyderabad," she says proudly. But the fun's muted, even with the Roger Federers and the Andy Roddicks strolling around the huge complex. The camaraderie hasn't been building, not really.
That makes the village lonely, so to say. You get up in the morning, send your clothes for a wash, get to the breakfast table and have whatever you want from wherever in the world (the officials will have put on a few kilos by Games-end). Then you go out to the practice area. It's when you are back 'home', it's then the polished walls start creeping in.You ride the in-Village shuttle, you look left and Leander Paes is standing quietly. "Hullo, how's life?" "Great." Really? Paes is polite.
The outside world seeps into the Village, in dribs and drabs. The Indians are talking with Indians, the Americans — well the Greeks don't like them much — with nobody else. The Greek doping scandals aren't the problem. 9/11 isn't the only reason, Michael Moore's 'Stupid white men' isn't either. So?
The Village has become a city!
Just like the rest of Athens.
That's why the 20-year-old Mouma wants to go. There isn't a home for green minds in Hellenic mode. The 'spirit' is dead, forever.