The Studio Project by Kanika Ranka
A haven for the one who loves customisation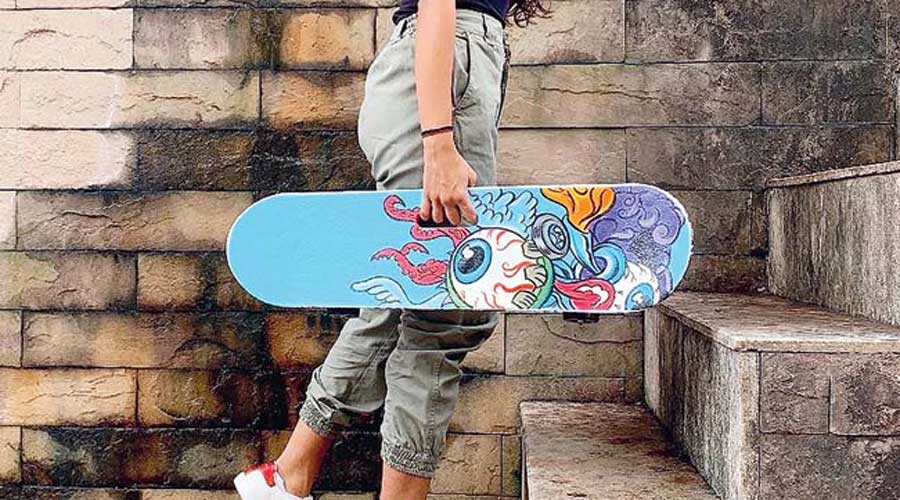 Kanika Ranka with one of her creations
---
Published 22.08.21, 10:42 PM
|
---
Cool and creative, The Studio Project by Kanika Ranka is a delightful platform for all things customised. From clothes and accessories to much more. "This has snowballed into the company," says Kanika of her passion project of the last four-five years. The Worli girl who loves Bose Krishnamachari and Anish Kapoor, dreams of collaborating with a big fashion house one day, like Louis Vuitton and Lady Dior. A The Telegraph chat.
Did you study art?
Yes, I did. I went to The Art Institute of Chicago for four years and did my Bachelors in fine arts. I come from a textile family.... Out of three generations, I am the only daughter actually. So, zero background in art in the family, but supportive 100 per cent. I was inclined towards drawing and painting since I was very young... all holidays and weekends were about papier mache, painting, decoupage. (The passion) just grew as the years went by. I was contemplating between business school and arts school even for college because it was not common six-seven years ago for Indian parents to send their kids abroad to study painting. What you do is so much fun!
I came back from college and worked with my dad for six months and that didn't work out. I worked jobs too, but that didn't work either. I took a break and went to my friend's studio and told him I was going to be there for a month and that I would paint. I ended up painting a pair of shoes for my friend's birthday. She posted on her Instagram and I posted on mine. Someone gave me their shoes and someone else gave me their pouch and it kind of snowballed into it.

You treat anything as a canvas, right?The best part about my college was I didn't have to choose a speciality. So, I did glass-blowing, screen-printing, sculpture, photography... but one thing that remained constant was painting. When I came back, the quintessential thing would be to get a studio space, spend six months building an entire collection of paintings and then go from gallery to gallery to sell it, but that was something that was slow for me. I always wanted to look for something fast-paced, have fashion and painting involved in it. I think this was the perfect space where I could continue painting but it was way more fast-paced and it was an amalgamation of fine arts and fashion. I have painted on bags, skateboards, cars and walls and was learning something new every day. Now, with Covid, everyone is looking for something personalised to continue with that feeling of human touch. Now, I am also painting baby announcements. And it's all customised...
It's based one hundred per cent on customisation. The idea is to create something for you, that talks about you, be it a jacket or a pair of shoes and we help people explore their own creativity. We don't have an inventory of painted things which you can buy from. We had a mother and daughter who were learning to skateboard during the lockdown. They said it's their thing as mother and daughter and were fascinated with what they were doing. I helped translate the ideas they had onto their pieces. The process is one on one.

When you are working on a product which is expensive, are you a little apprehensive?
That was when I started. Now that it's been so many years, I am very meticulous and ask the client not to rush me because I really want to perform and give you that 100 per cent. My USP is my attention to detail. I will not send out my product until it is double and triple checked. The finish is also what's important. For my first Birkin, I kept looking at it for a week! It costs thousands of dollars and is a big responsibility. Once I overcame my fears and I realised that I know what I am doing and I got to trust myself, it was a flow after that.

What have been the most challenging projects?
I think more than challenging, when I get a new surface, it takes a little longer.... I make sure I do all my background work and research. Our work is waterproof and scratch-proof. Sometimes I have to test different paints.

What of you the artist is in your house?
I have a painting in the living room which I made quite a few years ago when I was in London for one semester... a big five-foot piece which was multicoloured. My dad's office has only my paintings. My grandparents' house too has my paintings. My mother is a dance teacher and there is big painting of mine as a centrepiece in her studio. I like to curate the whole space around me. I am getting married in November and I have started working on pieces for my new house. I have recently rediscovered water colours and I absolutely love it. I also love wildlife. So, two pieces that I am creating for the washroom of my new house are wildlife pieces. I am into multi colours and abstract paintings where it is organic. Punit Malhotra: He has a sweet and fun personality. So, he was looking for something to spruce up a bag he had. We worked back and forth quite a bit and he loved it. Ibrahim Ali Khan: I think his friend Orhan ordered it. Everybody has a ripped denim jacket, but how do you make it different and one that you will be happy and excited to wear? It was his birthday and he was having a party. I think the theme was graffiti. Super fun, funky and neon... we created something for him in graffiti font. Ayushmann Khurrana: We did a jacket for his film promotion Shubh Mangal Zyada Saavdhan, based on the LGBTQ community. So, we did jacket with 'Pride' and rainbow colours. He can carry off anything! We worked with Isha Bhansali (stylist) to create that piece for him. Sonam Kapoor Ahuja: She was trying to gift Shah Rukh Khan stuff from Bhaane and wanted personalised and funky crates to put them in. I worked with another packaging and decor company to create those crates which were spray-painted.