The Shilpa you didn't know
Read more below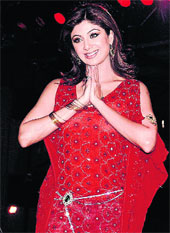 ---
Published 03.02.07, 06:30 PM
|
---
She always meets the 2 a.m. curfew set by her parents, never drinks anything but hot water because of a sinus problem, isn't allowed to lock her bedroom at night and can use her tongue to lick very fast (she came first in the ice licking contest).
She wore her dark glasses a lot in the morning but eventually got used to facing the cameras without too much make-up (in fact, she looked prettier).
Probably no other Indian has had as much coverage in the British media in the past 30 years and almost all of it favourable — and justly so. Since coming out, the 31-year-old has graciously forgiven her former enemies, expressed gratitude to Britain and pride in being Indian and scarcely put a foot wrong (apart from disappointing Indian journalists whose journals and TV networks cannot afford to pay £100,000 for "exclusive" interviews).
Although Jade Goody got nowhere when crudely questioning Shilpa about her virginity (loss of), she did stick up for the Bollywood star at one point. When Danielle Lloyd wondered whether Shilpa had had a boob job, Jade dismissed the notion but said she knew the Indian actress had had a nose job. Viewers discovered Shilpa slept on the floor (until a special orthopaedic bed was supplied for her) in a "soldier position" — that is flat on her back with her long legs in a straight line. Unlike Danielle, the clothes Shilpa wore never revealed her cleavage but her tight tops showed the "Bollywood babe" was well endowed. Tight jeans confirmed her reputation as possessing "the best body in Bollywood".
Another few days in the house and Shilpa might have started using the "f***" word. She got told off by her mother for using "freaking". She had also used "piss off" and "ass". She found it hard to pronounce Dirk Benedict's Christian name which came out as "Derk" or "Duck".
Asked to make Big Brother laugh, she invented a character called "Aunt Jamilla from Southall" with a worrying obsession for bananas. To be honest, the sketch was not exactly hilarious but Big Brother, very generously, pressed the laughter button.
"Sweetie" and "shut up" were much in her vocabulary. That said, her English has been impeccable though on one occasion, when teaching dance steps, she lapsed into Hinglish by admonishing a fellow housemate: "You are doing this all ulta (the wrong way round)!"
Though she had seen snow lying on the ground before, she said she had never actually witnessed a snowfall and hence screamed with childlike excitement — "Snow! Snow!" — when there was a brief flurry one morning. Jo 'Meara, warm in bed, told her to "f*** off".
Shilpa demonstrated she can play table tennis, do meditation exercises and later claimed she can also play "a mean game of pool".
She has a real aversion to those who snore at night, which is ironic because "Uncle" Ken Russell, 79, the film director, proved a world champion snorer.
She has spoken of the family apartment which occupies the whole seventh floor of a Mumbai mansion block and her servants, chauffeurs and cooks. She gave Carole Malone some expensive earrings (belonging to her sister Shamita) and gold bangles to Danielle. But in an interview with the Mirror, she revealed that her father, Surendra, "has CCTV cameras in the hall, kitchen and dining areas" and "his favourite hobby is watching them".
In all, she had had "fewer than five boyfriends" and was neither a "prude" nor "regressive". Although she did not mention Akshay Kumar by name, she said she had first fallen in love at "22-and-a-half" but the "actor" had cheated on her. Later, she would not say much more about him other than that he was "very handsome", "he's married", "he's got a child" and that, after eight or nine years, both parties had moved on.
Akshay wouldn't be human if he wasn't wondering right now how it might all have been so different. Shilpa admitted she would prefer to marry an Indian but would not rule out a white man (or a black man after meeting the kind Mr Jermaine Jackson). If she stays much longer in Britain, that might yet come to pass because many men who have watched Shilpa brush her teeth, put her shower cap on, do a little dance and laugh when she tried to flush chicken leftovers, bones and all, down a toilet, have fancied her like mad.
One more thing: some men may well be turned on by the way she growls like a pussy cat, when happy, sad or making a mock protest.