The ROAD less taken
Read more below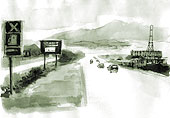 ---
Published 11.04.04, 12:00 AM
|
---
The Mumbai-Pune Expressway is a sad place. Kilometres of searing concrete and unending columns of bare and brown Sahayadri hills. The place evokes loneliness. You can drive fast and furious at 100 kilometres an hour. But there is not much to race against. Sometimes you do not see another vehicle for an entire minute or more. It is like being the lord and master of nowhere.
It wasn't meant to be like this. When the state-of-the art, six-lane Expressway was first opened to the public in April, 2000, it was tomtommed as a boon for thousands of commuters tired of the endless traffic jams on the parallel NH-4 highway, then the only road linking the two western Indian cities.
The 94-kilometre stretch of smooth concrete, completed at a cost of Rs 2,136 crore by the Maharashtra State Road Development Corporation (MSRDC), was meant to give Mumbaikars and Poonawallahs a slice of the good life on the fast track.
No red lights, no jams, no nothing. Just the foot on the accelerator — which incidentally caused 71 fatal accidents in 2001 — and the sound of the wind hissing in your ears. The occasional village that passed by hardly interfered. The Expressway was all about saving travel time, bringing down pollution, reducing fuel consumption, and, indirectly contributing to the nation's development by promoting speedy transport of goods.
Indeed, the Expressway has cut down travel time between Mumbai and Pune from five hours to merely two. If the carcasses of the lorries that still lie by its yellow iron railings are any indication, some wanted to spend even less time on the road. Many top executives and those who like to spend their weekends in Lonavala with wives (preferably others') are happy to have more time on their hands.
But many have also opted to stay away from its pay-and-drive — a car's toll fare is Rs 100 — pleasure. Those who had pushed the big idea had said about 50,000 passenger car units (PCU) would drive down the Expressway everyday. Now figures show only 16,000 vehicles actually ply on the superfast concrete road everyday; roughly 30 per cent of the estimates.
Why? Saving time was touted as one of the great advantages of the Expressway. But many lorry drivers are unwilling to take the highway because it is not value for money for them. The toll rate of a truck is Rs 215, a bus Rs 295, a three-axle lorry Rs 510 and a multi-axle vehicle Rs 680. The amount of time one saves does not complement the sum of money spent. "A truck driver on his way to Mumbai from Bangalore drives about 1,000 kilometres. Why should he pay Rs 680 extra for 94 kilometres of a pleasure ride which is not even 1/10th of the entire journey?" questions environmentalist Pankaj Sekhsaria, who has studied the Expressway project in detail.
No surprise, the Expressway is grossly underutilised. Its average annual toll collection is around Rs 75 crore and the debts of MSRDC have sharply gone up. Last month, in an effort to bail out MSRDC from the financial abyss, both the NH4 and the Expressway were handed over to a private company, Ideal Road Builders (IRB), Mumbai. IRB can now collect toll from the Expressway. According to the deal, IRB needs to ensure that the NH4 is upgraded to a four-lane highway. Then, from March, 2006, it can charge toll from NH4 as well. In other words, both NH4 and the Expressway will become private toll roads. There will be no toll-free travel between Mumbai and Pune.
This recent development has raised a lot of questions about the financial feasibility of a project touted as a model for all future infrastructure projects in India. "When the Expressway project was being discussed we had spoken with the Truck Owners and Drivers Association. They had told us that they will keep using the NH4. So it was well-known that most truckers are not going to use the Expressway," says Samir Mehta of Bombay Environmental Action Group, who had earlier moved court over issues of environment connected with the Expressway.
One of the key questions being asked now is: if there is such a dramatic difference in the number of projected users for the Expressway and those actually using it now, then who is accountable for the trumped-up figures? After all, it was on the basis of these figures that the project was considered viable and over Rs 2,000 crore of public money was pumped into it.
Now that so much money has gone into the project and there is little sign of it ever coming back, the public is being forced to pay from its pocket for the government's folly. For it is unlikely that NH4 too would have been privatised but for the losses incurred by the Expressway.
There are many lessons to be learnt from the Expressway saga. First, high public money investment in infrastructure projects needs to be studied far more carefully. "One also needs to study if they are needed in the first place. And, if any other viable alternative is available or not," says Sujit Patwardhan of Parisar, a Pune-based environment group.
It is believed that the Expressway project owes its origins to an incident in which Shiv Sena leader Balasaheb Thackeray got caught in a huge jam on NH4. The solution, as several action groups have said, lay in upgrading the NH4. "But first they thought of a solution which had few takers. Now to cover up one mistake they are committing another," says Patwardhan.
It is indeed ironical that the NH4 will now be upgraded by a private company and then turned into a toll road. That too, after Rs 2,136 crore of public money has been spent on building an Expressway which doesn't have enough takers to sustain itself. Many who will never cruise on the Mumbai-Pune Expressway will also pay for it indirectly.