The multi-story boom
Read more below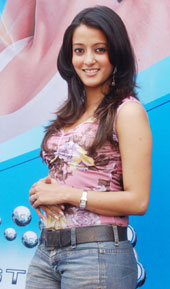 ---
Published 26.03.06, 12:00 AM
|
---
Give me more: Raima Sen stars in
Reema Kagti's multi-story film on honeymooning couples
Nikhil Advani's forthcoming film Salaam-E-Ishq, Reema Kagti's Honeymoon Travels, Ram Gopal Varma's Darna Zaroori Hai, Rajshree Ojha's Postcard and Naseeruddin Shah's Yun Hota To Kya Hota, all revolve around multiple stories. Advani, whose love story, Kal Ho Na Ho, broke records, says his new ode to romance is a slice of love. Going by the story, though, it looks more like a whole loaf than a single slice. "It's a roller-coaster ride, a film about six couples and how problems crop up and are solved," says Advani. "Govinda plays a taxi driver from New Delhi, Akshaye Khanna is a brash young Rajput and Priyanka Chopra is playing a wonderful character. John Abraham and Vidya Balan have a different love story; it's a heavy character-based film with an ensemble cast."
Or take Reema Kagti's film on honeymooning couples ? starring Boman Irani, Shabana Azmi, Raima Sen, Kaykay Menon, Ranveer Shorey, Minnisha Lamba, Amisha Patel, Abhay Deol, Arjun Rampal and others. The five young couples in the film believe that Shabana and Boman are somebody's parents and not a newly-wedded pair. The film takes off from there, revelling in the confusion that it creates.
The trend in 2006 is clearly multiple heroes and heroines, and their separate stories, all weaved into one film. It has been done earlier ? in Mani Rathnam's Yuva, Khalid Mohammad's Silsilay and Ram Gopal Varma's Darna Manaa Hai ? but now more and more filmmakers are exploiting the format of narrating multiple stories in a given time-frame.
The trend is global, with films such as Amores Perros, Love Actually, Crash or even Traffic revolving around well-written and well-executed multiple tales within the same film.
Crash is a great film. Yuva was based on the Amores Perros format. And there are producers who come up to me to ask for such scripts," confesses Bollywood's hotshot writer Shridhar Raghavan, the man behind such films as Bluffmaster and Khakee. Raghavan adds, almost in the same breath, "But I am sure that Nikhil Advani's or Reema Kagti's film would not be based on any other subject."
Taking the credit for starting the trend in India is Ananth Mahadevan ? whose film Dil Vil Pyaar Vyaar had three love stories. "With my film, we broke a trend of linear and straight cinema. I used colours to tell stories in it ? every love story had a different colour, boy meeting girl had bright sunshine colours as opposed to the point when they split and are dressed in darker shades and then reunite again with earthy colours," says Mahadevan.
But filmmakers in Mumbai don't quite see Mahadevan as the fount of inspiration. Nikhil Advani, for one, says that the love stories in his film have all been inspired by real life. "The writers ? Saurabh Shukla, Suresh Nair and I ? thought about the interesting love stories that we have liked and grown up seeing. Not that it is the same story, but it's probably a moment, a character and sometimes a relationship. It is six different shades of love ? whether it is lust, falling out of and in love or the game of love. It is my tribute to love," he says.
NOT AFRAID TO EXPERIMENT: Naseeruddin Shah's film Yun Hota to Kya Hota is episodic in nature
Ram Gopal Varma, on the other hand, feels that all the scary stories in his film are his way of telling a tale. "There are stories which are made into films of two-and-a-half-hour duration each, and there are stories which are 15 minutes long," he says. "But one has to remember that the length of a feature film should be two hours or more. So if you can invent a concept where you can entertain people by telling six different stories of 15 minutes each which somehow connect with each other, you'll come up with something new."
Rajshree Ojha, who is making Postcard with Charlie Chaplin's granddaughter, Kiera Chaplin, Victor Banerjee, Rupa Ganguly, Zafar Karachiwala, Suchitra Pillai, Akur Khanna and Soha Ali Khan, is also trying to make three stories meet. "People actually pass each other in the film but they never meet. There are three different stories which have different endings as well," is all she reveals.
Naseeruddin Shah's film Yun Hota To Kya Hota is also episodic. Starring Jimmy Shergill, Konkona Sen Sharma, Irrfan Khan, Ayesha Takia, Boman Irani and Suhasini Muley, the film is an experimental take on multiple stories.
As experiments go, long years ago the legendary Hrishikesh Mukherjee didn't have a happy ending with his debut film, Musafir, which was also based on a series of episodes. The film, made in 1957, was about a house rented out by David to a runaway couple, Suchitra Sen and her lover, and then to Kishore Kumar, Nasir Hussain and Nirupa Roy, and then finally to Usha Kiran and Dilip Kumar. The house was the only common thread in the episodic experiment which, unfortunately, flopped ? despite Kishore Kumar's lyrical ode to childhood, Munna bada pyaara, and a song sung by Dilip Kumar.
People did not like the (episodic) idea," Hrishikesh Mukherjee says. "They wanted all the stars to encounter each other and were upset when Kishore Kumar and Dilip Kumar didn't meet," he says. The Madhubala-Bharat Bhushan starrer, Gateway of India, was also episodic but had a common ending with the entire cast.
The new lot of filmmakers hopes to taste success with their multi-storied cinema, but Ananth Mahadevan is not so optimistic. He believes that Indian audiences may not be ready for the trend. "They want stories in a straight format. The films can win rave reviews, but will they be commercially viable," he asks.
Varma says he's trying hard to put things right. "I wanted to correct all that went wrong with Darna Manaa Hai (DMH), and then use the same concept with another set of stories through Darna Zaroori Hai (DZH). I think I have eradicated the problems that were present in DMH," he says. "But what fresh set of problems are there in DZH will be known only after the release," he guffaws.
But Shridhar Raghavan is convinced that the trend will work out with the new films. "As a viewer, I will want to watch these films. I get to see several stars in one film for the price of a single ticket. And there are many stories instead of one," says Raghavan. "For me, it is paisa vasool."