The Man Within
Read more below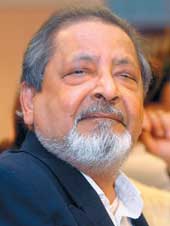 ---
---
FACE TO FACE: The late Graham Greene (above) and Nobel Prize-winner V. S. Naipaul (below)
I was living in my house in Stockwell, south London, and working hard on The Loss of El Dorado. I didn?t want to do this interview: I didn?t care for Greene?s post-war work, and didn?t see how I could avoid that difficulty. I told John Anstey, the tricky editor of the magazine, I didn?t want to do the piece. He said, ?You?ve put us on the spot. Greene has agreed to being interviewed because we told him you would be doing it.?
So I went. I was very nervous. I did a dry run from Nice to Antibes, so that there wouldn?t be any trouble about finding the place on the day itself. The interview lasted two days. I remember the many whores of Nice when I went back in the evening; they stank from 10 feet of recent sex.
Greene tried to ?fix? some parts of the interview. He raised louche topics in the hope, I felt, of adding to, or creating, a louche reputation. It was how, at this stage in his career (he was 63), he wished to present himself. He talked, for instance, about the whores of Hong Kong harbour, who would come out to customers in little boats of their own. I didn?t use that; it seemed to me too humiliating to everyone. He also talked about Philby, the Third Man (in the Burgess-Maclean Affair), and his own spying activities. I didn?t use that either; it didn?t interest me.
I didn?t mention the middle-aged French woman who appeared in the Antibes flat. He said he didn?t want it mentioned. (Violet Powell, Anthony Powell?s wife, told me later she could none the less feel the presence of the woman from what I had written.) There was some trouble with the woman?s daughter. She was keeping unsuitable company in Nice or Antibes. Greene told the French woman very angrily, that the man concerned was to be told that the police would be called if certain things didn?t stop. No louche character there.
I grew to like Greene over the two days, and wished to treat him well in what I wrote. I wished indeed to honour him. I thought I would do this by passing no judgment at all on his books. (I was to do something similar with the piece I did in the early 1970s about the young David Hockney: writing about the man and leaving art criticism to the Telegraph critics.)
Greene was sent what I had written. He objected to my description of the furniture in the flat. I had said it was in the decorated Scandinavian style. He wrote back ?Undecorated surely?. But I meant decorative, and that is how it came out in the magazine.
He spotted my reservations about his work, in spite of my great care not to show my hand. He saved his bile for two years, and then in 1969 (when for various reasons I was desperate and exceedingly vulnerable, and could have done with a hand up) he wrote less than well about The Loss of El Dorado and The Mimic Men for The Observer.
Forty years on, the vanities and needs of both writers seem not at all important. Books go into the world like orphans. They live or die according to their destiny.
? V.S. Naipaul (The Daily Telegraph, September 18, 2004)
It was the war that strengthened Mr Greene?s wish to travel, ?to feel able to go where one wants?. And it was after the war that he began to feel that England was too small a place to be in. The politics were becoming parish-pump politics and that depressed him. So did the snobbism, which he thinks the welfare state did not change.
?Then the daily woman who worked for me for 10 years died. And suddenly one felt less protected. I would have found it much more difficult to leave if she hadn?t died. But perhaps now I wouldn?t have been able to leave because of currency restrictions. It was this threat, you see, of being compelled to be more and more in this little island.?
France is more convenient and in some ways less depressing. ?There is still that snob circle in France, in places like Biarritz. But I find an extreme lack of snobbism in the French middle class. The taxi-driver calls you Monsieur; you call him Monsieur: that to me is attractive. But it may be that I left England when a change was taking place.?
France has its political uncertainties. But Mr Greene doesn?t mind: it is an aspect of living on a frontier; and French politics are large and dramatic. In 1958 he went to Paris to attend the press conference General de Gaulle gave before he came to power. Mr Greene had no assignment, no pass, he went only for the interest, and no one stopped him.
Mr Greene was in Indo-China before the French left, in Cuba before Castro, in the Congo before the Belgian hand-over. His news sense is legendary. It comes from a close study of newspapers. ?I?ve always liked reading newspapers. My enemies might say I get my ideas from theological works and newspapers.? In Antibes he reads three London dailies as well as the weeklies; he also reads the local paper, Nice Matin.
He studies the world, but without much hope. He says he is of the Left; the definition is personal. He?s saddened by Africa, which he thinks ought to have had another hundred years of colonial rule; he blames much on the Belgian withdrawal. ?But now I can?t see why we don?t leave Africa completely alone to retribalise itself. No aid, no interference, nothing.? (Mr Greene wrote to me recently. He said his visit in January to Sierra Leone had changed his mind considerably. ?It opened my mind to what a closed shop colonialism has been. The place is still very poor, but one feels it has opened on the world. There are Italian bakers and constructors, Sicilian fishermen and even Chinese growing rice. This couldn?t have happened however long colonial rule continued.?)
His disapproval of United States policy in South-East Asia and Latin America is well known. ?The Vietnam war is not only horrible but foolish. It is preventing the fragmentation of the Communist world. There is something menacing about great power combined with great foolishness.? He is attracted by action that is positive and idealistic. He finds such action in Cuba and in Israel. ?I don?t see it in Heath or Wilson, do you??
That was when I began to hate the Mexicans. The sentence comes from a 30-year-old travel book: Mr Greene has never hidden his antipathies. The tone today, even in conversation, is the same. ?I went to Morocco in 1948. I hated it. I hate all those Arab countries.? He?s indifferent to India and the religious East. ?I don?t want to go to Kathmandu. The only part of India I would like to go to is Mysore.?
This is because of Mr Greene?s admiration for the Indian comic novelist, R.K. Narayan, who lives in Mysore. Mr Greene placed Narayan?s first novel with a London publisher in 1935: the men met for the first time about 10 years ago. It is an unlikely friendship. Narayan is celibate, vegetarian, teetotal, without politics: in middle age he has turned, in the tradition of Hindu piety, to the study of Sanskrit texts. Mr Greene has no interest in Hinduism.
It was through Narayan that Mr Greene had a horoscope cast some years ago by an Indian astrologer.
?The language was very flowery. He got the date of my mother?s death within two months. But I gave him the date of her birth. He said I would be honoured by my sovereign. It was language like that. He also said that vehicles would always be at my disposal. Such a strange thing to say. He thought I was going to die between 60 and 100. Which is pretty accurate. But the feeling was that I was going to die when I was 72. It would be while returning from a voyage. Which is reasonable. A death by drowning, but not in water. My lungs are somehow going to be drowned. I will take three to four hours to die. I don?t mind that.? He added without great seriousness, ?It will enable me to make my peace with God.?
?V.S. Naipaul (The Daily Telegraph, 1968)