The man who knew too much
Read more below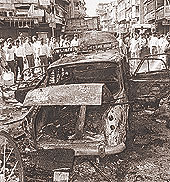 ---
---
Looking for Gullu — or Gul Noor Mohammad Sheikh — in Behrampada is like the proverbial — and usually futile — search for a needle in the haystack. No, Gullu hasn't been seen for a while. The man who could have made history is now trying to put the past behind him. But Behrampada is as it was when Gullu lived there — steeped in poverty and waiting to explode.
Bandra in north-west Mumbai might be the queen of the suburbs but Behrampada is a blot on mankind. It lies just outside Bandra station on the east — a warren of slums befitting Dickensian London. One of the poorest slum colonies inhabited by Mumbai's Muslims, houses here consist of a room that's not bigger than 5x5 feet. This is also where gutters double up as an open toilet for children.
But four days into Ramzan, the place is teeming with last-minute shoppers. While a few Muslim youths chew on neem sticks, the rest of the faithful in Behrampada are busy stocking up on slices of water melon, papaya, ice slabs, ready-made falooda packets and bazias to break their day-long fast.
In the midst of all this, it's difficult to tell that Behrampada was one of the worst affected areas during the communal riots of 1992-1993. But even now, nearly 14 years later, the sheer poverty in Behrampada has all the potential for another riot.
That's how the name of Gullu came up. Named in the riots, Gullu later almost walked into history books as the man who could have changed Mumbai's destiny.
Two days before the March 12, 1993, serial bomb blasts in Mumbai, Gullu, who was one of the conspirators, simply walked into the nearest police station and told the police all about Tiger Memon's plans to blow up the city. Unfortunately, for the victims of the serial bomb blasts, the police didn't take him seriously.
Today, Gullu is still an accused in the case, though he has narrowly escaped the noose. He is in the marble business and has been seeking to close his past, says his sister who lives in the same address in Behrampada now. "He doesn't come here anymore," she says. "You have obviously come to interview him about the bomb blasts case," Gullu's sister says even before you can tell her why you want to meet Gul Noor Mohammad Sheikh.
For the main conspirator, Mushtaq alias Tiger Memon, Gullu's last minute volte-face forced him to change his plans. It had earlier been planned that blasts would rock Mumbai in April 1993, coinciding with Shiv Jayanti celebrations.
Gul Noor Mohammad Sheikh was in his early twenties at the time, a brash youth living in Behrampada. When Behrampada got caught in a communal frenzy, Gullu found himself named as one of the rioters.
But within weeks of the riots, Gullu got roped into the serial blasts conspiracy. According to the prosecution, he was one of the 19 men handpicked by Memon and sent to Pakistan via Dubai on February 19, 1993 , for training in the use of arms. Gullu and the rest of the team were trained in the use of AK-56, pistols, hand-guns, light machine guns, rocket launchers and Kalashnikovs. They were also taught to make bombs with RDX and to fling hand grenades. Training over, Gullu returned to Mumbai via Dubai on March 4, 1993 .
But he returned to find that in his absence, policemen from the nearby Nirmal Nagar police station had been paying regular visits to his home to check his whereabouts. Finally, the police picked up his brothers to get Gullu to surrender.
When Gullu came back from Pakistan, it was not the imminent bomb blasts conspiracy that was foremost on his mind, but his brothers' detention. So, he was not present at the subsequent meetings that the conspirators had with Tiger Memon on the blasts.
Gullu was not present when Tiger Memon finalised the targets, and he was not there when Memon asked his boys to conduct a recce.
He was also not present when Memon recruited a batch of five new faces who were taken for training in arms to Sandheri-Bhorgat, en route to Mhasla in Raigad district, some 250 kilometres from Mumbai.
When Gullu's friend Usman Jan Khan — who subsequently turned approver in the case — visited him at his home on March 8, 1993, Gullu seemed deeply disturbed. "Why should my family suffer for no fault of theirs? My brothers are being given the third degree by the police. I am going to surrender soon," Gullu told his friend.
Usman promptly reported the matter to Tiger Memon at the latter's Al Hussaini building in Mahim in north-west Mumbai. The Al Hussaini building was the epicentre of the entire operation. Bombs were assembled there and the vehicles that were to cart the RDX-laden bombs were also parked there. And this was one of the reasons the entire Memon family got roped into the case.
When Usman told Tiger Memon about Gullu's surrender plans, he was horrified to hear Memon's reaction. "Kill him," Tiger Memon told him. Memon even went to Gullu's house in search of him — but in vain. On March 9, 1993, Gul Mohammad Khan surrendered to the police.
The police beat him black and blue. And Gullu told them everything — about his role in the communal riots, his training in Pakistan and the conspiracy to blow Mumbai up. Gullu's arrest could have been a turning point in the conspiracy if the Mumbai police had taken him seriously.
But the police thought he was blabbering. And when Tiger Memon learnt of Gullu's surrender, he knew that Gullu would also spill the beans on the blasts. So he advanced the date of the blasts to March 12 to preempt any police action.
Three days later when Mumbai went into spasms, the Nirmal Nagar police realised its folly in not taking Gullu seriously. No action was taken against the concerned police officers as there is no record of what Gullu told them, though he later narrated this story in his statement to the CBI. His last-minute retraction from the conspiracy saved his life. But Mumbai was not spared.