The legacy of Nazia
The legacy of Nazia Indian image Pulp fiction Birthday boy Tittle tattle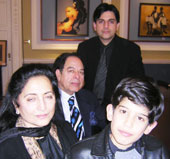 ---
Published 26.11.05, 06:30 PM
|
---
The legacy of Nazia
TIES THAT BIND: Nazia Hassan's parents, brother and son (foreground)
Nazia Hassan, a 15-year-old girl of Pakistani origin, became the darling of India after singing Aap Jaisa Koi in Feroze Khan's 1980 film, Qurbani. Then she set new trends in Asian pop music with her 1981 album, Disco Dewaane, which has since sold an estimated 60 million copies.
Now, I have news of the valuable earthquake relief work being done by the Nazia Hassan Foundation which was set up by her family following Nazia's death from cancer at the age of only 35 on August 13, 2000, in London.
The foundation is rushing between 40 and 50 "portacabins" to be used as homes for children in Abbottabad. It has already provided material for 1,000 much-needed tents, says Nazia's 35-year-old brother, Zoheb, who used to sing with his sister but has not done so since she passed away.
"I still cannot bring myself to say she has died," admits her mother, Muniza.
We are having a chat at the Nehru Centre in London after Nazia's family have screened a documentary on her life. Her father, Basir, allows his wife and son to do the talking. Meanwhile, Nazia's eight-year-old son, Arez, proves an irrepressible bundle of energy.
Nazia, who appeared in Qurbani after meeting Feroze Khan by accident in London, subsequently flew to India to be named Best Singer at the Filmfare awards. She starred in another film, Star, and released other albums, Young Tarang, Hotline, and her last in 1992, Camera Camera.
"Before her, there was no concept of pop music in India, only traditional Hindi film music," asserts Zoheb. "She created a new trend, especially for the youth."
Muniza points out that her daughter had studied law at London University and had started working for the United Nations in the area of disputed territories. "She wanted to use her talents to help others. Music was a hobby for her. The most important part of her music was that it helped to bring India and Pakistan closer together through music and art." She has happy memories of accompanying her daughter to India, especially on a trip to Calcutta at the height of the Disco Dewaane fever. "Between 50,000 and 100,000 people turned up at the airport. Kajol's mother, Tanuja, was with us. The affection with which Nazia was received will be with us all our lives."
BRUSHSTROKES: Details from Suhas Roy's Christ (top) and Lalu Prasad Shaw's tempera on paper of a Bengali babu
Indian image
At a time when a few self-styled Hindu "leaders" in the UK are trying to stir up hate against Christians and Muslims, it is heartening to find Suhas Roy's oil on canvas of Christ included in a collection of paintings, The Indian Image, that has been brought to London by Geeta Singh, a dealer in Delhi.
Geeta says: "Suhas Roy, who lives in Calcutta, became inspired during a visit to Italy in the 1990s and has done several paintings of Christ since then. One has been taken this year by the Vatican Gallery."
That a Hindu painter should occupy himself by painting Christ "is a very pertinent point ? it has caused no problems for us in India," adds Geeta, who runs the Art Pilgrim gallery. "I have bought one of the paintings [of Christ] myself."
Geeta's collection ? included are works by Anjolie Menon, Jogen Chowdhury, Lalu Prasad Shaw (I love his tempera on paper of a typical Bengali babu, which could pass for a portrait of Sourav), Paritosh Sen, Sunil Das and many others ? is currently being exhibited at the Nehru Centre gallery.
Those in India who cannot invest between Rs 2.5-3 lakhs for a big name can often pick up a print for Rs 50-100, Geeta points out.
"Indian artists are influenced by China or Japan or the West but have evolved their own identity," she remarks.
Pulp fiction
There is one main question to put to Dr Rachel Dwyer, "professor of Bollywood studies", at the School of Oriental and African Studies in London.
Of all the movies selected for her new book, 100 Bollywood Films ? this is part of a series on world cinema published by the British Film Institute ? what are the videos she would take to her desert island?
DANCE DANCE: The cover of Rachel Dwyer's book
"Out of the 100, some were personal favourites, some were landmark films; at least 50 of them would be on any list; some I don't like but are important, but my top two are Mughal-e-Azam ? the old black and white version, I haven't seen the new version ? and Amar Akbar Anthony," she reveals.
Although Rachel says that Bollywood fever in Britain "peaked" in 2002, I predict the party the BFI is giving to launch her book on Wednesday will be packed.
Rachel has done so much for the Hindi film industry ? and for Yash Chopra ? that she now deserves a Lifetime Achievement Award. Her enthusiasm for Bollywood has also been passed to some of her students.
Birthday boy
England's most flamboyant cricketer Ian Botham celebrated his 50th birthday last week by going out to dinner with friends in Lahore, which even he must have realised is a place in Pakistan. "Beefy" has clearly grown up, for back in 1984, he cut short a tour of Pakistan by describing the country as "the kind of place to send your mother-in-law for a month, all expenses paid".
Tittle tattle
Fun-loving LSE economist Lord Meghnad Desai was recently asked in an interview to name the public figure he would most like to spend his time with if he was marooned on a desert island.
His choice?
"Lata Mangeshkar."
It's a good choice though I wouldn't be surprised if old Meghnad is softening her up for a book. He had a difficult time getting time with his one-time hero, Dilip Kumar, about whom he has written a book. Having flown to Mumbai from London for a background interview, Meghnad telephoned the temperamental Bollywood legend who told him to "come back later" before replacing the receiver.