The hills are alive
Read more below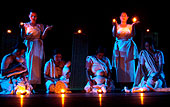 ---
Published 30.10.05, 12:00 AM
|
---
STAGECRAFT: Ratan Thiyam (below); A scene from his Nine Hills, One Valley
Seven sentinels overlooking the realm of nine hills and a valley invoke the evil spirits of the land, in an effort to pacify them and bring about peace and harmony. The demonic Time then takes its toll on the people, while terror and trauma rule supreme. Hapless mothers wail and plead to the Wise Men, trying to save their children amid such chaos. But the wise ones have, by then, faded into oblivion. All they can do is turn in their sleep and herald the ominous times that are to come. Finally, lamps are lit across the valley to remember the good times, and to symbolise a ray of hope that still exists in these dire times.
In the context of modern theatre, this script may appear to be routine. But where exactly does one place a production which happens to be an admixture of modernity and ages-old cultural motifs? Where on the cartographic chart does one point one's finger when tradition and individual talent meet on stage?
Manipur.
Consider the above script, written by Manipuri director Ratan Thiyam, as the second part of a trilogy which began two years ago with My Earth, My Love. Titled Nine Hills, One Valley, the production premiered at the India International Centre (IIC) in New Delhi on Wednesday. It was, in many ways, a perfect end to a week-long cultural festival, called the IIC Experience, which was held at the centre this week.
The production was, in Thiyam's own words, a collage of thoughts, which began as a single poem and went on to take its current stage form. "It reflects my own expressions, and my opinion on development that happens at the expense of spiritual depth, in this restless world," he says.
However, to give his production a unique look and feel, Thiyam packages his content in a form that is distinctly ethnic. Most of the play stands out for its superb Manipuri choreography, that draws from classical Manipuri dance and tribal martial arts, traditional costumes, folk music and local props. It is painstakingly executed and the end product, to say the least, is gripping.
Thiyam isn't the only dramatist from Manipur to have given such a radical dimension to Manipuri theatre, still regarded in certain critical circles as a na?ve representation of conventional narratives. Theatre person H. Kanhailal and Aribam Syam Sharma ? who was known for his films ? also redefined the visual and performing arts emerging out of Manipur ever since the Seventies, when the seeds of Modernism were planted in the local intellect.
"The movement took off because of masters such as Thiyam and Kanhailal, and of course, the government of Manipur which played an active part in promoting local arts," says Ram Gopal Bajaj, former director of the Delhi-based National School of Drama. "In a land blessed with diversity and positive thinking, the initiative succeeded in bringing about a dynamic growth in the domain of performing arts."
The diversity that Bajaj refers to has perhaps been the greatest gift to Manipur, a state that mainstream and insular India would have difficulty in locating. "In the old times, Manipur, which had a major Meitei population, witnessed an influx of the Vaishnavite sect," explains Thiyam. "The unison brought about an amalgamation of two cultures as well. Then, in more recent times, Manipur was to play second home to immigrant Bangladeshi Muslims. Understandably, it enriched the local culture and gave it a host of facets."
Apart from the dominant strands, countless tribes formed a vital cultural base of Manipur. "Their native music, dance and martial arts only added to Manipur's ethnicity," says Thiyam. Taken in its entirety, the cultural pool of Manipur ? with all its depth ? provided the perfect backdrop to Manipuri theatre and needed adequate exploitation.
However, though modern Manipuri theatre began to take shape in the early decades of the 20th century, it wasn't until the Seventies that it underwent a metamorphosis. The Chorus Repertory Theatre, formed in 1976 by Thiyam, went on an experimentation overdrive, as did Kanhailal and many others. In the hands of these pioneers, Manipuri theatre witnessed a renaissance of sorts and gave the world more to see and appreciate than the traditional Lai Haraoba Meitei dance form or early 20th century renditions.
But even while giving in to change, the Manipuri school achieved a feat that few others were able to. "While welcoming modernity, they were careful not to disown their traditions," says N.K. Sharma, director of Delhi-based theatre group Act One. "At a time when regional theatre from other parts of the country was trying change in form in an attempt to embrace modernity, Manipuri theatre stuck to using its tradition to its advantage."
This, says Sharma, brought about a dichotomy in Manipuri theatre, a fact that is yet to go down well with many theatre critics. "While I feel there is nothing wrong with amalgamating the past and the present, the Manipuri experiment still hasn't found due approval in the mainstream. Cosmopolitan India has tried, instead, to patronise it, and in the process, looked down upon it," he says.
It is ironic, though, given that the West has been quite receptive to the Manipuri experiment all along. "The reason for the West's approval may be that foreign audiences always want to view and judge Indian productions in an oriental frame, which Manipuri theatre has," says Sharma.
Perhaps, time will take its course, and public opinion will change. "I have watched the movement from its elementary stages and I think the outlook has been very positive," says Bajaj. "It'll surely go on to earn due recognition one day."
Going by the response of the audience at the India International Centre on Wednesday evening ? Thiyam got a standing ovation and a pat on the back from cultural scholar Kapila Vatsyayan ? one would say much of the battle has already been won. It's just a matter of time before the curtains rise.