The greening of Calcutta
Read more below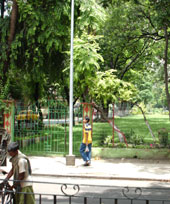 ---
---
Two faces: A tree-lined stretch on Southern Avenue (top); trees felled in central Calcutta
You may be familiar with the census that keeps track of the number of people in your house. But now it's time to answer questions on the number of trees and kinds of plants you have in your backyard, and may be even on your terrace and window sill. This census proposed by the Calcutta Municipal Corporation is the first of its kind in the country.
The brain behind this project, Faiyaz A. Khan, member, mayor-in-council (parks and gardens), says, "To date, all plantations, trimmings and felling of trees have been done in a very unscientific manner. No steps are taken to keep track of what happens to the trees after they have been planted, often with a lot of fanfare. So the data on the trees in and around Calcutta will ensure that proper care is taken of the trees.
If soil erosion takes place over time, steps can be taken to check that. The data will also reveal where and what kind of trees have been planted and what becomes of them thereafter."
But not everyone has faith in the concept of a plant census. Alka Bangur, president of The Agri-Horticultural Society of India and the owner of one of the best gardens in the city, for instance, expresses doubt. "It is a very difficult and lengthy process. The time, money and energy spent in doing this census could be better utilised by planting more trees," she points out.
But Khan remains unperturbed. In fact, what set the ball rolling, Khan says, was the chief minister's anger at branches of a tree on Park Street being cut without any permission for the Iskon Rath Yatra in July this year. On enquiring, Khan found that trees are felled indiscriminately and no record is kept of the trees planted or of their maintenance.
"The motto 'one plant equals one life' has had to be altered to 'one plant equals many lives' because of the threat deforestation poses to our environment. Look at what happened in Mumbai. We do not want that to happen here, if we can help it. We will do whatever we can, not just to check deforestation but also to make Calcutta more green."
Highlighting the need for a green Calcutta, Deepak Erasmus, secretary and CEO, The Agri-Horticultural Society of India, says, "Making Calcutta green is essential. There are many dwindling varieties in and around the city. The society itself has 15,000 species within its 22 acres which are labelled according to their rarity and availability. The Corporation, too, needs to label trees so that people, particularly children, know which tree or plant is called what."
Khan agrees, adding that they would also concentrate on making the city more environment-friendly by planting trees that are not only green but also those that bear fruits and flowers, so as to lure more birds and butterflies. "Ecological imbalance, especially in the metros, needs to be checked and it must be done fast," he warns.
The census will be conducted on plants and trees that line the streets as well as those in private campuses and homes. The data collected will be documented both on paper as well as on a compact disc that can be viewed, so that information is readily available in case any follow-up is required. "All trees and plants have their own specific requirements. The manner of their trimmings is not identical nor are the timings of their plantation, their life span and the kind of soil or fertiliser required. So they can't be treated alike," says Khan.
Mass awareness, then, is another area that needs to be addressed. As Suman Choudhury, an aritst and a lover of plants, points out: "Gardens are usually a status symbol for the nouveau riche. So you often find homes with beautiful gardens but the owners hardly take any genuine interest in them. They leave it to the gardeners and caretakers. And in the absence of genuine interest, no one bothers when garbage piles up in vacant plots or when trees are felled in front of their homes."
That is precisely why Khan is also introducing the concept of Tree Wardens ? to make people realise that it is in their own interest to protect trees and plants. Khan says that every municipal ward will have a plant lover who will work voluntarily in the area to protect trees and plants. He will look after the trees and oversee their trimmings. He will also liaise with the Corporation to maintain the quality of soil.
Elaborating on the need to do a plant census mayor Bikash Ranjan Bhattacharya says, "The census will help us evaluate what has been done and what more needs to be done. We are going in for a more cost-effective plantation by introducing a more scientific approach."
There are those, like Prabha Jalan, chairperson of the Calcutta chapter of the FICCI ladies' organisation, and winner of many prizes in horticultural shows, who have already pledged their support for this cause. "A plant is like a child that needs care and attention. The idea of a plant census is a good one. We will learn and benefit from it," she stresses. She should know. Her rooftop garden houses some 1,500 varieties of plants.
Khan's initiative has already borne fruit in some places. During Durga Puja, many Puja committees had the concrete spaces dug up to plant trees as part of the beautification process, instead of using potted plants brought in for those four days. The Pujas witnessed another first in the shape of utilising the flowers used for worship. In collaboration with Dr Siddhartha Dutta of Jadavpur University, the flowers thrown away during immersion were collected at the immersion ghats and taken to the laboratory where they were turned into colouring agents, vermilion, abir and gulal. "The Maharashtra government and Mumbai Corporation took note of this unique scheme and got in touch with us in this regard," says Khan with obvious pride. The best part is that the State Pollution Control Board too has come forward to support Khan's initiative.
If all goes well, it won't be long before Calcutta reaps the benefit of the plant census.