The female of the species
Read more below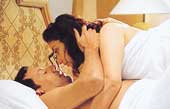 ---
Published 21.03.04, 12:00 AM
|
---
Not just faces: Manisha Koirala with co-actor in Tum? (above); Sushmita Sen and Tabu in Filhaal
Bollywood has always been male terrain. Stories revolve around the male protagonist: his dreams, disappointments and dilemmas. The woman helps him fulfil his dreams but has no dreams of her own. She exists for his sake. Since India's first talkie, Aalam Ara (1931), that has been the rule.
But these days, there is a miracle in the making. Slowly but surely, the Mumbai film industry's celluloid women are beginning to dream their own dreams. While a majority of films still follow the male gaze, the female is finding more voice and flesh in mainstream movies. These films are not from the marginal genres of the courtesan (Pakeezah), the female outlaw (Putlibai) or the separated twins (Seeta aur Geeta) — traditional Bollywood arenas where the male took a back seat. "A transition is taking place. New spaces are opening up," says scriptwriter Anjum Rajabali at a seminar titled, 'Nurturing the Female Protagonist: Challenges and Rewards', in New Delhi's Ficci auditorium last Saturday.
In these films, women don't play second fiddle to the hero. It is the other way around. In Samay (2003), a suspense thriller released last year, Sushmita Sen plays a cop who leads a team of detectives pursuing a psychotic killer. "I wanted the character to be sharp, analytical like any IPS officer. Not a parody or a caricature," says director Robby Grewal.
Samay's ACP Malvika Chauhan is not a superwoman, only super-efficient. There are other shades in her character. She is separated from her husband and has a daughter. In a deliciously ironic twist, she also has a lover who, like the heroine in any regular Mumbai movie, basks in her reflected glory, taking care of her child in times of need.
Samay is not the only example of Bollywood on the cusp of change. Main Madhuri Dixit Banna Chahti Hoon (2003) tells the story of a kasbah girl who wants to be a movie star. The film is a sympathetic account of her attempts to carve out a place in a cruel industry. During her endeavour to attain her dreams, she is supported all along by her husband, played by Rajpal Yadav, another case of a role reversal in the conventional Bollywood format.
Several other films released in 2003 — Pran Jaaye Par Shaan Na Jaye, where every male character plays second fiddle to the film's seven heroines; Satta, where Raveena Tandon's woman politician breaks most stereotypes associated with the conventional heroine; Nandita Das' woman on the run in Ek Din 24 Ghante, and, Manisha Koirala's self-explanatory Escape from Taliban, to name a few — were movies where women corner maximum footage on the screen. Not all were watchable, but they were symptomatic of Bollywood changing.
Unfortunately, none of these films clicked at the box office. An easy explanation offered is that these films failed because they dared to break the norm. But the truth is more complex. Box-office records show that 88 per cent of the films released in Mumbai in 2003 ended in the red; most of them with male characters being central and pivotal. As director Meghna Gulzar wonders, "A hundred films revolving around men flop in Bollywood. Are we going to say that the male protagonist doesn't work?" Clearly, it is preconceived notions, mindsets and perceptions rather than hard facts that stand at the core of the marginalisation of women characters in mainstream Bollywood films. Failure usually has a bright side. Rajabali, who has written scripts for films like Drohkaal and Ghulam, believes that it is Bollywood's desperation, "an unending stream of flops over the decade, rather than any serious self-introspection" that has prompted more rounded parts for women.
Yet, making a women-oriented film is a tough task. Madhur Bhandarkar was rejected by no less than seven producers he approached for his debut film, Chandni Bar (2001), the story of a girl who loses her parents during a riot and is forced to become a dancer in a beer bar. "Nobody wanted to make a film with a female protagonist. Later, some distributors wanted me to change the end," says the director. He is now making Page 3, a film starring Konkona Sen Sharma, which explores the Mumbai night life through the eyes of a woman journalist.
Bhandarkar was lucky. The surprise success of Chandni Bar — which Tabu did for free and was given the Delhi territory distribution rights as salary — enabled him to make Satta, another woman-oriented film. Despite being a famous actor-director's daughter, Meghna Gulzar too had run around looking for a male actor for her debut film, Filhaal (2001).
The theme, surrogate motherhood, did not help either. "Male stars would not touch my script with a bargepole," she says. Nandita Das tells you a well-known fact: "The bigger actors never work in a women-oriented film."
Yet, the truth is that a small but significant part of new Bollywood is looking at women differently. As late as the Nineties, the protagonists in mainstream Hindi films faced clear moral choices — tradition or modernity, truth or lies, black or white. The heroine was chaste and virtuous, the repository of all the so-called good cultural values. She was in opposition to the promiscuous, smoking-drinking vamp. "The vamp embodied sexual desire, the heroine personified romantic love and traditional values," says film scholar Shohini Ghosh. Then, the inter-mingling of the good and the bad was carried out through masquerades or charades.
For instance, in Inteqam (1969), the heroine Sadhana behaves very un-heroine-like by drinking alcohol and dancing sensuously to the number, Aur zara si de de saqi. Similarly, in Khalnayak (1993), the policewoman-heroine becomes a courtesan when she goes undercover and performs to the raunchy track, Choli ke peeche kya hai. "The masquerade allows her to be different because the audience is aware that she is actually putting on an act," says Ghosh. But the new Bollywood heroine has travelled beyond masquerades. Unlike her previous avatar, she is also a sexual creature these days. For her, sex is pleasure as shown by the independent young urban woman Lekha (played by Mallika Sherawat) in Khwahish. For her, sex is the means to an end, as it is for Sonia, the manipulative femme fatale played by Bipasha Basu.
Part of the change in Bollywood's new approach towards woman comes from a select breed of new and young filmmakers. It is interesting that Chandni Bar, Filhaal, Samay, Pran Jaaye Par Shaan Na Jaye were all made by debutant directors.
Robby Grewal feels that growing up at a time when women are as good as men in every professional field must have been responsible for the way his film treats women. "Subconsciously, I must have internalised that. After all, our creative work does reflect the way we look at things ourselves," says the 28-year-old director. Rajabali, who is also a clinical psychologist, has an interesting point to make. He feels that there is a need among male directors to have the courage to explore their feminine side. "Then they can empathise with the woman characters, understand and explore their psyche," he says. After all, women-oriented films like Mother India, Sujata, Bandini were made by top male directors.
Whether that happens or not remains to be seen. Perhaps, as Meghna points out, there is a need to have more good, balanced scripts where both men and women have enough to do. "That's a more practical way of going about it," she says. Indications are it will happen sooner rather than later.